By Jennifer Smith, News Editor
June 28, 2018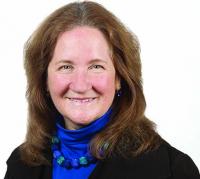 As she looks forward to taking the helm at UMass Boston next month, incoming interim chancellor Katherine Newman has been doing her due diligence. She is a sociologist, after all, who has spent 39 years writing about the very kind of upward mobility through education that the public research institution is supposed to facilitate.
For the past month, she has been in meetings with faculty members – those who are around during the summer months, at any rate – university leadership, people interested in the massive forthcoming Bayside development, elected officials, and "especially the students who commute to the campus, how their lives unfold and where they hang out during the day," Newman told the Reporter in a recent interview.
"I'm learning about how every different kind of person orients toward an institution," she said. "I do that in my own research and I do that in my life as a leader. So, I'm really at that beginning point trying to assemble a really crackerjack leadership team that can help me, because this is never a one-person enterprise."
The 65-year-old Newman is coming to the Columbia Point campus during a time of transition and growth.
A controversial search for a new permanent chancellor ended awkwardly this spring after the UMass Boston Faculty Council took a no-confidence vote on UMass President Marty Meehan and a group of faculty called for a new search, publicly calling all three finalists unqualified. The candidates withdrew and the search was halted with university leadership lambasting faculty members for weighing in against the candidates. In the immediate aftermath, Meehan appointed Newman as interim chancellor to replace the outgoing interim leader, Barry Mills.
Related reading: Emails show how UMass Boston faculty scrambled chancellor search
According to a spokesman for the University President's office, Newman does not have a contract for the new post, which starts July 1. She will keep her current $408,000 salary, which she earned last year as provost at UMass Amherst provost for the first half of the year and at the UMass system office for the latter half.
Partially, this stems from uncertainty about just how long her tenure will be. Mills indicated reasonably early on that he planned to conclude his time at the helm after the 2017-2018 academic year ended.
"Given her experience, academic credentials and passion for our special mission, I am certain that Katherine Newman will be a fabulous leader for UMass Boston," Mills said in a statement last week. "I conclude my tenure with full confidence in the person who steps in to guide a campus that is an engine of hope, opportunity and transformation for so many students and for society."
There is a trust issue to address, Newman acknowledged in the interview. Although she has interacted in the past with a number of the UMass Boston deans through her central office position, she says she wants to come in fresh and be worthy of her new post.
"I am a newcomer and I understand that newcomers always have to earn the right to say 'we,'" she said. "You're not part of 'we' until you've proven you deserve to be part of 'we,' and I expect to have to earn that by demonstrating what I'm made of."
Officials and the campus community alike note that UMass Boston is a unique public institution that is weighed down in facing some enduring struggles. It is majority-minority, a critical institution in Dorchester and the city, with a prized nursing program and ambitious infrastructural expansion plans under way including the campus' first dormitories set to open for the fall semester.
The California native, who has "a pretty deep investment in both the study and realization of social mobility for people who have been less advantaged their whole lives," knows well the value of a top-tier state university system.
She has taught and researched inequality and social policy at Columbia, Harvard, and Princeton, and was a dean of arts and sciences at Johns Hopkins University, but she began her undergraduate academic career at the University of California, San Diego. She received her PhD at UC Berkeley in 1979 and taught at its law school while researching the impact of economic downturns.
"I do feel a certain kinship with my students at UMB because I worked four days a week and I went to school three days a week and I understood what I was working for," she said. "I understood that all that time spent in really crappy jobs was going to open up opportunity for me if I stuck with it."
Now, UMass Boston's issues – its structural debt and the cost of long-needed repairs like the crumbling garage; new dormitories; continuing soreness over UMass Amherst's purchase of Mt. Ida College in Newton – are Newman's to deal with. "I will be ever vigilant around Mount Ida, but I'm not worried about it," she said.
Beyond that, she says, she hopes the campus will credit her efforts to push on its behalf at the system level. "You know, I think all of the chancellors understand that they have to be strong advocates for their campuses," she said, "and that what comes out in the wash after all that advocacy we hope is what's best for the whole system."
Even though UMass Boston faculty members have they're weary with the amount of turnover – two interim chancellors in two years – and hope to find a permanent chancellor soon, "I don't think that my colleagues want stasis," Newman said.
To that end, she hopes to start the campus on a "systematic and publicly reviewed and open and iterative budget planning process" that can take quite a while and ideally involve substantial input from the faculty.
As the provost at UMass Amherst for three years, Newman tried to roll out sweeping changes that rankled some on the faculty.
"It kind of was my first introduction to how state public universities are funded and structured and the complexities of working with state government," she said, "where budget cuts happened without warning and you have to adapt to that and you then you have to learn how to plan for a stormy day."
The participatory budget process grew out of work with colleagues at Amherst, Newman said.
"I'm not saying it's perfect and you know you can never satisfy everyone because there's never enough to go around all the way," she added. "I do think this feeling of the faculty voices mattering is something that we were able to achieve there, and I think we'll be able to achieve the same at UMass Boston."
Marlene Kim, head of the UMass Boston Faculty Staff Union, said in an interview Tuesday that, though they have not yet met with Newman, they are heartened by her comments that the crumbling garage should be considered a legacy debt and not the responsibility of the campus to fund. Her support for funding the new utility corridor and substructure are also encouraging, Kim said.
"I would say, personally, I think as a union we look forward to working with her and to receiving the funds that UMass Boston deserves," Kim said.
Though the outpouring of support in the last few months was welcome, Kim said, the cuts to programming and existing debts remain a heavy weight on the campus.
"We appreciate the support that UMass Boston has been shown from alumni and the community, and legislators," she said, "and that there's concern that we have been treated like a second class citizens, and people want to help and investigate so that UMass Boston can continue to be an urban university that the first generation college students, minority students, english language learners deserve."
The union does want to work toward reopening a search for a permanent chancellor sooner rather than later, Kim noted.
"We're wanting a new search as soon as possible," she said. "As interim, you don't have as much power, so I think we all look forward to a permanent chancellor."
On that point, Newman says she is in it for the long haul if needed. "You know, my feeling about it is, forever," she said. "For as long as it takes, as long as people are enthusiastic about what I'm doing there, I'm in. I don't have a time limit."
Jennifer Smith can be reached at jennifer.smith@dotnews.com, or follow her on Twitter at @JennDotSmith