By Katie Lannan, State House News Service
May 30, 2018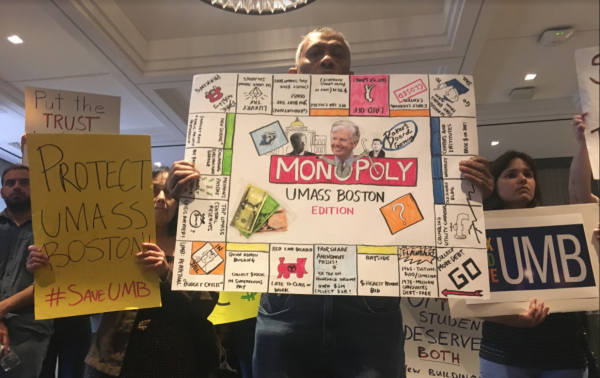 Saying some on their Dorchester campus feel ignored, University of Massachusetts Boston students, faculty and staff on Wednesday made a series of asks to UMass trustees.
"We feel as though we've been shouting into a void," UMass Boston student Maddi Walker told the trustees' Academic and Student Affairs Committee.
The recent surprise purchase of Mount Ida College's Newton campus by UMass Amherst and the collapse days later of the search for a new UMass Boston chancellor brought to light tensions between Boston campus and the UMass system, which also features campuses in Lowell and Dartmouth.
UMass President Marty Meehan said the three chancellor finalists each withdrew from the consideration after the UMass Boston faculty council "decided to take their dissatisfaction with the candidates public," and said the high-profile end to the process left an immediate new search "untenable."
Meanwhile, UMass Boston faculty and student representatives have voiced concerns that the Mount Ida acquisition will usher in new competition between their financially struggling campus and the Amherst flagship.
Heike Schotten of the UMass Boston faculty council said the Mount Ida deal raised issues that still need to be addressed. She asked the trustees to support Senate budget language calling for a study of UMass Boston's debt.
The Senate's fiscal 2019 budget, which is headed for private negotiations with the House, includes a Sen. Patricia Jehlen amendment creating a commission to determine the impact of debt from the original construction of UMass Boston and recommending how much of that debt "should either be reimbursed, paid off, and/or assumed by the commonwealth instead of UMass Boston."
"Faculty consider this fact-finding mission to be crucial to repairing the long-standing underfunding and disadvantaged status of the Boston campus both by itself as well as relative to the others in the UMass system," Schotten said. "We are hopeful that if all of us work together with the Legislature on this initiative, we can finally replace this campus' crumbling foundations with a solid basis on which to grow and expand our already magnificent educational and scholarly enterprise."
Schotten asked that any further budget cuts and defunding of UMass Boston institutes and centers be put on hold at least until after the study.
Karyn Aiello of the Professional Staff Union made similar requests, asking for debt relief and a guarantee of no further cuts.
Demonstrators holding signs with slogans including "Protect UMass Boston" gathered in the back of the room during the meeting. After Aiello spoke, they began chanting "Stop denying UMB, help our campus get debt free." One person delivered a "Fix Fund Save UMB" sign to the committee before leaving the room.
The committee continued with its agenda after the public comment period wrapped up, moving into discussion of a series of professorship appointments.
In his May 21 letter to the UMass Boston community about the withdrawal of the chancellor finalists, Meehan said, "I remain fully committed to ensuring UMass Boston's success and believe that no campus is better positioned for progress in the near future."
Trustee Henry Thomas, who chaired the chancellor search committee, issued his own statement, calling it "particularly appalling that a faculty council representing a majority-minority campus but lacking a single African-American member would visit such disrespect and calumny on one of the country's few African-American sitting college presidents, a top African-American female university leader and an academic administrator from an institution that graduates more African-Americans than any college or university in the country."
At Wednesday's meeting, held at the UMass Club on Beacon Street, UMass Boston student Christopher Simon pushed back against that idea, saying Thomas' statement did not reflect the mentality he sees from faculty who have made diversity an "integral part" of their mission and curriculum.
Simon told the committee he takes classes on Tuesdays and Thursdays, the only days he can take off from work, and commutes from his home in Mattapan via subway and a trolley line that "rattles more than anything you can possibly imagine" and has a predominantly black ridership.
"I sit at the back because, well, the front crashes first, right?" Simon said. He continued, "This is the experience of your students. They come from communities with all kinds of disadvantages, like that trolley, that they are frustrated with."
Simon said some at the Boston campus are calling for removal of trustees.
"I need to tell you something, not as a student but as a person of color: the kind of perception that we are ignored on this particular campus is something that we talk about, and you need to understand," Simon said. "You need to develop a system that you are far more transparent and something that makes people actually see that you're here to work with, not one of these meetings on the 32nd floor in a gilded cage where you are above us all, and you've got to do it soon."
Rajini Srikanth, dean of the UMass Boston Honors College, urged trustees to "act responsibly as a body that works for the entire system."
She told reporters she was "an optimist, very much so" and believed the relationship between UMass Boston and the trustees could be improved by "open communication." She said she hoped the trustees were receptive to the concerns raised at the meeting.
"I don't know what else we would need to do for them to understand the level of passion that there is on the campus," Srikanth said.
UMass Boston last week held its 50th commencement ceremonies, conferring degrees to 4,048 students - 2,733 undergraduates and 1,315 graduate students, including 88 doctoral candidates - in ceremonies held at the Blue Hills Bank Pavilion and TD Garden.