By Dan Sheehan, Reporter Staff
October 17, 2018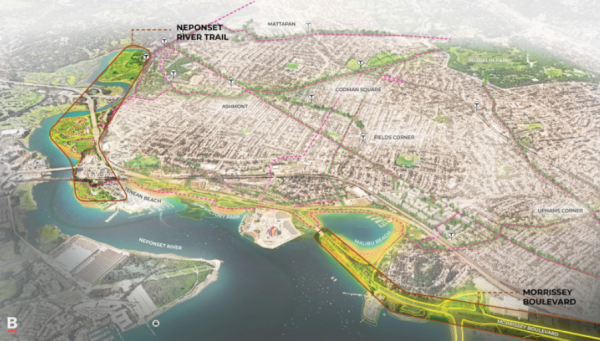 In his 2018 speech to the Boston Chamber of Commerce this morning, Mayor Martin Walsh cast a wary eye toward the future, focusing the bulk of his remarks on the looming threat of climate change.
Laying out resiliency plans for each of Boston's waterfront neighborhoods, Walsh envisioned a "resilient, accessible, and connected Dorchester shore," and called for preventative measures at various high-risk flood points, including Moakley Park on the border of South Boston and Dorchester.
"We've done the math," said Walsh, emphasizing the urgent need for investment. "In South Boston, we could invest $1 billion. Or we could pay $19 billion in citywide damages, when Fort Point Channel and Dorchester Bay meet and flood the heart of our city. We either invest now, or else we pay a much bigger price later."
Moakley Park and the adjoining stretch of Morrissey Boulevard have proven to be increasingly vulnerable to flooding in the recent past. In February and March of this year, the roadway regularly flooded in the aftermath of winter storms. Walsh acknowledged this spot and other areas of the Dorchester coastline as focal points in the city's new climate change plan, which will be boosted by a city pledge to put 10 percent of all new capital spending toward resilience projects.
"We are working with the state on the Morrissey Boulevard redesign—to stop the flooding, protect the neighborhood from future risk, and open up more of our waterfront," he said.
"The Neponset River Trail starts in Mattapan," Walsh continued. "We want to complete its connection to the Harbor Walk, from Tenean Beach to Victory Road Park. We'll continue all the way up to Columbia Point—where we have a strong partnership with UMass Boston and we will work with the developer of the Bayside site."
The plans for this site, which includes a considerable portion of the Columbia Point peninsula, will likely help to shape the climate resiliency of the area. UMass officials have declined to provide details about which development teams are in the running for the site's contract, but have indicated that an announcement will be forthcoming in the next month or so.
Walsh also described efforts to rework shore infrastructure as an opportunity to expand waterfront access to all Dorchester residents.
"We'll open up the waterfront for our largest, most diverse neighborhoods and we'll ask residents what amenities they'd like to see—including more public transit and better roadway connections," pledged the mayor.
Walsh added that the city is in the process of applying for a $10 million FEMA mitigation grant to kickstart the process.