By Jennifer Smith, News Editor
March 28, 2018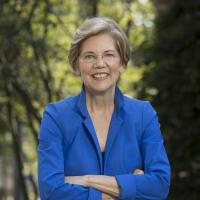 The Dorchester Reporter will host a town hall event with Sen. Elizabeth Warren, a candidate for reelection this year, next Thursday evening, April 5, at the Boston Teachers Union (BTU) hall on Columbia Point in Dorchester.
This will be the senator's first town hall in Boston since summer 2016, although she is a frequent presence at local union rallies, political marches, and visits with health centers and other institutions vulnerable to federal budget alterations. Her campaign headquarters are in the Mt. Vernon Street building that also houses the Reporter offices.
"I'm thrilled to be in Dorchester for our next town hall, and with the Dorchester Reporter," Warren said in a statement. "Having a chance to connect with residents is one of my favorite parts of being a senator. People are energized. They see how what happens in Washington is fundamentally changing our country and neighborhoods, and I want to hear their voices. It makes me stronger in this fight to level the playing field for working families, and we have to make America work everyone – not just for a thin slice of billionaires and giant corporations at the top."
Warren, who is currently on a Congressional trip to China, Japan and South Korea, has increasingly focused on cultural issues in major speeches, on top of her bedrock economic populism.
The forum, which will be moderated by Reporter news editor Jennifer Smith, will begin at 6:30 p.m. at the BTU hall — 180 Mt. Vernon St., Dorchester — with doors opening at 6 p.m. Parking is available at the site, which is also accessible from the MBTA via the JFK/UMass station. It is free and open to the public, though attendees can register in advance, and audience questions will be chosen through a randomized lottery at the site.
Massachusetts's state primary is Tuesday, Sept. 4, the day after Labor Day, with the general midterm election set for Nov. 6. In this year's re-election bid, Warren is holding holds a hefty lead over her three main Republican challengers, according to the polls.
A WBUR/MassINC poll released early this month found that Warren would walk away with more than 50 percent of the vote in any matchup and can boast favorables-unfavorables of 53 to 36 percent.
On the GOP side, the poll's findings show that state Rep. Geoff Diehl, of Whitman, was an unknown to 72 percent of those surveyed, as was former Mitt Romney aide Beth Lindstrom to 74 percent of respondents, and investment manager John Kingston to 83 percent of them. They will face off in the Republican primary.
Allen Rodney Waters, of Mashpee; Darius Mitchell, of Lowell; and Heidi Wellman, of Braintree, have also pulled papers to run as Republicans in the 2018 race. Shiva Ayyadurai, a Cambridge-based entrepreneur, is running as an independent, although he initially identified himself as a Republican.