By Bill Forry, Editor
March 27, 2018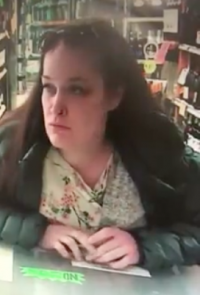 A woman who was victimized by a thief who stole her purse and her car this afternoon as she worked in a Dorchester Avenue restaurant has appealed to the public for help as Boston Police seek to find her stolen vehicle and identify the suspect.
The incident began in Lower Mills around 4 p.m. on Tuesday. The victim, Ashley Poles, says the perpetrator entered the Lower Mills Tavern to use the bathroom inside the establishment. While inside, the suspect stole Poles' purse and her car keys from her coat.
The victim's car- a blue Ford Explorer license plate MA7EC478 - was taken from in front of the restaurant. The suspect then used the Poles' stolen credit card to purchase items at a liquor store-Rosa's- in Fields Corner. A video from the store shows the person who is suspected in the crimes.
Anyone with information is asked to call Boston Police.
Poles told the Dorchester Reporter that the car- carrying her children's car seats- has not been located as of 9 p.m. tonight.
"This person is not a patron at the tavern," said Poles "It's a very welcoming and respectable place. It all happened very quickly."
Poles said her boss at the tavern helped her track the stolen credit card and drove her to the Boston Police station in Fields Corner to make a report.
She also stopped at the store and recovered footage showing the woman who used her card to buy alcohol and cigarettes. She posted a message on her Facebook Page and asked friends to pass the word about what happened.