By Daniel Sheehan, Reporter Staff
November 29, 2018
Construction on the building that formerly housed the Upham's Corner Comfort Station is finally underway, signaling that the end of a five year-long effort to convert the neglected and long-vacant structure into a cafe/bike repair shop is near.
Rehabilitation efforts have been led by a partnership between Historic Boston Inc. (HBI) and The American City Coalition. The groups were awarded a joint bid to work on the Columbia Road site — a former lavatory and rest stop from circa 1912 that served the city's streetcar system until it closed in 1977— by the Boston Department of Neighborhood Development in 2015.
Since then, the project has languished in its early stages due to a lack of funding. But now, with the help of crowdsourced fundraising totaling $450,000 and $365,000 in Community Preservation Funds, HBI finally has the financial wherewithal to begin the $1.4 million renovation process.
"It really has been a collaborative effort," said Lisa Lewis, senior project manager at HBI. "We're all so excited it's finally happening."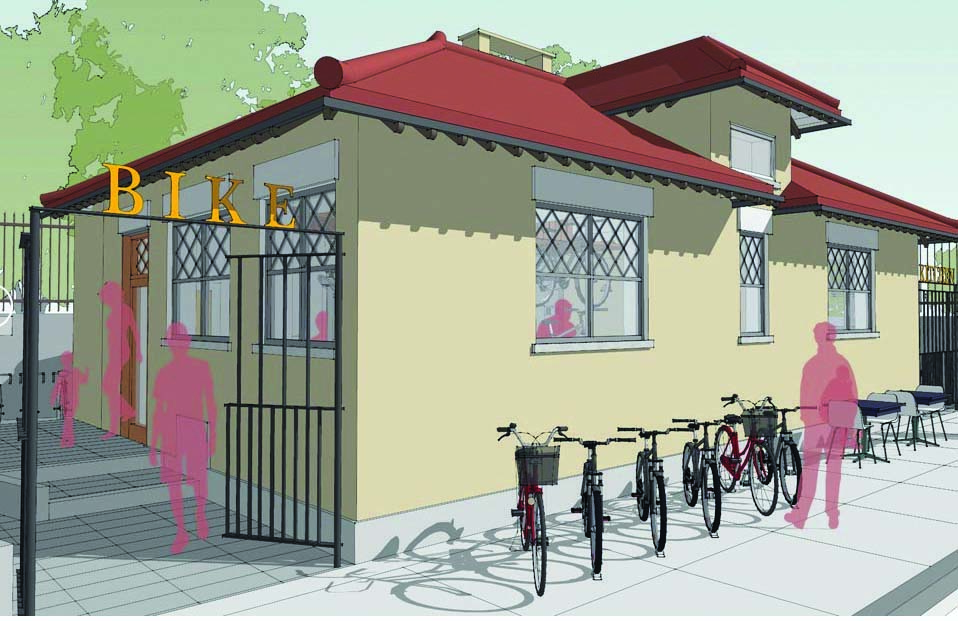 When completed, the comfort station will house the Sip-n-Spoke, a cafe and bicycle repair shop to be owned and operated by Noah de Amor, founder of the Bowdoin Bike School.
An annotated site plan shows the layout of the 940 square foot multipurpose space, the left side of which will become a bike repair shop. On the right, a cafe with a kitchen and a small seating area will be built. This square footage includes a basement space roughly equivalent to the one on the ground floor, which developers expect will be used for storage and for de Amor's bike repair training workshops.
So far, the interior partitions that divided the bathrooms have been demolished, clearing the way for the cafe's open floor plan. The slate from these partitions will be repurposed as kitchen counters, and the structure's latticed window panes will also be preserved.
A lot of work remains to be done inside the small stucco structure, including re-tiling the terra cotta roof, installing steel support reinforcements, retooling the space for plumbing and electricity, building a new stairway to the basement, and making the structure handicap-accessible. But if everything goes according to plan, HBI representatives expect the building to be completed in roughly six months— just in time for spring.
Community partners expect the final product will fill a need in the neighborhood for a gathering space, while at the same time preserving an important part of history.
"Rehabilitation of the Comfort Station helps tell the story of the City of Boston's 19th century expansion and the Dorchester neighborhood's urbanization and related transportation growth into the 20th century," said Kathy Kottaridis, HBI Executive Director, in a press release. "The Comfort Station is a remnant of a time of growth and transportation innovation, and its rehabilitation and reuse — particularly for a transportation-related purpose — will help to preserve and express that story."