By Yukun Zhang, Reporter Correspondent
April 18, 2019
U.S. Representative Ayanna Pressley and State Senator Jamie Eldridge joined a coalition of activists who called for less military spending and more funding for education, health care and affordable housing at a 'Tax Day Rally' held in Dorchester on Wed., April 17.
About 80 people gathered in front of Uphams Corner Health Center on a sunny afternoon for the rally, sponsored by Dorchester People for Peace and other organizations. Legislators and members of civic organizations spoke to a crowd holding signs, cheering and recording with smartphones.
"Every day I am reminded of the crossroad we find ourselves and the gravity of our challenges, while the occupant of this White House would rather fund endless wars than investing in endless peace and prosperity and the health of our families and communities," Pressley said.
"We live in a nation where we have health insurance, but not health care. We live in a nation where our infrastructure is crumbling, and so our people, where our schools are understaffed and underfunded, where people don't have the peace of mind to feel safe in community, where it is barely affordable to rent a home much less for the dream of home ownership to be within reach," she said.
Repeatedly, Pressley said she would "never forget the people," and that the fight is for justice, equity and the people.
One after one, speakers talked about eviction, public housing, fossil fuels, Green New Deal, lack of health care, individuals paying more taxes than big corporations, war and money funneled to defense contractors.
Hayat Imam, a Muslim feminist-activist of Bangladeshi origin, said people experience "state-sponsored Islamophobia and racism" under the Trump administration.

Photo by Yukun Zhang
"President Trump's proposed budget for 2020 made our hearts sink," said Imam. "Trump is proposing cuts to Medicaid, Medicare, social security, food assistance, student loan programs, public housing, Head Start, energy assistance to low-income families. This attack on the poor is in stark contrast to the huge 1.5 trillion tax cut passed by the Republicans in 2018."
Imam also pointed out that the president's proposed budget would increase the defense budget by five percent from last year, and that the U.S. spends more money on military than the total amount spent by the next seven defense-spenders in the world.
"As a young person, I cannot remember a year since I was born that the United States has not been in an endless war," said Vignesh Ramachandran, Digital Organizer of Better Future Project, an environmental organization.
Sen. Eldridge of Acton, chair of the Senate Progressive Caucus, said the problems could be fixed by "The People's Budget," an alternative to the federal budget, which is part of a bill he co-sponsored.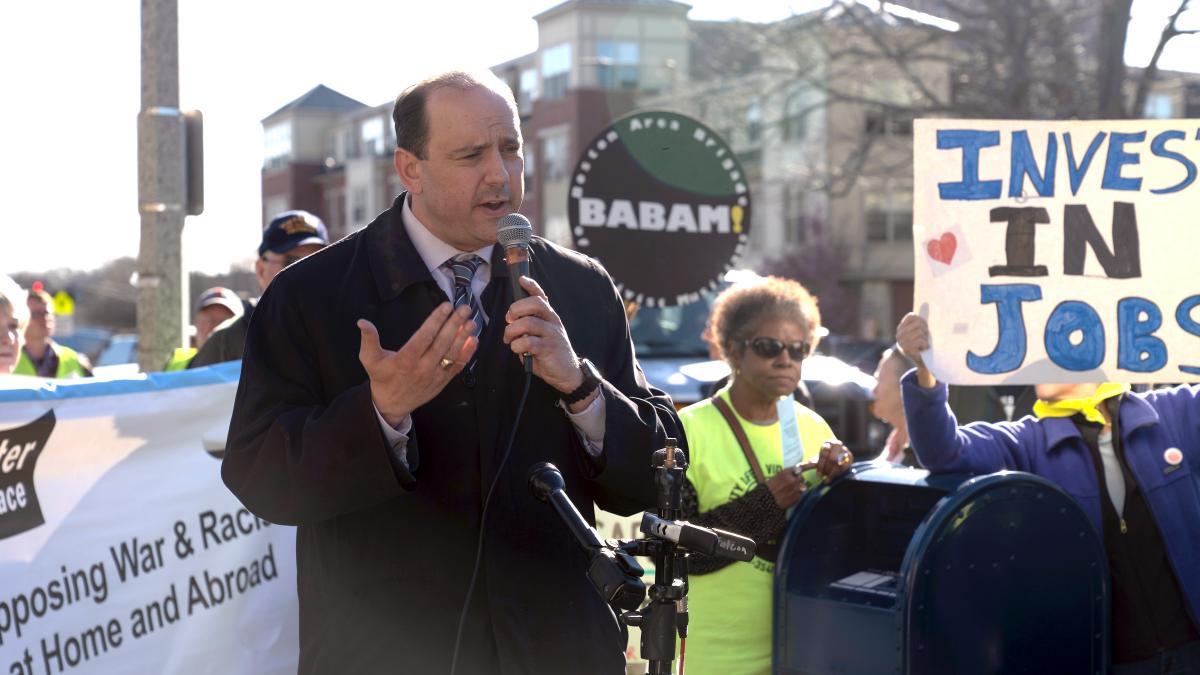 Photo by Yukun Zhang
"We can fix it by raising taxes on the wealthy in Massachusetts," said Eldridge. "We can focus on not just reducing health care costs, but actually moving to a single payer system right here in Massachusetts. We don't have to wait for the federal government to pass Medicare for all, we can do our own version of Medicare for all here in Massachusetts.
"We don't have to wait for the federal government to come back and make college more affordable, we can pass debt-free college here in Massachusetts in the legislature," he said.
The following march was accompanied by the BABAM (Boston Area Brigade of Activist Musicians) marching band. The protesters, young and old, of all ethnicities, carried signs and flags down Columbia Road, making two stops with more speakers before arriving at St. Mary's Church on Cushing Avenue for dinner and more speeches.
"We are marching today so we can have a future and our children can have a future, on a planet that hasn't burned to a cinder,"said Jeff Klein of Dorchester People for Peace.

Photo by Yukun Zhang