By Daniel Sheehan, Arts and Features Editor
October 24, 2019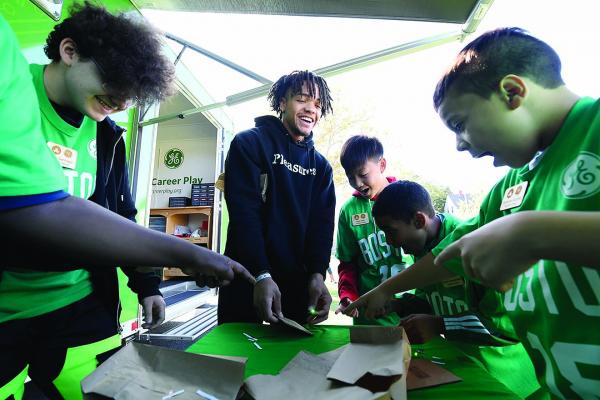 Celtics rookie Carsen Edwards was in Dorchester on Monday to help unveil the Brilliant Career Play Mobile Lab, a new STEM facility at the Murphy School in Neponset.
The space, which will allow students to participate in a variety of activities, comes equipped with three-dimensional printers, motion detectors, robotics equipment, virtual reality technology, laser cutters, and programming tools. 
At the event, which was sponsored by the Celtics, the GE Foundation, and the Fab Foundation, Edwards participated in a demonstration lesson and helped kids build batter- powered name blocks. The unveiling ceremony was followed by a Grade 5-8 pep rally in the gym.
The event was part of Massachusetts STEM Week (Oct. 21 to 25), which is organized by the Executive Office of Education and the STEM Advisory Council in partnership with the state's 9 Regional STEM Networks.
All are part of a statewide effort to boost the interest, awareness, and ability for all learners to envision themselves in STEM (Science, Technology, Engineering, Mathematics) education and employment opportunities and complement the formal instruction happening in the Commonwealth beyond STEM week.