By Daniel Sheehan, Arts and Features Editor
June 26, 2019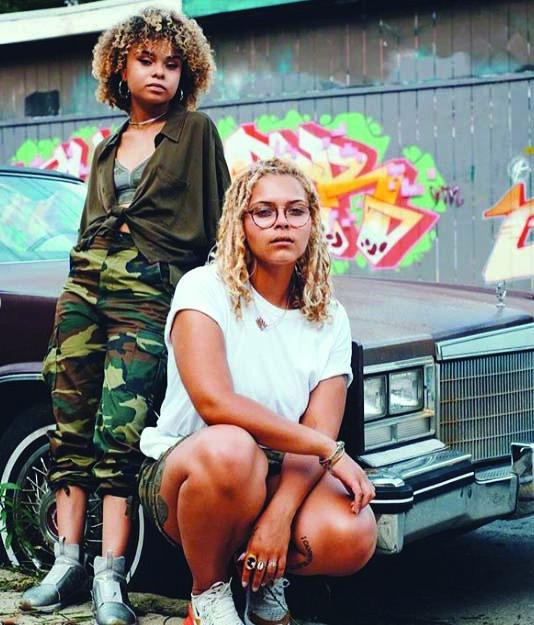 Growing up on Dudley Street, Amber Torres saw the bustling Uphams Corner neighborhood as her "downtown." Whether grabbing a bite at Brothers' Supermarket, buying a new pair of shoes at Foot Locker, or just hanging out with friends, Torres knew the neighborhood as a hub of commercial activity.
But she was always bothered by one building that often was devoid of life: the Strand Theatre.
"It was so neglected for a long time," she said, thinking back to the handful of times she attended programs there as a kid. "The only times I really went were for field trips to see The Nutcracker, and that was once a year. It just wasn't seen as a great theater space like that. It's not a mecca the way Symphony Hall is seen."
Today, Torres is part of a citywide movement intent on reactivating the Uphams Corner landmark, which underwent a series of renovations in the past decade but remains relatively underused, and in Torres' words, "underloved."
This past month, the Strand's art gallery has been playing host to "Inner City Circle," an art show featuring Boston-based artists that was organized by Torres, Mission Hill native Althea Bennett, Dorchester Art Project gallery director Emma Leavitt, and Afro-Caribbean Museum gallery manager Mfalme Kenyatta.
Torres and Bennett, both 25, are the minds behind "Hoodgrown Aesthetic," a podcast with a mission to shine a bright light on artists of color in the city. The duo met over a decade ago as students at the Boston Arts Academy, where they discovered in each other a mutual passion for visual arts and community organizing. After gaining experience curating shows while in college, they felt a calling to launch a platform in their hometown.
"We wanted a way to highlight Boston artists," explained Bennett, "specifically in the community we felt involved in — that being artists of color. This city is so rich with culture, but it's often ignored when it comes to artists of color."

At a live-recorded podcast episode last Friday night at the Strand Theatre, a panel discussion focused on Boston's current relationship to its black and brown artists. Pictured, l-r,Althea Bennett, Amber Torres, Larry Pierce, Rocky Cotard, Rixy Fernandez. Daniel Sheehan photo
Initially, Torres and Bennett brainstormed plans to open a hybrid studio/community center as a setting to stimulate creation and arts engagement.
"That's still a goal of ours in the future," said Torres. "But this is how we sort of took our first step toward that: Hoodgrown is our way of creating a sort of community center space on the internet."
That online community space acts as a discussion forum for many of Boston's established and up-and-coming artists of color. Now on its 174th episode, Hoodgrown Aesthetic has grown and evolved since its inception last year.
"At first it was like, let's just talk to our friends because we knew a lot of artists, but then it branched out from there," explained Bennett. Now, the pair have divided recording time into six segments, including "Word on the Street," in which Torres and Bennett discuss news concerning art and how it intersects with poverty, education, race, and gender; and "Good Looks," an interview segment with local educators, activists, and artists of all mediums and styles.
A recurring topic on the podcast is just how much the art scene in black and brown communities like Dorchester, Roxbury, and Mattapan has grown in the last year. Small galleries are popping up in each neighborhood, and the city has become more accepting of street art, with graffiti and murals being commissioned with more frequency. But despite this progress, the status quo is "not perfect yet," according to Bennett.
"It still feels a little exploitative sometimes," she said. "Artists don't have full ownership, there's a feeling that art is being used to sell neighborhoods, you know, with this whole campaign around beautifying and gentrifying Boston. It's kind of bittersweet how murals brighten up neighborhoods but also increase the value of homes."
And beyond the street, inequity still looms large at some of the city's great artistic institutions.
Bennett, who works at the Museum of Fine Arts, says she witnesses on a daily basis the tension between Boston's largely white upper echelons of art and its communities of color. A incident earlier this month between two racist patrons and a group of BPS schoolchildren from Dorchester was just the most recent example of this type of discrimination. While Bennett credited the MFA for acting quickly to ban the offending patrons, she said the incident nevertheless reflected "the city's true colors."
"A lot of white folks think the art world is reserved exclusively for them," she said, "and that for me was a reflection of how arts culture in the city is."
Torres, who now teaches at the Boston Arts Academy, agrees. "I feel that. When you're walking with students in a museum or in a public space, you feel like you have to over-police them just to avoid something like that. But one positive takeaway from all of this is how people came together to discuss it. We want to build infrastructure and support in our communities, too, and so it was nice to see regular folks from the hood talking about art – it should be known that the MFA is meant for everyone."
At a live-recorded podcast episode last Friday night at The Strand, Torres and Bennett led a panel discussion on Boston's current relationship with its black and brown artists with a group that included veteran local painter Larry Pierce, Boston-based Haitian artist Rocky Cotard, and Latinx contemporary artist Rixy Fernandez.
At one point, Pierce imparted some of his wisdom to his younger co-panelists, imploring them to "be loud. Just keep making as much noise as possible, so that they have no choice but to listen to you."
In amplifying the voices of their peers, Torres and Bennett are doing just that.
Inner City Circle: An Intergenerational Show of Boston-based Artists is currently on display at the Strand Theatre. You can support Hoodgrown Aesthetic at patreon.com/hoodgrownaesthetic or listen to the show on Spotify, Soundcloud, or Stitcher. To learn more about the podcast, visit hoodgrownaesthetic.com,