By Katie Trojano, Reporter Staff
October 2, 2019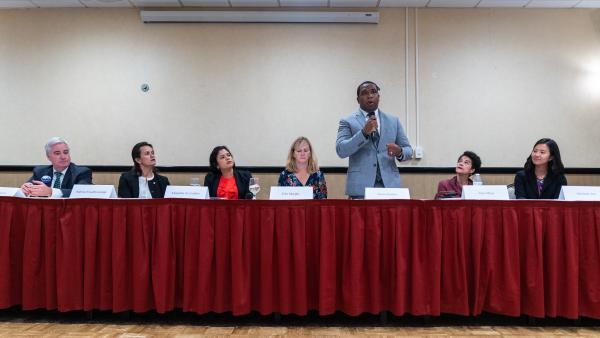 Four Dorchester civic associations co-sponsored an at-large City Council candidate forum on Tuesday evening at Florian Hall. State Representative Dan Hunt and POLITICO reporter Stephanie Murray moderated the event, asking the candidates where they stand on education, development and zoning, transportation, and public safety. 
The forum came one week after a preliminary election cut a field of 15 candidates down to eight hopefuls vying for one of the four at-large seats that will be determined by the Nov. 5th general election. Three incumbents and a first-time candidate with City Hall experience made it into the four top slots of at-large candidates in Boston's preliminary election. Voter turnout was low. Roughly one in ten (eleven percent) of eligible Boston voters participated in the election.
The room in Florian Hall was full of Dorchester residents who came out to see and hear from seven of the finalists: Incumbents Michelle Wu, Annissa Essaibi-George and Michael Flaherty, along with Alejandra St. Guillen, Julia Mehia, Erin Murphy and David Halbert. Althea Garrison, who currently sits on the council, was unable to make the forum due to an "unforeseen circumstance." 
The first section of the forum consisted of four questions, each of which were answered by two candidates whose names were drawn at random.
Stephanie Murray's opening question for the candidates was about access to city exam schools. Essaibi-George and Mejia were selected at random to answer the question. 
Incumbent at-large city councillor Annissa Essaibi-George at Tuesday evening's forum. Yukun Zhang photos.

"The greatest challenge that we have when we talk about our schools is not really about the exam schools, it's about the perception we have around our non-exam schools," Essaibi-George said. "We need to take a look at the ISEE exam and [decide] whether that's the best test for our students to be taking, because curriculum in the Boston Public Schools does not match that. We need to make sure that our kids in our city are prepared for that test, and those seats need to be occupied by Boston kids."
"I think that there's a perception that exam schools are the end all be all," Mejia said," I think we need to challenge that perception because what it says to kids that [aren't accepted] is that they're not worthy. We put too much emphasis into focusing on [exam schools] and we aren't making sure that all schools are performing to their highest ability," Mejia said. She added that she also would support re-evaluating the ISEE exam and supports college and vocational preparation. 
At-large candidate Julia Mejia.

Wu and Flaherty answered the next question about how to address the communtty's ever-growing need for housing without becoming "overbuilt." 
"The most important part of this is planning, which we don't do and haven't done city-wide in Boston since 1965," said Wu. "We are doing visioning, but it's not translating into clear consistent rules across the board."
Michelle Wu

"We have a development system that is built on special approvals and exceptions. With development, every new project that comes before the board, the neighborhoods have to have that fight-- and it hurts everyone. We need planning, and we need to have that conversation up front before developers are involved."
Flaherty addressed the question by suggesting the City adopt a "stand-alone planning committee" and changing the way that the Boston Planning and Development Agency (BPDA) operates.
"There's an inherent conflict between planning and the economic development of the City," Flaherty said. "We need real urban planners who have resumes that are consistent with planning major cities."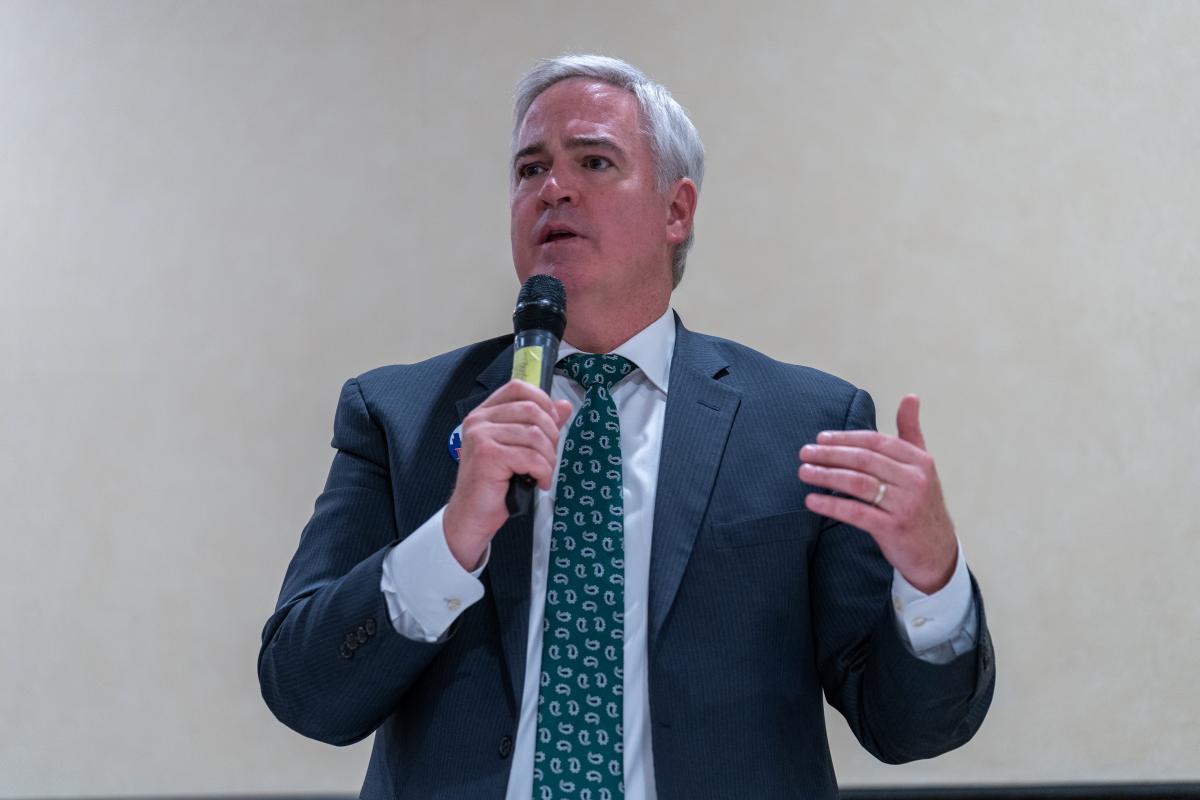 Incumbent city councillor Michael Flaherty

Murray asked Murphy and St. Guillen if they favor expansion of city-wide traffic calming measures. Murphy pointed to a recent death that occured when a woman in the Seaport district was hit by a car.
"A lot of the time we wait for something tragic to happen and then react," said Murphy. "I'm in favor of it but I understand that there are neighborhood concerns from residents that are worried there will be increases in traffic." 
St. Guillen said that she supports city-wide expansion of traffic calming measures including the slow streets program and road diets.
"As we continue to grow as a city we have to look at how people are getting around the city, how we encourage biking and using the T," St. Guillen said. "I also understand that it's not feasible to live without a car." 
Alejandra St. Guillen

Rep. Hunt asked Halbert what the focus of the council should be in taking steps to address the City's opioid crisis. Halbert said he supports "safe consumption sites" to avoid the risk of needle exposure to civilians that can occur when they improperly discarded.
"The first thing to realize is that the vast majority of individuals who are dealing with [opioids] are dealing with this as a sickness. That's what this is. It's a sickness and it's an addiction, so we have to approach it with compassion," Halbert said. "In terms of what the City Council can do is being bold, stepping out and making sure that we support innovative policy like safe consumption." 
David Halbert

The candidates were faced with a lightning round of questions in which they were asked to raise their hands to how support for each policy. All candidates raised hands in support for having an office aide dedicated to Dorchester, and incorporating dog parks into all public parks. The candidates unanimously opposed digital billboards and the conversion or construction of new billboards. All except Wu were in support of rebuilding the Long Island bridge. Most candidates supported the expansion of body cameras to all Boston police— except for Murphy and Essaibi-George. 
In a final question, each candidate was asked to speak about the top priority they would advocate for in the city budget. 
St. Guillen said that "wrap-around" social and emotional services in schools need to be addressed, as well as affordable housing that could be supported by luxury taxes. Essaibi-George would focus on providing full-time nurses in each BPS schools, as well as mental health providers for students. Flaherty wants to tackle the achievement gap by proposing voluntary year 13 for students in order to prepare students for colleges to be paid for with a pilot program through partnerships with local institutions. 
Wu said that her priority would be improving vocational education programs at schools like Madison Park, as well as targeting transportation improvements to the MBTA. Mejia wants to advocate for planning from the ground level starting in civic associations, support for vocational schools, and advocating for more guidance counselors as opposed to police officers in schools. 
Halbert said that he would look to support small businesses and small business development for communities by increasing the City's small and local business program budget. Murphy would focus on fully funding public schools, including K-1 programs, in every neighborhood. 
In the preliminary election, incumbent Michelle Wu topped the citywide field ticket, finishing with 19 percent of the votes cast. She was followed by incumbents Annissa Essaibi-George and Michael Flaherty, who each collected just under 14 percent. Alejandra St. Guillen, a former member of Mayor Martin Walsh's administration, secured the fourth slot with just under 9 percent.
Competition for the fifth position was fierce between Julia Mejia (7.7 percent), incumbent Althea Garrison (7.09 percent) and Erin Murphy, who ended up with 6.84 percent. David Halbert earned himself a spot on the November ballot by securing the eighth position at 4.76 percent.