By Yukun Zhang, Reporter Correspondent
February 7, 2019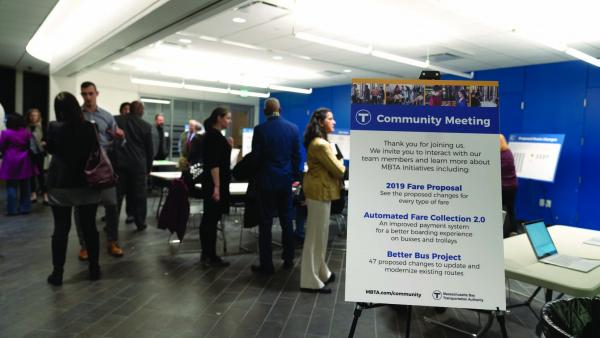 Residents brought their concerns about MBTA services, including a proposed fare hike, directly to T officials, including General Manager Steve Poftak, at a community meeting at the Bruce C. Bolling Municipal Building in Dudley Square on Monday evening.
Poftak was one of several officials on hand to engage with customers one-on-one during a two-hour event in the Bolling building's auditorium. Attendees were greeted by display panels illustrating various ongoing projects with T employees standing next to every panel to talk about them and solicit input. The event was focused on the T's Better Bus Project and Automated Fare Collection 2.0.
But many of the customers who showed up had more immediate concerns they wanted to air.
Pamela Wilson, a retiree from Dorchester, cited problems with the elevators in Andrew Station. Wilson, who uses a cane, takes the Orange line, the Red Line, and buses to make her way around Dorchester, Roxbury and Mattapan. She said the elevators at Andrew don't work and she has to walk down all the stairs. Three elevators in Andrew station have been out of service since last August, according to the T and a shuttle bus is in place between Andrew and Broadway stations.
Wilson was one of several dozen people —mainly from Roxbury and Dorchester— who showed up to discuss their concerns about how buses are failing the T's riders.
The agency admits in its own literature that too "many of our bus routes still fail to live up to our own standards." The Better Bus Project— which will be ongoing through 2020— is expected to improve bus ride experiences.
Last year, the T created bus lanes or shared bus/bike lanes during rush hours for a few neighborhood bus routes, and tested signal priority and queue jumps, both aimed at prioritizing buses at traffic lights. Starting this year, the agency will be seeking additional funding to further redesign the bus network.
The agency now has 47 proposals to update existing routes. At Monday's meeting, there was one display panel at a table displaying options that might make people more likely to take the bus or to make the bus more comfortable. An MBTA employee asked people to put sticker dots onto the board. Quite a few dots indicated that people are more likely to ride the bus if it's on schedule.
"We own the buses we run, but the buses have to run in traffic with roads and signals and crosswalks, and the rest of the infrastructure belongs to another entity," said Poftak. "What we are trying to do is to build partnerships with municipalities in an effort to get buses to move faster."
Gloria West, a Dorchester mom and activist went over the folder with proposals for bus route changes, noted the points that are good and those she doesn't agree with, and kept writing. She wants the MBTA to get more input from people who use the buses every day, especially school-age kids and teens.
"They aren't going to be down in Dudley, they aren't going beyond Blue Hill Ave, they aren't going to be in any other T stations asking people what they think… Did you go to any of the schools? Did you want student feedback? Because the students probably ride the buses more than their parents, and those are the voices that should be in this room," West said.
The project known as Automated Fare Collection 2.0 will update the public transit's fare collection system. The new system — set to be in place by May 2021— will allow riders to board at every door on buses and Green line trains and tap with a smartphone or a credit card on bus, subway, commuter rail and ferry. Faster travel time is expected as a result of a smoother boarding process.
The system will also allow for obtaining or reloading a fare card at vending machines in all subway stations, some bus stops, and select retail outlets. People will also be able to check their balances and reload or replace lost cards online or by phone.
Louise Baxter, a volunteer for T Riders Union, a Roxbury-based organization, is concerned that people will be charged with late fees if they can only pay with credit cards instead of cash and miss payments.
Poftak said there will be vending machines that take cash, but the machines will not be on the vehicle, adding that the MBTA is identifying where the machines can be located. He also said that the increase in fare and the additional money from taxpayers next year will allow the agency to cover its ever-increasing expenses and possibly invest in additional services.
Althea Garrison, a newly seated Boston City Councilor-at-large, was on hand at the event. She said the MBTA should improve service before raising fares, noting that she has been filing complaints about Bus 45 for six to seven years while the service has only gotten worse.
Bruce Bickerstaff, a writer who lives in Roxbury writer, said the MBTA leaves some long-standing problems unsolved when it updates equipment and schedules. He noted that although the Silver Line works as a replacement for the demolished overhead Orange Line, a trip from Dudley Square to Logan Airport requires a second fare in South Station. He said that "there's never any conversation about it," and that he has more questions coming from a "historical perspective."
For her part, West reiterated that the agency has to do more to connect to the people who use it. "When people don't come to you, you go to them. If you really care about equity, you will be out there at the bus stop talking to people. Better yet, ride the 28, ride the 19, ride the 8, ride the 24 and 26 and talk to people," she said.