By Elana Aurise, Reporter Staff
February 7, 2019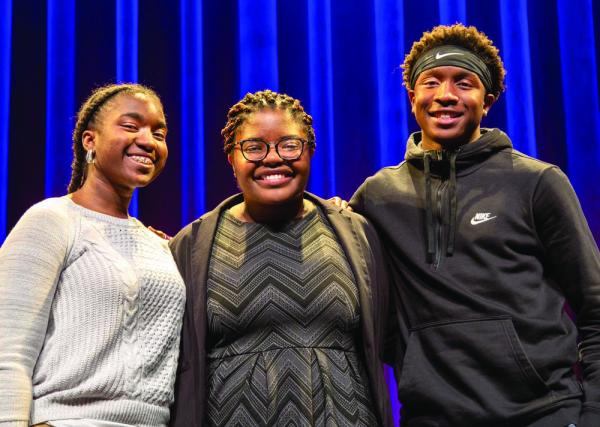 Three Dorchester teens were chosen as finalists in Huntington Theatre Company's August Wilson Monologue Competition held at the Calderwood Pavilion on Monday, January 28.
Sarah Purvis of Boston Collegiate Charter School, Malik Mitchell of Boston Arts Academy, and Diamond Hunter of Henderson Inclusion School performed a designated monologue in the Boston Regional Finals for a chance to receive an all-expenses paid trip to New York City in the spring to compete in the national competition.
"[The competition] provides a creative opportunity for students to build their confidence and develop critical thinking skills and empathy through the study of vitally important literature," said Alex Smith, co-director of education at the Huntington Theatre Company. "Co-founder, Kenny Leon frequently reminds us that August Wilson believed that America is for all of us. Through these monologues and the study of [August Wilson's American] Century Cycle, students take ownership of their place in the American story."
Purvis – a 17-year old junior at Boston Collegiate – expressed she was always a dramatic kid, but got her start performing in her church's Christmas recitals. When she got into Boston Collegiate, she quickly found its acting program and started performing in school productions.
Purvis chose to perform "Black Mary" from August Wilson's play, "Gem of the Ocean." She won second place and will be representing Boston as a national finalist in NYC from Sat., May 4 to Tues., May 7.
"I chose 'Black Mary' because one— it was sassy, the character had a lot of spice – and two, she talked about real life issues," said Purvis. "[The play expresses the idea] that men think women need them, and that without a man, a woman is nothing. 'Black Mary' questions that idea and at the same time – instead of seeing men as evil – she humanizes them because she understands power and the pain of not having it. In the end, she agrees to give the man what he needs but says that her choice doesn't make her any lesser because she's doing it for her, not for him."
Purvis will perform the same monologue in NYC but will have the opportunity to work with new coaches to prepare for the national competition.
"The opportunity in itself is mind-blowing and it's been great to see other kids just like me performing August Wilson's monologues," said Purvis. "Being able to read a monologue from a playwright who is a person of color is in itself an honor."