By Katie Trojano, Reporter Staff
October 22, 2019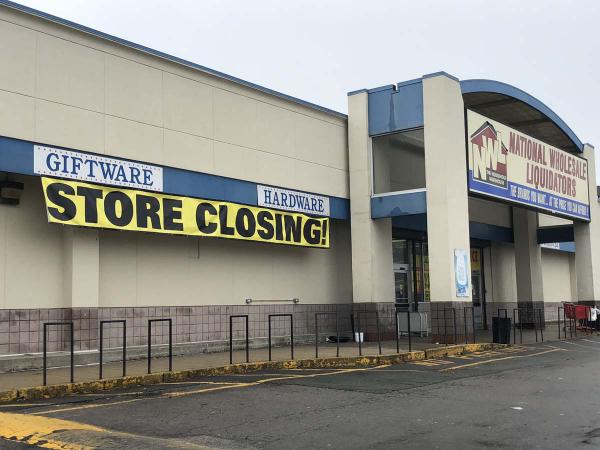 A high-profile commercial space along the Morrissey Boulevard corridor near Victory Road will be taken over by the Georgia-based national retailer Floor & Décor, a self-styled multi-channel American specialty realtor of hard surface flooring and related accessories that hopes to open its doors by late 2020 or early 2021.
The large building, at 729 Morrissey Blvd., has been vacant since National Wholesale Liquidators went bankrupt in 2018 after a nearly decade at the site.
Representatives from Kimco Realty, which owns the building and has a pre-existing business connection with Floor & Décor, laid out their company's plans for the site at a meeting of the Clam Point Civic Association on Monday night.
While Kimco has not formally filed an application with the Boston Planning and Development Agency (BPDA), its officials are making their rounds to local civic associations, introducing their project and asking for community feedback.
"We are working on our application but we wanted to come here and meet with you first," said William Squires, an attorney at Hickney, Allen & Snyder LLP.
Kimco Realty purchased the property, which they are now calling Morrissey Plaza, in April 2014. "What you may not know is that we don't own the entire property," explained Chris Ciminiello, the associate director of development at Kimco. "We only own the portion that used to be National Wholesale Liquidators, [which] signed a lease in 2011 when the property was under different ownership.
"We're being as pro-active as possible in maintaining the property while it's been vacant," said Ciminiello. "But as you can understand, having a vacant lot of this size poses a lot of challenges, which is where I see a lot of opportunity with leasing that space to Floor & Décor."
The Morrissey Plaza property also includes 127 parking spaces, but that situation is complicated by deed restrictions that, according to Ciminiello, prohibit "full-service restaurants, entertainment or groceries" from operating at the site.
He added: "Retail is really the only thing we could look at to lease an 85,000 square-foot space."
Two other people spoke to the Clam Point membership, Vanessa Massell, development manager for Centerpoint, and Austin Turner, project manager and engineer at Bohler Engineering, who have been hired by Floor & Décor to help with preparation of the site.
"As part of our initial conversations, the BPDA has asked us to introduce some more green space and landscaping to the property," said Turner. "This is going to lead us to reduce some of the parking count, and we're okay with that because operationally we don't have a large expectation for high parking demand. We think that it will fit nicely into the flow."
Noted Massell: "We're looking at … making significant improvements to the interior and exterior of the building. It's really old, and it's going to take a lot of work to put it back into use.
"We would do the typical Floor & Decor building front entry way," she said, "maintain the loading docks that already exist on the right side of the building, and incorporate a customer pick-up area. We're maintaining the existing blueprint of the building. We're not expanding it or taking away any square footage." She added that Floor & Decor store would employ roughly 45-50 people, with local applicants given priority.
Kathy Lynch, vice president of the Clam Point Civic, asked: "How do you plan on accessing the property with your deliveries since many of the surrounding streets have truck restrictions?" The Kimco team responded that materials coming from local distribution centers would exit Rte 93 at Freeport Street and generally approach the store through the main entrance on Morrissey.
Attendees seemed generally accept the development team's plans. "It's a good use for the property," said David Higgins. "I think it's been in shambles there for years and years."
Others made the point that local associations are strongly opposed to digital billboards as a branding technique.
Security and public safety issues regarding the property were also raised by some residents, who asked about security cameras. Others highlighted long-standing safety issues in the property's parking lot.
"Please be aware that you're buying a property that has a history of drug-handoffs because it's very accessible to the nearby major highways," Lynch said. "It's been a spot for people to meet and exchange drugs."
The team assured the membership that they would take the safety concerns to heart. "While Kimco is large in scale, we're very much local in nature," said Ciminiello. "We're hands-on owners who like to engage with the community and the city and it's important for the community to understand that we're not a fly-by-night company. We have your best interests in mind."

Get the Dorchester Reporter— the paper of record for Boston's largest and most diverse neighborhood—delivered to your door for just $30 per year.
That's 52 weeks of the Dorchester Reporter delivered by USPS for just $30.
Support our brand of community journalism AND get the print edition delivered to your door each week— the best deal in town!
Click here to submit your order with PayPal:
Or call 617-436-1222.