By Reporter Staff
March 14, 2019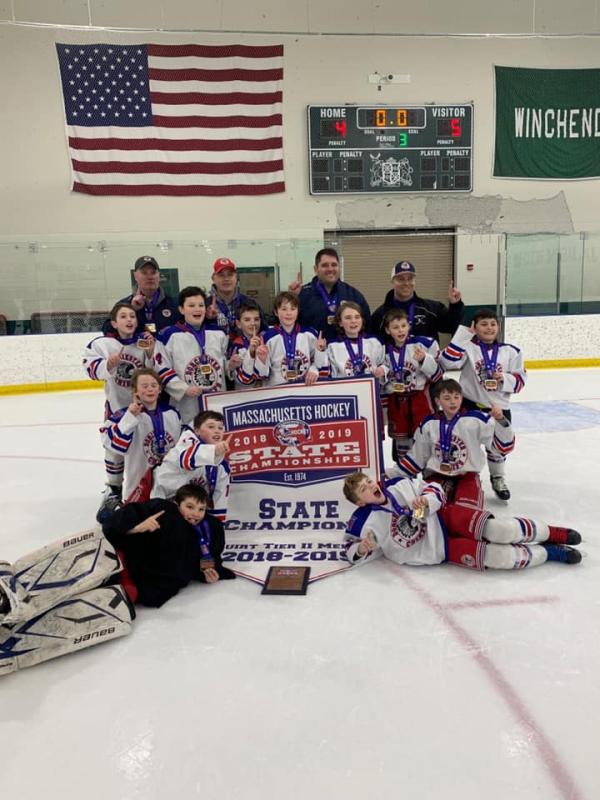 Sunday was a banner day for Dorchester's Youth Hockey program, which sent five teams to the Massachusetts Hockey tournament in Stoneham last weekend. Four of the teams skated to victories, bringing state championship titles back to Dorchester's Devine rink in Neponset, where the DYH program is based.
In addition to the Squirt A team, pictured above, the Bantam A, Bantam B, and Squirt B teams were also crowned state champs.
The Bantam A State Champs: Coaches Peter O'Sullivan, Mike McDougall and Shaun O'Sullivan. Players: Eamon Baker, Gerald Cahill, Aiden Ellis (goalie), James Fitzgerald, Eamonn Foley, Noah Kearney, Austin Kelly, Jake Kelly, John Lynch, Greg Mayo, Sean McDougall, Jackie Murphy, Luke O'Sullivan and Ryan Quinn.
Bantam B State Champs: Coaches Anthoney Joyce, Brian Downing, Dave Cotter and John Quinn. Players: Nick Berardinelli, Deven Dunlap, Luke Kyne, Shay Meaney, James Murphy, Connor Nee, Aidan Prendergast, Garrett Quinn, Matt Ryle, Ryan Shields, and Conor Walsh.

Squirt B state champs: Coaches Vincent Conte, Kevin Donahue, Neil Janulewicz, and Matt McQuaid. Players: Michael Chuairy, Dominic Conte, John Dasey, Brendan Donahue , Jack Flynn, James Janulewicz, Charlie Kelly, Robbie Lavey, Richard McGrath, Izzy McQuaid, Johnathan Neff, Andrew O'Malley, Quinn Taylor.