By Jasmine Braswell, Reporter Correspondent
June 6, 2019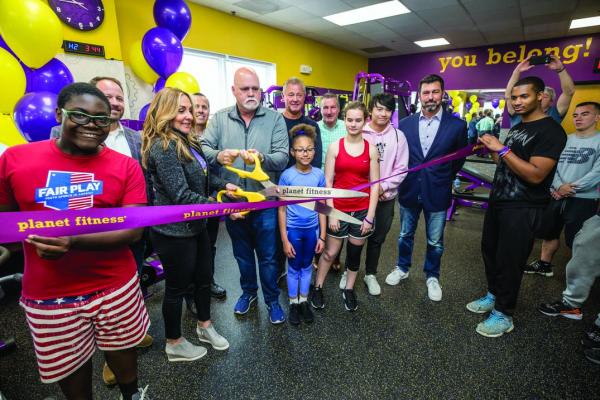 The Boys and Girls Club of Dorchester opened a new third-floor gym for teen members last Wednesday. The facility, created by Planet Fitness, includes a brand-new weight room with a bike, treadmills, and elliptical machines, along with ten different curling bars and benches. The center is described as a "judgment free environment" to encourage teens to get a healthy workout.
The president and CEO of Boys and Girls Club Dorchester, Bob Scannell, praised Planet Fitness for working with the club to outfit and design a welcoming environment.
"It's a great space, and the entire third floor of the McLaughlin Center here has been used for the teens," said Scannell. "This was part of the teen center which expands into a couple of rooms on this floor. But we saw this space and felt like we could use it better."
He added: "We are really focusing on healthy lifestyles for our teens and increasing teen membership, so we realized the opportunity to build a gym/fitness center for the boys and girls who come here that are teenage years would get an awful lot of use," said Scannell. "What a great job they did for us."
The Boys and Girls Clubs of Dorchester is seen as a safe haven that is a second home for thousands of kids and teens .
Gabriella Gold, who has been a member at the Club for ten years, said she is looking forward to using the new gym. "The club definitely helped me improve as a person a lot," she said. "I feel like I'm much stronger because of this place. Like mentally, physically I've been doing athletics here like the swim team and the gym and stuff for a long time, so it has really improved my self-esteem and self as a person too."
She added that she feels "more empowered by it, just to be here and to show that I'm just as good as any other guy."
Jared Hill, 18, of Fields Corner, has been a member of the Club for 13 years. The new gym, he says, will make his commute less stressful. "Before this," he said, "I went to the Planet Fitness near River Street [in Mattapan]. So now that we know we have one here, since I work here, too, I can come on my days off or right after work and just be in here and try to get some reps in. It's very convenient."
The gym/fitness center is housed inside the Paul R. McLaughlin Teen Center at 1135 Dorchester Ave. For more information on hours and memberships, see bgcdorchester.org.