By Kevin Perrington-Turner, Reporter Correspondent
May 23, 2019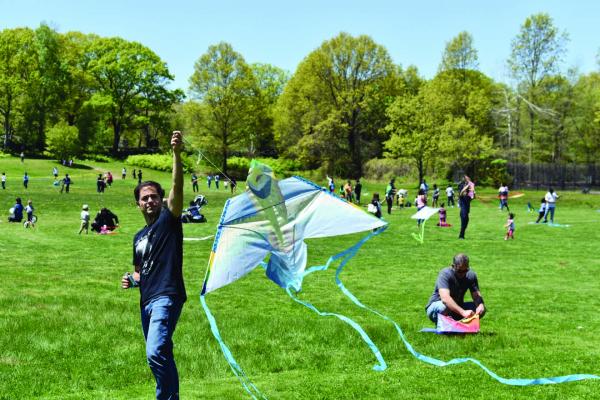 More than 1,000 kite and bike enthusiasts turned out for the 50th Kite and Bike Festival at Franklin Park last Saturday. Hosted by the Franklin Park Coalition and Hot 96.9 Boston, the popular event drew families from all over the state to the park to enjoy music, food, and, of course, kites and bikes on a blue-sky day.
"It makes people happy" said Franklin Park Coalition executive director and organizer Janna Cohen-Rosenthal. "I think there's a lot of things in our society that are stressful and scary. But, at the heart, we just want to get together and enjoy the community, the beautiful day, and fly some kites."
This was Cohen-Rosenthal's first year of organizing the event, which began in 1969, and she has high hopes for the future.
"Over the time, I hope to grow it back to be a creativity festival. In the past they had judging of people who've built kites. I would like to build that science and art back in the festival. But for now, it's still a great day out."
Saturday was a jewel of a day, with the sun dominant overhead. It was perfect for kids to have fun and for families to hold picnics. Kites, some created by kids from the Lena Park Community Development Corporation (CDC) using a 3D printer, were sold to those who came to the park empty handed.
Many non-profit organizations were on hand, including fitness groups and officials from the city's health commission along with yoga instructors and legal services advisors.
Thanks to Hot 96.9, good music and vibes were played throughout the festival, which also served as a way to highlight an upcoming city-led planning initiative focused on the future of Franklin Park.
"The city's investing $28 million in the park," said Cohen-Rosenthal. "And they just picked a firm to lead the planning. But we're going to be their community partner and we want many groups and non-profit organizations to be involved in the planning. So, that's why I invited them [today] to have a free place to do outreach and connect with the park community."
"It's beautiful. It's a family-friendly event, with a lot of different kind of people," said Aba Taylor, who brought her children to the event and they "enjoy it too much."
The Franklin Park Coalition accepts event sponsors and other vendors for events. To connect, email them at admin@franklinparkcoalition.org or janna@franklinparkcoalition.org.