By Katie Lannan, State House News Service
April 11, 2019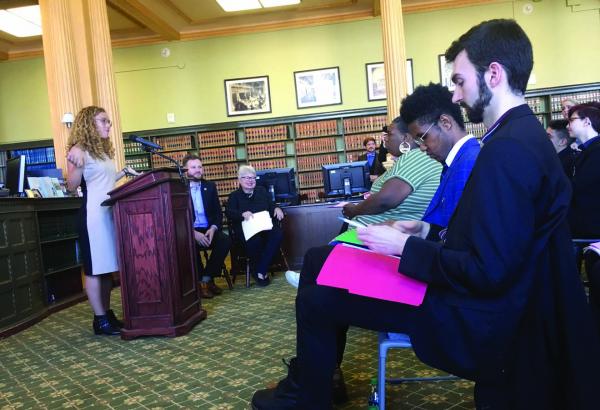 More than 15 percent of Massachusetts high school students identify as lesbian, gay, bisexual, transgender, or are questioning their sexual orientation or gender identity, according to a new state report that recommends steps policymakers can take to support the LGBTQ youth population.
The Massachusetts Commission on LGBTQ Youth released its report and recommendations at a State House event on April 4. Sasha Goodfriend, who chairs the commission, said it is "no longer serving a niche group, but rather a growing bloc of youth that are increasingly diverse."
The report includes what Goodfriend described as "troubling" statistics, showing LGBTQ students are 3.2 times more likely than other students to have hurt themselves on purpose in the past year or to have previously considered suicide.
About 16 percent of LGBTQ students and 4 percent of their heterosexual, cisgender peers had made a suicide sattempt in the past year, according to the report, which used data from the 2017 Massachusetts Youth Risk Behavior Survey. Cisgender refers to people whose gender identity matches the sex they were assigned at birth.
LGBTQ students were also more likely to have been bullied at school or online, skipped school in the past month because they felt unsafe, been homeless, experienced sexual contact against their will, or used heroin.
"Those statistics that Sasha was talking about, those sort of numbers have really kind of stayed consistent from when we were working on this in 2012, 2013, 2014," said state Sen. Julian Cyr, a former member of the commission who served as its chair in 2013 and 2014. "Whereas we've made a lot of progress socially and culturally and politically, when you actually look at lived experiences of LGBTQ youth, particularly vulnerable youth -- youth of color, transgender, and genderqueer youth -- there's still a lot of work to do, and the data are showing that."
The commission's recommendations focus on four broad areas: inclusion, homelessness, the justice system, and health.
One of the health recommendations -- banning the use of conversion therapy to change the sexual orientation or gender identity of minors -- came a step closer to reality on Thursday as lawmakers sent Gov. Charlie Baker a conversion therapy ban bill. Based on his previous comments, Baker is expected to sign it.
The commission is also seeking increased funding for HIV prevention and for services for youth experiencing homelessness. It recommended the Legislature pass bills (H 410/S 363), known as the Healthy Youth Act, which it said would "provide guidelines and requirements on providing quality and exclusive sexual health education," and called for all state employees to undergo LGBTQ competency and inclusion training.
"It's time that those who are providing critical services to LGBTQ youth and who have a growing number of LGBTQ coworkers in their offices understand how to interact respectfully and inclusively," Goodfriend said. "This includes things like how do you ask someone their gender pronouns, for example. You can include that in the bottom of your email signature. We know that many state employees want these tools and are eager to learn more."