By Reporter Staff
April 11, 2019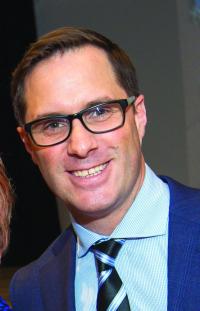 Adam Lewis will join Boston College High School as its next principal beginning on July 1, the school announced last Friday. Lewis, a native of Australia who currently serves as principal of Loyola School in Manhattan, will succeed Steve Hughes, a Dorchester resident and longtime BC High teacher and administrator, who is retiring at the end of this school year.
Lewis has taught and led Jesuit schools in Australia, the UK and Ireland, including Clongowes Wood College SJ, an all-boys Jesuit boarding school in county Kildare, Ireland. 
"While I feel privileged to lead the Loyola community, it has always been a personal and professional ambition to lead BC High," said Lewis.
"We feel blessed to have Adam join the BC High community," said BC High President Grace Cotter Regan. "His demonstrated leadership, particularly at top-notch Jesuit schools around the globe, will be an asset to our students and faculty as he continues to build upon the good work of Steve Hughes and his team.
"I believe we share a collaborative approach to learning and leadership that will have a transformative impact on the young men we educate."
The school is planning a retirement celebration for Steve Hughes on Thurs., June 13.