By Daniel Sheehan, Arts and Features Editor
November 14, 2019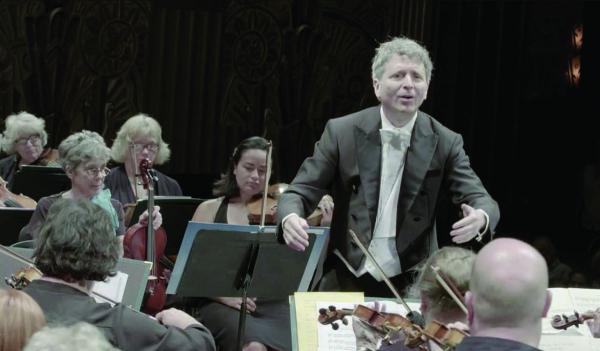 Ronald Braunstein, an internationally acclaimed music conductor, saw his career derailed after he revealed that he had bipolar disorder. In 2011, with the goal of removing stigmas attached to mental illness, he founded Me2/Orchestra, the world's first music organization for people suffering from mental illness.
Now, a documentary film about the Me2/Orchestra's members and their experiences is spreading the word about Braunstein's life-changing organization. The Grove Hall branch of the Boston Public Library will host a screening of "Orchestrating Change" this Thursday (Nov. 14) at 5:30 p.m.
Margie Friedman, co-director of "Orchestrating Change," told the Reporter that it was "an honor" to share the orchestra's story. "They've created a really stigma-free zone," she said. "Half are living with mental illness, and half not, so it's a model for how society could work with compassion, understanding, and acceptance."
After founding the orchestra in Burlington, Vermont, with his wife, Caroline Whiddon, Braunstein started a second branch of the organization in Boston, which rehearses weekly at VietAID in Fields Corner. The orchestra accepts members who live with mental illness or are allies to those living with mental illness. No audition is required, and that sense of openness allows members to pursue their musical interests in a judgement-free zone, said Friedman.
"Ronald has become a mentor to them, because he's been through what they're going through," she added, "and he continues to go through that."
Beth Langan, a retired Dorchester resident with little musical experience, said she was looking for a creative way to occupy her free time when she heard about the Me2/ Orchestra and decided to pursue her dream of learning to play the fiddle.
"I heard there were no auditions and said, 'This is the orchestra for me!'" she said with a laugh.
Despite being a novice, Langan said she was welcomed with open arms by Braunstein and the rest of the orchestra. "I'm absolutely committed to his leadership," she said. "It's very specific and totally supportive, and I'm also learning things about music that I didn't know...usually people at his level of competence are really not interested in people who aren't very good but enjoy playing. It's a very open yet rigorous approach to music."
Langan added that the experience has made her more aware of the ways mental illness can impact people's everyday lives.
"In spite of the fact that I qualify as someone living with mental illness, I have learned so much about it," she said. "Just to give an example, something like OCD is a serious life-altering struggle; it's not just wanting to keep things tidy. I've begun to see it in myself, and the older I get, the more pronounced it is."
Betty Hillmon, another Dorchester resident and accomplished cellist who was recruited to the orchestra by a mutual friend, said attending rehearsals opened her eyes to the prevalence of mental illness, a reality that affects one out of five Americans, including herself.
"A strange thing happened," she said. "Being in the orchestra, I began to realize I've been having dips of depression for years and didn't know it. The more I thought about it, I realized this is what people are talking about: you don't go down to the bottom of the hole, you go halfway. I've learned a lot about myself by being in this orchestra. What I'm learning about is the reality. … I now look at people and no longer assume anything."
That process of eliminating stigma is at the heart of the organization, as well as the film, said Friedman. At screenings and Q&A panels about the documentary, she explained, audience members have shared their experiences with mental illness, which Friedman called "one of the last taboo subjects." She hopes the film gives people an accurate portrait of that reality, with all the good and bad that comes with it.
"It would have been easy to make a fluff piece about the orchestra, but the members wanted to show it like it is, and show all aspects of it. With mental illness there are ups and downs," she said. "People have setbacks and they pick themselves up and keep going. We filmed for two years, and we followed them through accomplishments and setbacks. Two were hospitalized, one was incarcerated, but what was fantastic is they always returned to the orchestra. They were welcomed back, no questions asked. It's an incredible support community for them, and it has changed their lives in ways they never imagined."
Thursday's screening at the Grove Hall BPL will be followed by a panel discussion featuring the film's co-directors, Margie Friedman and Barbara Multer-Wellin, as well as Ronald Braunstein, the orchestra's music director, Caroline Whiddon, its executive director, a musician from the orchestra, and David Jones, M.D., Ph.D., a medical historian and medical ethicist at Harvard University who also directs the Arts and Humanities Initiative at Harvard Medical School. The screening is free and open to the public.