By Daniel Sheehan, Arts and Features Editor
October 10, 2019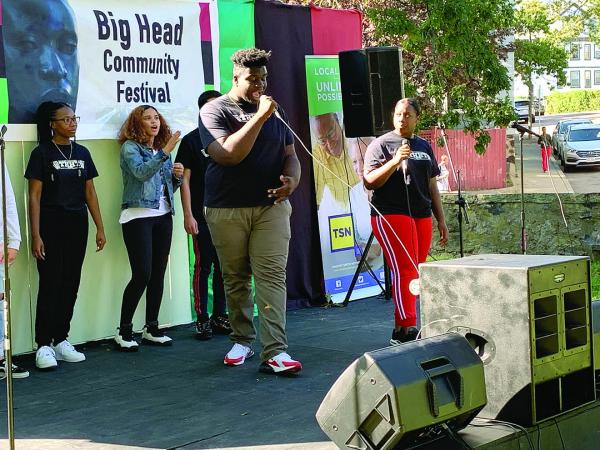 Last month, about a dozen student-artists from a Cambridge-based program called The Hip Hop Transformation sat in a room surrounded by friends and family and listened to a 23-track double album, the final product of a six-week music-making session. As 17-year-old Aliah Howard listened to her voice on several of the tracks, she could barely believe her ears.
"When I heard myself, I was like, 'Oh, shoot. I can do that?'"
Howard, a resident of Dorchester, is one of a dozen or so teenagers who participated in this summer's iteration of The Hip Hop Transformation, which is based in the Cambridge Community Center, that gives teens a chance to experience what it's like to be a music artist. For Howard, the experience was eye-opening— and ear-opening.
"I think I've become more [accepting] of music," she said. "Now I'm more open ears, I understand what people are saying now...there's always a story behind what they're saying."
The program gives 14-18-year-olds a crash course in hip hop history, production, recording, and rhyme-writing. This immersive education is run by two Boston-based MCs — Red Shaydez of Dorchester and Imam "Flash" Bilal-Firmin of Roxbury — who draw from their own experiences as recording artists to introduce kids to their world.
"We're like their label," explained Shaydez. "We're trying to show them what it's like to be an independent artist."
The program takes place over the course of six weeks each summer. The teens gather three times a week to learn and bond over music. By the time it's over, they have a professional quality album to show for it, as well as a slew of gigs and live performances under their belts.
But the "transformation" extends beyond a purely musical level, said Bilal-Firmin. "We're able to do hip-hop education, mental health, financial literacy, marketing, all types of stuff. We call it the hip hop transformation, but there's so many life skills involved."
One of the core lessons that Shaydez and Bilal-Firmin teach is using rap and poetry as a means to find catharsis. The teenage years can be emotionally volatile, which makes having a strategy to cope with those emotions crucial. Bilal-Firmin compared the ritual of writing rhymes to keeping a diary.
"The health piece is very important for us," he said. "We realize that the music is very therapeutic. We had kids talking about eviction, death, heartbreak...a lot of these things that they discuss are natural feelings and emotions that they're dealing with as they come into our program. And then as they go through [the creative process], it's like a release."

Aliah Howard and Alex Khalib-Antoine are "like brother and sister" after bonding over music at The Hip Hop Transformation. Dan Sheehan photo

Alex Khalib-Antoine, a 16-year-old Dorchester transplant from Philadelphia, had little rap experience when he entered the program. But he quickly became a favorite among his peers, adopting the moniker "Biggie Tallz" as his rap name.
At last month's listening party, students and staff alike gleefully chanted along to his verses whenever Biggie's baritone boomed through the speakers. 
"For me, the best part was that I made a lot of friends," he said. 
But Khalib-Antoine also acknowledged the power of having a creative outlet. "You get mad, you just write it down," he explained. "This program will help you get through anything. If you're, like, having trouble at school, somebody will sit down with you and help with your homework. If you're stressed out by something, you know, make a song about it."
Howard, who goes by the nom de plume "Royalty," agreed. "We gotta remember that music is our therapist," she said. Like Khalib-Antoine, Howard pointed to personal connections that she made when discussing takeaways from the six-week session.
"I think the best thing about this program is you have a family now. Me and Biggie, we didn't know each other before this program, and now we're on a song together and we're best friends. We're literally like brother and sister."
As The Hip Hop Transformation moves into its eighth year in 2020, it will expand from a six-week summer format to a year-long one, thanks to an injection of funding from The Boston Foundation's Shout Syndicate Fund that will mean more kids will get a chance to test the waters of music-making and learn about the artform on a deeper level.
And that means more exposure to the industry for teens like Howard, who explained that she wasn't aware of how many jobs, such as sound engineering and ghostwriting, exist within the musical field. Thanks to the program, she now envisions a future with music as the focus. "I'm starting to do my own merchandise," she said. "I'm going to start my own brand, and hopefully after college I'll get to go out and be Royalty and be who I want to be as a musician."

Get the Dorchester Reporter— the paper of record for Boston's largest and most diverse neighborhood—delivered to your door for just $30 per year.
That's 52 weeks of the Dorchester Reporter delivered by USPS for just $30.
Support our brand of community journalism AND get the print edition delivered to your door each week— the best deal in town!
Click here to submit your order with PayPal:
Or call 617-436-1222.