By Daniel Sheehan, Arts and Features Editor
August 1, 2019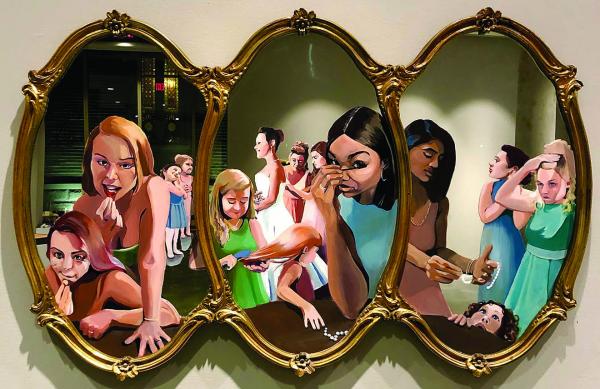 A new exhibition at the Dorchester Art Project entitled "Face Value: Makeup, Art, and Identity" will kick off with an opening ceremony this Saturday night. In examining the ways makeup can reflect social, cultural, and political realities, the show "treats makeup history as a social history," exhibition curator Emily Bass told the Reporter.
"With this show I was aiming to show something that people use every day, but then connect it to social, political, and cultural frameworks," she explained.
Bass noted that the exhibition, which will feature art in the mediums of painting, sculpture, photography, and live drag performance, will also include a "timeline of events that are important in makeup history." 
"For example, in 1912, the suffragettes took to the streets wearing bright red lipstick, and that was a statement about what was previously considered acceptable for women," said Bass. "So, it was about kind of reclaiming that autonomy over your body."
The use of makeup as a tool for activism is at the heart of the show, particularly as a means of bold self-expression for queer, trans people of color. Bass said makeup is often seen as "vain" and seldom recognized as a subversive art form, a fact that inspired her to research further on makeup's cultural impact.
"I think people talk a lot about fashion but then they leave out conversations about makeup or wigs or how people might turn their body into something they have more control over," she said, "which is kind of what I really wanted to do with this exhibition: "Focus particularly on how my queer, trans friends of color use the body as this sort of spectacle where they're becoming larger than life and saying, like, 'you have to pay attention to me. I'm here. I'm taking up space' — and doing it with a lot of style and attitude."
The show will feature artwork by Pete Cosmos, Kit Collins, Annie Harrington, Lucy Gielow, Karli Janell, Kenn Crestwell, Natasha Zinos, Tony Carter-Hill, Siena Hancock, William Barriteau, Tracy Huerta, Melissa Ortiz, Hugo Boudouin, Auddie, Marilyn Boatwright, Parul Sharma, Christy Petrie, and Tyler Nicholson.
Their submissions range from a driver's license smeared with lipstick to a customized compact vanity mirror to paintings crafted with bronzer, concealer, and blush.
Another aspect of the show will examine makeup culture in recent history through the lens of social media and the internet, resources that have led to proliferated DIY makeup tutorials and performance art.
As YouTube became a "democratic platform" to showcase makeup, bolder styles related to drag and queer culture entered the public eye and influenced mainstream fashion trends, said Bass.
In a nod to drag's important role in makeup culture, the opening reception will conclude with drag performances by Mick Beth, Dragon, Lachrymose, and Akira Oni at 10 p.m. "Face Value" will run through the end the month, culminating in a closing reception on Sat., Aug. 31, from 7 p.m. to 10 p.m. that will feature a pre-loved clothing pop-up by Qwear, an online community forum committed to elevating LGTBQ+ voices in fashion. Both events are free and open to the public.
Do you have a suggestion for a story on the Dorchester arts and culture scene? Send your ideas to newseditor@dotnews.com.