By Yukun Zhang, Reporter Correspondent
April 4, 2019
Apprentices of the Pipefitters' United Association of Boston Local 537 can now learn and practice their craft in the union's new training center on Enterprise Street near South Bay and Edward Everett Square.
At the facility's open house and pipe cutting ceremony last Saturday, Mayor Martin Walsh hailed the center's potential, saying to a crowd of several hundred people that "it is going to offer an opportunity right in the heart of this neighborhood for people to make anything possible for them.
"This is what it looks like to rebuild the middle class," he added, "this building represents the opportunity for somebody to buy a home someday, to be able to put food on the table, send their kids to school, buy a car, buy a truck, buy what they want to buy because it preserves and continues to move our middle class forward."
The four-story building, which sits on the site of the old, 1960s-era training center, is well-lighted by sunlight pouring through glass walls and tall windows. It radiates an industrial vibe with exposed ceilings and ash grey walls. Hundreds of people, including the families of union members, filled the auditorium for the open house and pipe cutting ceremony with union representatives, and city and state officials.
"I am grateful not only that this training facility is in the city of Boston, but I'm grateful that it's in Dorchester," said Walsh, a Dorchester resident.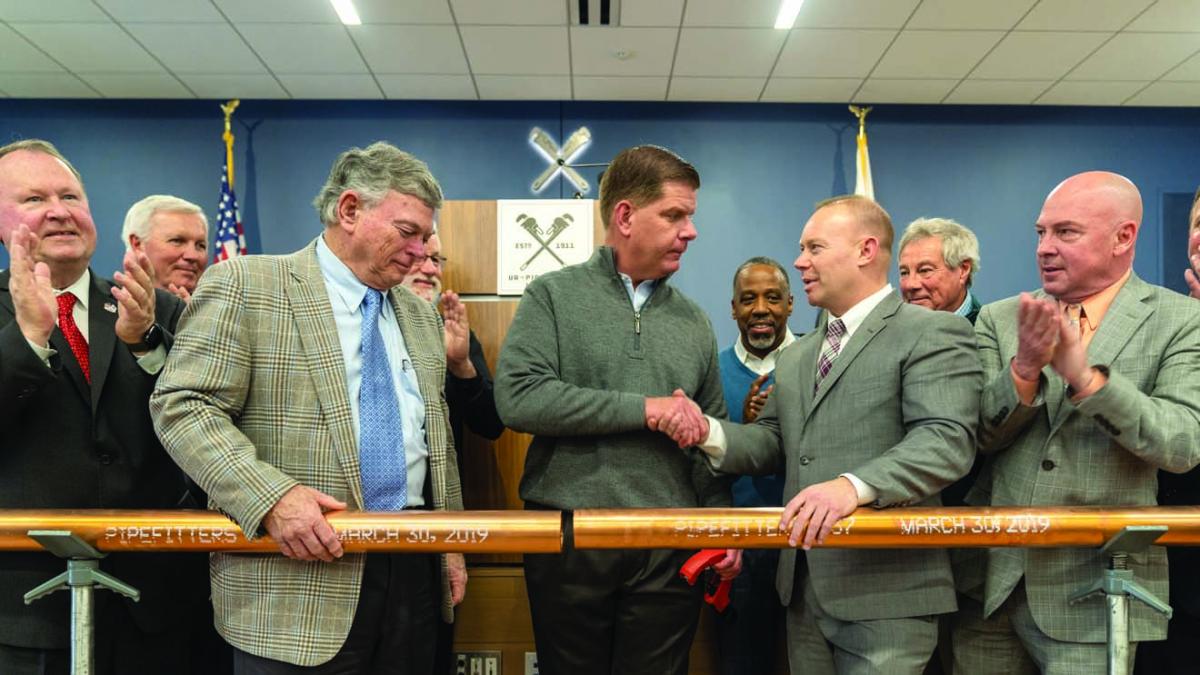 Mayor Martin Walsh greeted the leadership of the Pipefitters Union Local 537 last Saturday inside their new facility on Enterprise Street near Edward Everett Square in Dorchester.
"Tens of thousands of people from our neighborhoods are going to come here and get access to the best careers in the world," said another Dorchester resident, Brian Doherty, general agent of Metro Boston Building Trades. And Brian Kelly, business manager of Local 537, said the new center more than triples the training space, increases the meeting space, and improves the center's ability to train members.
Instructors and apprentices, clad in yellow vests, gave tours and introduced the new facility to people before and after the ceremony.
"We first came to the building in January on the first school day. We came in here and were like, 'Wow, the place is awesome,'" said Edward Page, a third-year pipefitting apprentice from Salem, N.H. The old building, Page said, was a single-story building and "kind of like a prison."
The welding shop on the first floor boasts 88 booths. Pete Aylward, a welding instructor, said the booths for stick-welding used to be tighter, and that the new welding machines are small but multi-functional.
Chris Brennan, an HVAC (Heating, Ventilation, and Air Conditioning) instructor, noted that in the old building, all the equipment was on wheels because everything had to be moved out of the box before the training and put away afterwards.
"Now it's all set up, plugged in and up and running."
Joe DeLucia, a pipefitter from Tewksbury, Mass., said the new facility is "top-notch." He was trained at the old center, and now his daughter is a first-year pipefitting apprentice at Local 537.

Inside the training facility at the Pipefitters building. Photos by Yukun Zhang
The five-year training program at Local 537 offers three options: pipefitting, welding, and HVAC. The program is free of charge except for union dues. No prior mechanical experience is required, and there is no age limit. Apprentices are assigned to work with union contractors from the beginning of the program, and their wages could go up as their skills improve.
"The beautiful part of this is that we don't pay for our education. You work and you go to school at the same time. They learn on the job, get the technical part of it at school, and take that skill to the job," Brennan said.
Matthew Joseph, a second-year pipefitting apprentice from Dorchester, said the benefits of the program are "amazing." He said he got into Local 537 through Building Pathways, a Boston program that helps low-income area residents access training and career in construction industry. He is a first-generation pipefitter in his family.
Dylan Perez, a Watertown pipefitting apprentice, said the opportunities are not limited to pipefitting. A pipefitter can also be a project manager or a foreman, he noted.
Kelley said there are currently more than 500 apprentices at Local 537. "We are doing two things. We are preparing for the baby boomers to retire, and increase our membership to deal with the existing building boom in Boston."
Or, as Matt Takis, a Salem, Mass. pipefitting apprentice put it: "Building Boston, one shield at a time."
Do you enjoy reading the Reporter?
Please consider supporting our local journalism by buying a subscription to the print edition ($30 for one year).