By Elana Aurise, Reporter Staff
April 25, 2019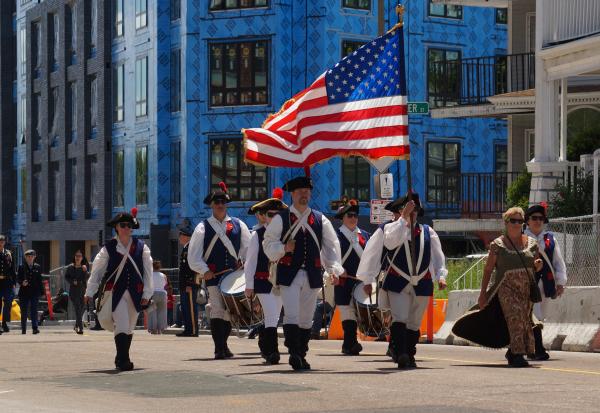 Preparations for the annual Dorchester Day Parade on Sun., June 2, are well under way as a committee of volunteers is meeting monthly to plan the event and related fundraisers. This year's parade is the 115th in Dorchester Day history, according to Kelly Walsh, the Dorchester Day Committee president.
The panel meets at 7 p.m. on the third Tuesday of the month in the breakfast room of the Ramada Inn at 800 Morrissey Blvd. The meetings are open to all, and the committee invites people to stop by and support kits efforts. Of course, donations are always welcome.
The parade will start as usual at 1 p.m. in Lower Mills at the corner of Washington Street and Dorchester Avenue and proceed up the avenue to Columbia Road.
The Mayor of Dorchester contest— which helps the committee generate funds for the parade— is still accepting candidates, according to Walsh. One hopeful — Gretchen Haase — is already raising campaign funds. Anyone interested in participating should contact Kelly Walsh at kellywalsh@dotdayparade.com.
An evening to hail this year's parade's chief marshal, John Schneiderman, the president of Pope's Hill Neighborhood Association, will be held on Fri., May 31, at Florian Hall with cocktails at 6 p.m. and dinner at 7. Tickets, at $40, will not be available at the door, but can be purchased by calling 888-734-2356. There is no $10k drawing event planned this year, according to Walsh.
Earlier events— including a bowling event last December, a character breakfast, and the annual Dorchester Chili Cook-Off last month at the IBEW Local 103 Hall have raised about $10,000 for the parade.
The Little Miss & Young Miss Dorchester Contests will held on Sat., May 18, at First Parish Church in Dorchester. Little Miss Contestants must be aged 7-9 years and Young Miss Contestants aged 10-12 on the day of the contest. Applications are available on the Parade website, dotdayparade.com. For additional information, please contact the Committee via email at littlemiss@dotdayparade.com.
The Dot Day Parade of Seniors Luncheon will be held on Thurs., May 16, from noon to 3 p.m. at Florian Hall, 55 Hallet St. Those interested in attending must apply as seating is limited. Please contact the parade committee by phone (888-734-2356) or email (info@dotdayparade.com). Attendees must have received a ticket in advance. There is plenty of free parking and the facility is handicap accessible. This event is made possible thanks to Edens, the owners of South Bay, who have donated $2,500 to sponsor the seniors lunch.