By Katie Trojano, Reporter Staff
September 25, 2019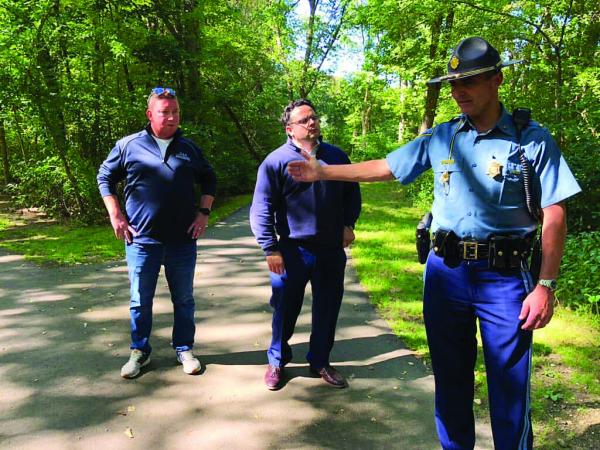 New security measures along the Neponset River Greenway are in the works following a daytime assault along the pathway last Tuesday that left a 46-year-old woman injured and police searching for the assailant.
The victim was attacked from behind while walking near Ryan Playground in Mattapan, state police said, noting that she "suffered contusion and laceration injuries." She was transported to Beth Israel Hospital for treatment and later released.
The suspect was described as a black man about 5-foot-10 with an Afro about 3 inches high. He was wearing a navy-blue long-sleeved shirt and navy-blue sweatpants, according to the police, who said the assailant fled through the playground parking lot to River Street.
Last week, state Sen. Nick Collins and state Rep. Dan Cullinane walked the Greenway trail in Mattapan with State Police and officials from the Dept. of Conservation and Recreation (DCR), which is responsible for the Greenway.
Collins said he wants more safety measures along the pathway that runs through parts of Milton, Mattapan and Dorchester. "This seems to be an opportunity to make the investment to install some lights, safety phones and, potentially, cameras," he said. "As we get into the fall and it gets darker, we want to come up with investments with DCR for emergency calling and increased visibility."
"The state police currently have a bicycle crew that patrols the Greenway and this is a valuable asset for the community that we want to make more visible," Collins added.
"We requested an increase in visibility and presence by the State Police bike units to reassure those using the path of their presence," said Rep. Cullinane. "This has already occurred. [We] also focused on what additional measures we wanted MassDCR to look into putting in place long term to increase safety."
Cullinane told the Reporter that follow-up meetings with DCR are set for the near-future.
In a separate incident reported on Mon., Sept. 10, an unidentified body was discovered near the Greenway, close to the Mattapan T station. The "death investigation," as characterized by Renee Nadeau Algarin, a spokesperson for DA Rachael Rollins, is still ongoing. No new details regarding the cause of death or identification have been released.