By Katherine Martin, Reporter Correspondent
August 22, 2019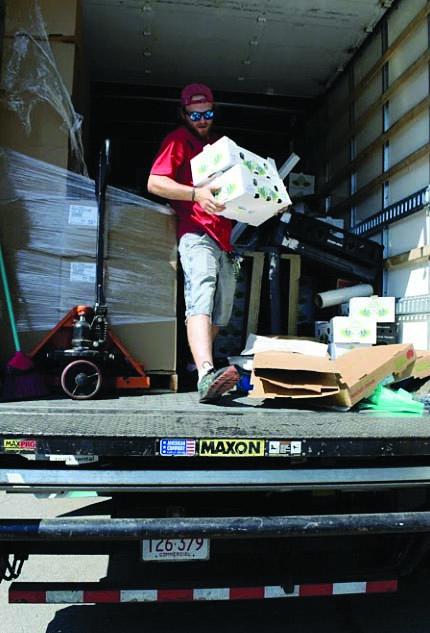 It was 7:45 in the morning when Henry Nelson parked his bike outside of First Parish Dorchester and walked across the street to the parking lot that housed three of Fair Food's trucks. "I'm usually the first one here. It's a great job if you love organizing," he said as he opened the back of a leased Enterprise truck and began organizing what had been left there the day before. He broke down cardboard boxes, threw out old food, and swept the truck, tasks that would be repeated multiple times during his ten-hour work day.
Nelson works for Fair Foods, a non-profit food-rescue organization based in Boston that was born in 1988 when Dorchester resident Nancy Jamison intercepted a truck full of fresh carrots going to a dump. She gathered some neighbors and some trucks and began handing out the food for free.
Around 8:10, Jason and Liz Cammarata and Brian and Al Davis arrived. Jason cut right to the chase and designated duties for the day. "Al, Jessica's," he said. Al nodded, understanding he was to head to Jessica's Brick Oven, a wholesale artisan bakery in North Andover. The rest of the crew headed to other wholesale sellers to intercept surplus produce that would later feed hundreds of people.
At Jessica's, an employee wheeled 26 racks of bread to the back of the truck. "Light day," Al said as he quickly sorted through each rack to check that they were fresh. He was next scheduled to go to the New England Produce Center, otherwise known as Chelsea Food Market, where the majority of his day's work would take place. Retired since 2012, Al puts in some 30 volunteer hours a week with Fair Foods. "She tricked me into it, it's in my blood now," he said of Nancy Jamison.
He weaved around a number of other trucks so he could back into the Chelsea space. A staff member spotted him and held up two fingers, then opened his arms wide, signaling he had two stacks of asparagus for Fair Foods.
Taking stock of the big picture, Jamison said, "If we were to stack everything we get, every eight days we could stack food to the top of the Pru."
Henry, Jason, and Brian met Al in Chelsea with the other two trucks around 11:45. Since Al had left them at First Parish, they had collected blueberries, grapes, corn, tomatoes, cucumbers, and a spring mix.
Together they sorted through the food to select what was fresh enough to sell in the $2 bags they would later be distributing. "My dinner for later," Jason said as a bundle of asparagus feel free from its crate. "For me, Fair Foods has been a way to bridge gaps because everybody eats and everybody knows how to cook something nice."
He added, "Instead of making it about you're here and you're getting a bag of food and I'm here and I have the power to give you a bag of food, we're both going home with healthy, fresh food. The power dynamic present in welfare systems and food pantries doesn't happen at Fair Foods, because customers fund the program, and if people don't have $2, the food is free, no questions asked."
Said Jamison: "We call it 'of the people, by the people, for the people.' They are actually funding the program by buying the bag. Yesterday the bag's value was $35. I have been able to give away $150 million worth of food in the last thirty years. Paul Peterson started the dollar bag program at the Lutheran church on Talbot Ave. He once said to me when I was giving away food for free, 'You're taking people's dignity. From now on I want you to charge a dollar a bag, so they aren't embarrassed by it.' The dollar bag program gave people their dignity."
Back to Chelsea, where the crew continued to move stacks between the trucks, allotting a portion of the produce and bread to each site and leaving some fruit aside for the workers who helped them that day. This process took close to two hours.
"Friday is a big day for us. We have two sites in East Boston that only run every other Friday," Jason said as he drove to South Boston, home to one of the 40 sites Fair Foods distributes to. It was 2 p.m. when he arrived to unload goods to eager volunteers and customers. He helped unload produce, greeted familiar faces, and was off. He had to get back to First Parish Dorchester to deliver goods for the final site of the day.
"When Fair Foods started struggling, I made the choice to move in with Nancy and help from the ground up," Jason said. "I took a pay cut. We now share the bills, and we work to keep the business going. I wish I didn't have to do this. I love doing this, don't get me wrong, this has been my passion for a long time, but with all of the money that's out there in the nonprofit world and all of the resources that are being put toward distributing food and food insecurity, there is no reason I should have to do this. There is enough food to feed people. There are enough people willing to give the food out. The connection hasn't been made between the people at the bottom and the people at the top giving out the food. Which is why we try to meet the people where they are."
When Jason pulled back into the lot at First Parish, there were ten people waiting among the other staff. An assembly line was formed to bring the food from the truck to the church yard, where tables were being set up. After enough food was unloaded, some people were stationed behind the table, sorting through produce, as other volunteers walked along the table with a plastic bag, filling it with the day's goods. In Friday's bag, there were two bundles of asparagus, two cucumbers, one bag of grapes, one bag of spring mix, and one carton of blueberries.
At 3 o'clock, people started purchasing bags of food, as well as boxes of blueberries and heads of lettuce, available for $1. Meanwhile, staff continued to unload the truck, sort through produce, bag the goods, and break down boxes. Although the site was set to close at 5 p.m., their work day ended around 7 o'clock, after the rest of the bags were sold.
"Frankly we are mobbed," Jamison said. "We are too busy, I wish I wasn't successful. I wish I could close. I wish that nobody came for our food. The need has increased, I would say, by 50 percent in the last ten years. The cost of living in this city has driven people into poverty. It is really true that people are hungry. We're going to be opening a permanent store that will be open five days a week. We have found that so many working people work two jobs and they have such a hard time connecting with us."
To find out more about Fair Foods and how to donate or volunteer, check two-dollar-a-bag sites or go to fairfoods.org.