By Jennifer Smith, News Editor
June 20, 2019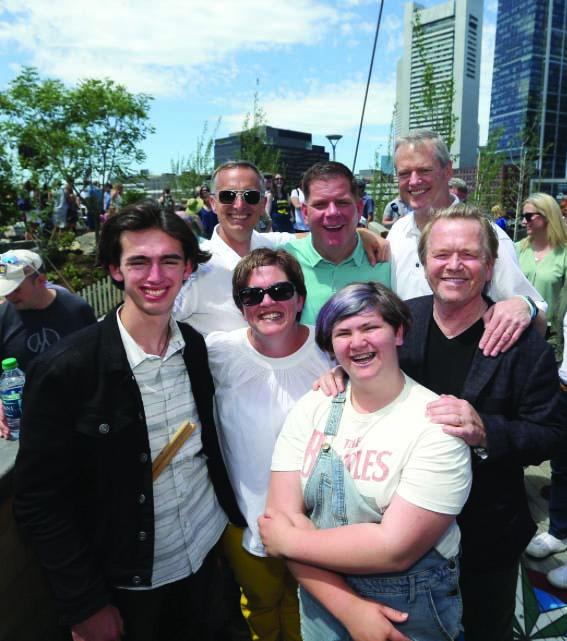 An inclusive waterfront park opened on a sunny Saturday in Boston, with hundreds crowding the bright blue, yellow, and orange playgrounds to honor its namesake: Martin Richard, the vibrant eight-year-old boy who was the youngest killed in the 2013 Boston Marathon bombing.
Rows of Team MR8 volunteers guided children to the playground, just a short walk from the Boston Children's Museum, where they raced to play in the long tube slides, basket swing, water features, and a large boat. Martin's Park is designed, city officials note, to be accessible and responsive to children with disabilities but also appealing and welcoming for all children.
From the top floor of the 51 Sleeper St. building, a gathering of family, friends, and others who helped make the park possible celebrated the opening day before heading downstairs to be feted by the governor and the mayor.
The city's chief of operations, Patrick Brophy, toasted those who contributed to "this gorgeous plot of land, created in the name of peace." 
Visitors entering the park were greeted by long banners, one featuring Martin Richard's entreaty, "No more hurting people. Peace." and another reading "Choose kindness."
The Richard family  – parents Bill and Denise, and Martin's siblings, Jane and Henry – stood beside the microphone as Mayor Martin Walsh offered a few words. Jane, who lost a leg in the bombing, later sang a song during the park's opening ceremony.
"It's everything that you can imagine," Walsh said. "It's got a component of resiliency, of allowing all kids with any ability to go out there to enjoy themselves. It's unbelievable. It's beautiful. I just want to thank everybody in this room, and everybody that's here, everybody that had something to do with this park. This was not the city, it wasn't the state, it wasn't any one person. It was everybody, and this is how it should be: no battles, no fights, the people that worked on this job – and I watched them – they worked on this job like it was their own backyard."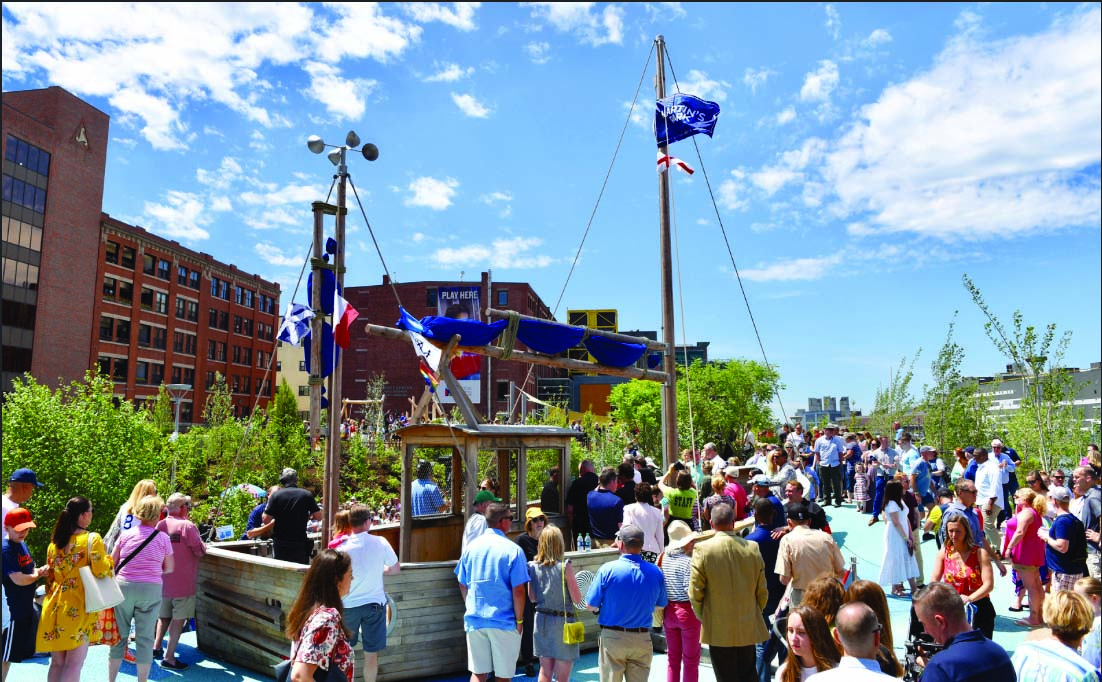 The scene on Saturday morning at Martin's Park, which is located near the Boston Children's Museum on Sleeper Street in South Boston. "It's everything that you can imagine," said Mayor Walsh of the park, which will be managed by the city's Parks and Recreation Dept. John Wilcox/Mayor's Office photo
Bill Richard read part of an early email he wrote in 2014 to Chris Cook, commissioner of the Boston Parks and Recreation Department and city chief of Environment, Energy, and Open Space. To Richard, [the park] was an idea that took hold early and felt like an appropriate tribute to Martin and the value of open play spaces.
"We have been approached by several people with various ideas over the last couple months, but this one feels right. It just feels legitimate," Richard read from the email. "Denise and I have thought about this and are honored to have a playground built for Martin. Our only directive to this point is to decide where we want it."
They considered their home neighborhood of Dorchester, "so that it could be enjoyed by the families and friends closest to us," he said. Other areas with older playgrounds offered possibilities, but in Richard's view, the parks were in pretty good shape. 
Around that time, an architect's critique of the new South Boston waterfront "Innovation District" caught their eye, Richard said. (He stopped briefly to laugh with everyone at that name for the Seaport at the time). "He talked about it lacking a soul," and "it occurred to us that the new playground in a developing section of Boston is in fact missing something: a playground." 
He wanted the playground to be inclusive to all children of all abilities, fabricated with high-end materials. He envisioned a playground that "could be one of the city's finest, if we plan it right. I say that not because Martin's life was more important than anyone else's, but because I believe if we endeavor to something like this we should seize the moment and do something that the city will be proud of 50 years from now, not just at a ribbon cutting," Richard said. "We should discuss possible sites and the city's interest in finding a parcel in this area, preferably in a highly traveled, walkable area, for example near the Fish Pier or Boston Convention Center, period."
He paused, then continued citing the email from almost five years prior: "Perhaps near the Children's Museum, question-mark."
The room burst into delighted laughter and applause. After a few more remarks, they all poured downstairs into the sunshine to celebrate Martin and the inclusive new park alongside Fort Point Channel.