By Jennifer Smith, News Editor
April 3, 2019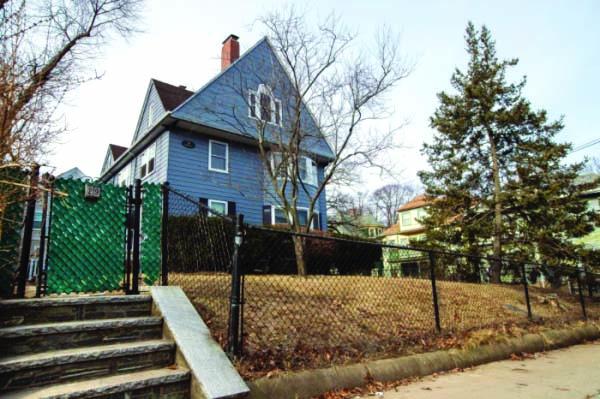 A heated standoff between the owner of several sober homes and neighbors in Meetinghouse Hill, who worried about the prospect of oversaturating their block with such residences, cooled some this week, with a number of residents hopeful that a compromise is on the horizon and the owner saying his plans for a new Percival Street sober home are on hold.
Last Wednesday, the day after a contentious meeting at the Mather Elementary School, Joseph Pizziferri, Jr., who owns a sober home at 16 Potosi St. that houses 19 women, walked over to a neighbor's house to formally introduce himself to the block. He is facing push back from neighbors after they found out that he planned to open another sober home just two houses over in a large Victorian that he acquired last year.
Lisa Villaroel said Pizziferri was already chatting with some neighbors in front of her gate when she got home. He was there to say hello and, Villaroel feels, begin to engage with their concerns. "People just started to come because they wanted to meet him," she said. "And rightfully so, we want to know who he is."
Their objections hinge on the density of sober homes in the cluster of streets off Bowdoin Street, and frustration with the cloak-and-dagger way the Pizziferris — a father and son team— went about buying the properties and getting them certified.
Neighbors discovered 16 Potosi was a sober home when mattresses were carted in. After a quick flip of the 29 Percival St. property that once belonged to former state Rep. Charlotte Golar Richie and her husband Winston Richie, neighbors saw dozens of mattresses going inside and realized that a similar status was likely in store for that house.
A confusing back and forth ensued with city and state officials, residents of Potosi and Percival Streets and Mt. Ida Road, and the Pizziferris. The Pizziferris announced at the Mather School meeting that they had 29 Percival St. certified as a sober home and planned to open it as such, contradicting the message neighbors had received from the city.
"The eruption and the intensity in that room was overwhelming," Villaroel acknowledged.
And it seems to have been persuasive. Pizziferri says he has told neighbors that plans to make 29 Percival St. a sober home have been paused. "Everything is on hold right now, until we can work with the neighbors to find a happy medium," he told the Reporter last Thursday afternoon, adding that he is reaching out to residents and the city on next steps. He told Boston's housing chief, Sheila Dillon, the same thing.
Villaroel and Golar Richie have since met with Pizziferri, Jr. and his son, Joseph Pizziferri III, to gather more information. In a conversation on March 30, the four talked about potential options for the 29 Percival St. house, including putting it back on the market an as-is property, splitting the house into two condominiums, and enlisting neighbors or the city in finding interested buyers, perhaps with an affordable component.
The Pizziferris emphasized the need for sober homes in a city and region struggling with an opioid crisis. Residents in the 16 Potosi St. home are carefully screened, Pizziferri III told Villaroel and Golar Richie, and sex offenders and those with records of violent behavior or convictions of domestic violence are not allowed to live there.
On top of the drug tests required by the Massachusetts Alliance of Sober Housing (MASH), their residents must be involved in recovery program activities, the Pizziferris said.
That sort of information should be shared with the community, Villaroel told them, as it can feel overwhelming to suddenly be faced with the increased density of multiple sober houses with no notice and no explanation about the way the houses are run.
For all that, there is still some uneasiness, she said. "I'm a little bit concerned still about him not moving forward, because we're not actually sure what that means. We assume he is not opening the sober home, which is not moving forward, but we want clarification on the next steps."
Villaroel said she is confident that the Pizziferris understand the need to work with communities in which they hope to operate a business.
Golar Richie applauded the "true solidarity of the neighbors" in pushing for community process here. It was frustrating to be "hoodwinked by the people I sold the house to after 31 years," a reference to the people who quickly sold 29 Percival St. after buying it from her.
"No one looks good in this situation," she noted, with neighbors caricatured as opposing sober homes in general, Pizziferri Jr. looking as though "he's trying to just ram something in," and the city believing they had an agreement from him to hold off on converting the home only to find out with the neighbors that the plans were still under way.
Both women said they were encouraged by the Pizziferris' willingness to talk through their plans, which also include the investment property at 26 and 8 Percival St. that they hope to refurbish and convert into a two or three-family condominium building.
Sober homes and other recovery facilities are very welcome in the village, Golar Richie emphasized, echoing comments made by other residents at the public meeting. It is just a matter of overburdening any single area.
"We have people who need the support in the neighborhood," said Golar Richie, who now lives in Lower Mills. "The people at 16 Potosi St. are welcome in the neighborhood and we do not want them to feel at all that there's any hostility to their residing in the neighborhood. We want them in the neighborhood. We want them to thrive in the neighborhood."