By Bill Forry, Editor
January 10, 2019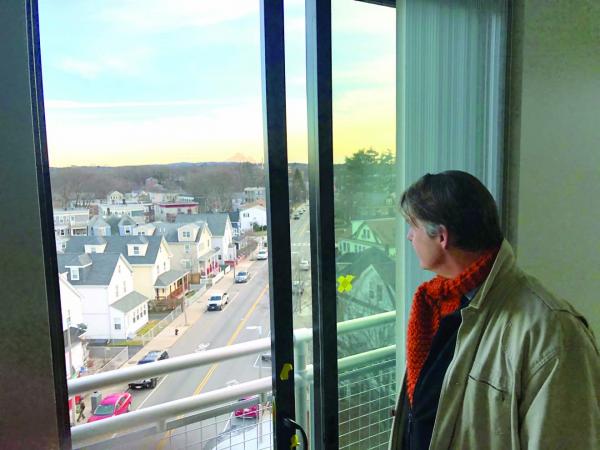 Cataclysmic '17 blaze was then; this is now
It's a bracingly cold late afternoon in the dead of winter— an odd time for a resurrection. But as the sun sets in the late afternoon, you can see that the Treadmark building is slowly coming back to life. A light turns on in a third-floor window in one of the building's 51 rental units, all of them affordable. It's fresh evidence of new neighbors settling in for their first night in their new home.
Downstairs, painter Kenji Nakayama is carefully stenciling the words "American Provisions" on a picture window. The grocery store — which will occupy more than half of the ground level retail space along Dot Ave – is on track to open in February.
There's still some work left to be done before the building is fully occupied. On Monday, city officials signed off on the occupancy permits for the top two floors, which house 32 condo units. All of them are under agreement, including 10 buyers who were days away from moving into the first Treadmark building back in the early summer of 2017.
Most people in the region know what interrupted those plans: A faulty exhaust pipe ignited a fire during a test of the heating system on June 28. The blaze eventually became one of the largest long-duration building fires in the neighborhood's history. That Treadmark building was essentially consumed by smoke, fire, water and foam.
It was a qualified tragedy for the neighborhood.
Fortunately, no one was hurt, and the scores of firefighters who responded to the scene were all safe. Trinity Financial, Inc.— the company that owned the burned-out shell— quickly pledged to rebuild.
Over the next year, the building was razed to its concrete foundation, then rebuilt to just about the same specifications, with, of course, improvements to the exhaust system. Another company might have walked away with the insurance dollars and found another project to do. But Trinity is owned by a Dorchester guy— Jim Keefe, who had built the Carruth building across the street back in 2007. And it was his idea to buy the old Ashmont Tire repair shop and warehouse and replace it with a sparkling new building that would house people from all walks of life, affordably.
It was that mission that helped resuscitate the project.

The Treadmark 2.0 building as seen on Monday afternoon. Bill Forry photo
Carol Owens, a lifelong Dorchester resident, never got to see the first iteration of the sixth-floor unit she agreed to buy two years ago before it was consumed in the fire. During Christmas week last month, she got to walk through her future home. "It was dream-like to actually see it. It looks beautiful," said Owens, who plans to move into her new perch six floors above the avenue in February.
Chris Stanley was the original project manager for Trinity. He pitched the concept to neighbors back in 2015, ran a dozen community meetings over the next 18 months to plan the details, and then supervised both construction jobs.
On Monday, Stanley walked through the building with Geoff Lee, Trinity's asset manager, and pointed out the items on the final punch-list that remained unfinished. Together, they gave instructions to a work crew that was about to ascend in a cherry picker to adjust an array of exterior lights. that keeps the building's metal and brick exterior gleaming after dark.
"We want people to feel like they're coming home to something special and the lighting will be a big part of that," said Stanley, who lives a few blocks from the Treadmark. "I don't live far away, so I like to see it from my house," he joked.

Kenji Nakayama painted a sign for the American Provisions store that is slated to open in the Treadmark 2.0 building next month. Bill Forry photo
In the southernmost corner of the building's fifth floor, Stanley unfastened a latch and slid through a door that opens onto a sweeping view of Lower Mills and beyond to the Blue Hills. A few steps away, another bay of windows offers views of the Ashmont trolley turn-around, Neponset, Quincy and points south.
"You know, if you're a fan of Dorchester, I'd say that this has a premier Dorchester Day Parade-watching view. You get the Blue Hills, too, but, if you're talking about Dorchester, you're hitting all the high notes here."
On the ground level, there are two smaller commercial units on the southern end of the building that do not yet have tenants. "I hope we'll have good news in a few months," said Stanley, who indicated that there have been multiple inquiries. "I'm just trying to get this building done. Geoff and I have got our hands full just getting condos sold and apartments filled up and making sure American Provisions opens up with the best foot forward. And then, hopefully, that creates the dynamic for more people."
Among the potential options that neighbors have raised as uses for the unclaimed space are bike or gym-related businesses and a dry cleaner.
The basement level includes storage and utility space, a large bike rack, and 30 parking spaces for condo owners. In the rear of the property between Fuller Street and Mercier Avenue there is a large courtyard that was designed as common greenspace for the whole building.

Chris Stanley and Geoff Lee from Trinity Financial, Inc. are shown in the kitchen of a third-floor apartment in the Treadmark 2.0 building on Dorchester Avenue. Bill Forry photo
"It's a very urban setting right on Dorchester Ave and the green space frames the building as part of the neighborhood in a different way," said Owens, who grew up on nearby Codman Hill. "I like how it addresses the neighborhood behind it and in front of it."
She is also thrilled that the building includes 51 Low Income Housing Tax Credit apartments that will be rented to qualified tenants who make up to 60 percent of Area Median Income. Four of the condos have also been marketed as affordable through the city's Inclusionary Development Policy.
"I firmly believe in this mixed-income, mixed-use model," said Owens. "It was a good move for me personally, but as a Dorchester native and resident, I want to keep the diversity of Dorchester intact. So I love the model. It's important to me that long-term affordability be built in. I put my money— really, my life's savings— where my mouth is."