By Daniel Sheehan, Reporter Staff
May 22, 2019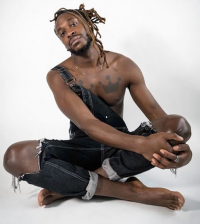 Two arts showcases will take place this Saturday at the Strand Theatre in Uphams Corner. The first, Inner City Circle's "An Intergenerational Show of Boston-based Artists," will feature the work of 16 visual artists from Dorchester, Roxbury, and elsewhere in Boston.
The show is curated jointly by the Dorchester Art Project (DAP), Amber Torres and Althea Bennett of the podcast Hoodgrown Aesthetic, and Mfalme Kenyatta, artist and gallery manager at the Afro-Caribbean Museum. Emma Leavitt, gallery director at DAP, told the Reporter that the concept for the show has been developing "organically" for the past few months.
"We wanted to create a space where work from emerging artists could be appreciated on the same level as the older, more established artists of the art scene," she said. "We sensed a disconnect between these communities and wanted to create a bridge of support and recognition. In general, we were also just excited about showing the work of artists in the Dorchester/Roxbury area because there is so much talent and passion here that is too often overlooked and undervalued.
"And," she added, "it felt important to bring these artists into the Strand because of its significant history and tradition of being a space for hosting cultural experiences of the African-American community in the area."
Inner City Circle's broad artistic scope will feature, among others, the work of Arielle Gray, a graphic artist and arts engagement producer for The ARTery; the painter Ayanna Warfield; the graffiti/street artist Cedric Douglas; and Barrington Edwards, a graphic novelist and visual arts teacher at the Boston Arts Academy.
The show will kick off with an opening reception from 6 p.m. to 9 p.m. and will run through July 1.
Following Inner City Circle's presentation will be Boston Answering, a new music festival being billed as Dorchester's response to Boston Calling, the annual Allston-based festival's lineup that this year notably failed to include a single Boston-based hip-hop artist, prompting calls for a boycott of sorts in the musical community.
Boston Answering, which will exclusively feature musicians and MCs from Boston and the Greater Boston area, is being organized by HipStory, a media production company founded by rapper and Dorchester native Cliff Notez.
The company's website describes Boston Answering as "a cultural response manifested into a show" that will "showcase some of Boston's premiere local talent in Dorchester's legendary Strand Theatre."
Notez will headline the festival, which will also feature Dorchester rapper Red Shaydez and VQnC, the lead singer of Boston-based funk band Dr. Fidelity.
The festival also represents an affordable pricing alternative, offering tickets at $15-$20 in comparison to Boston Calling's $99 day passes.
Doors will open at 8:30 p.m., and the show will start at 9. Those who attend Inner City Circle beforehand will receive a $3 discount on the price of admission to Boston Answering.