By Yukun Zhang, Reporter Correspondent
January 24, 2019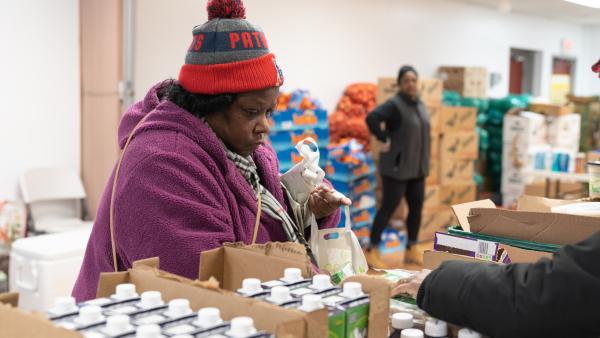 Patsy works for Food and Nutrition Service in the US Department of Agriculture. It's a federal job that she's held for 40 years.
On Wednesday, she came to the Holy Tabernacle Church near Grove Hall in Dorchester to get food.
Patsy, who does not want her full name to be published, said she's never had to ask for help in her four decades of working for the US government.
"I'm just trying to survive. It's shocking that I'm in this category," she said.
More coverage: Impacts of federal shutdown hit home in Dot, Mattapan
Patsy is one of the federal workers impacted by the partial government shutdown, now into its second month. She's one of the more than 30 federal workers who received free food from Holy Tabernacle Church's food distribution for furloughed federal workers and those still working without pay.
Further reading: Impacts of federal stalemate hit home in city neighborhoods
"We see that there is a need for our brothers and sisters that are furloughed…We are here to extend an olive branch to them," said Charlene Phillips, the director of the Holy Tabernacle Food Pantry, which already serves over 2,100 families a month.
The pantry laid out 14,000 pounds of food, including food the church purchased and donations for the Wednesday event. Dennis O'Brien, from a Jamaica Plain food pantry, brought boxes of food and came with his wife to help distribute food. Boston Medical Center provided diapers, toothpaste, toothbrushes, combs and hand sanitizers.
Congresswoman Ayanna Pressley brought in help from City Year.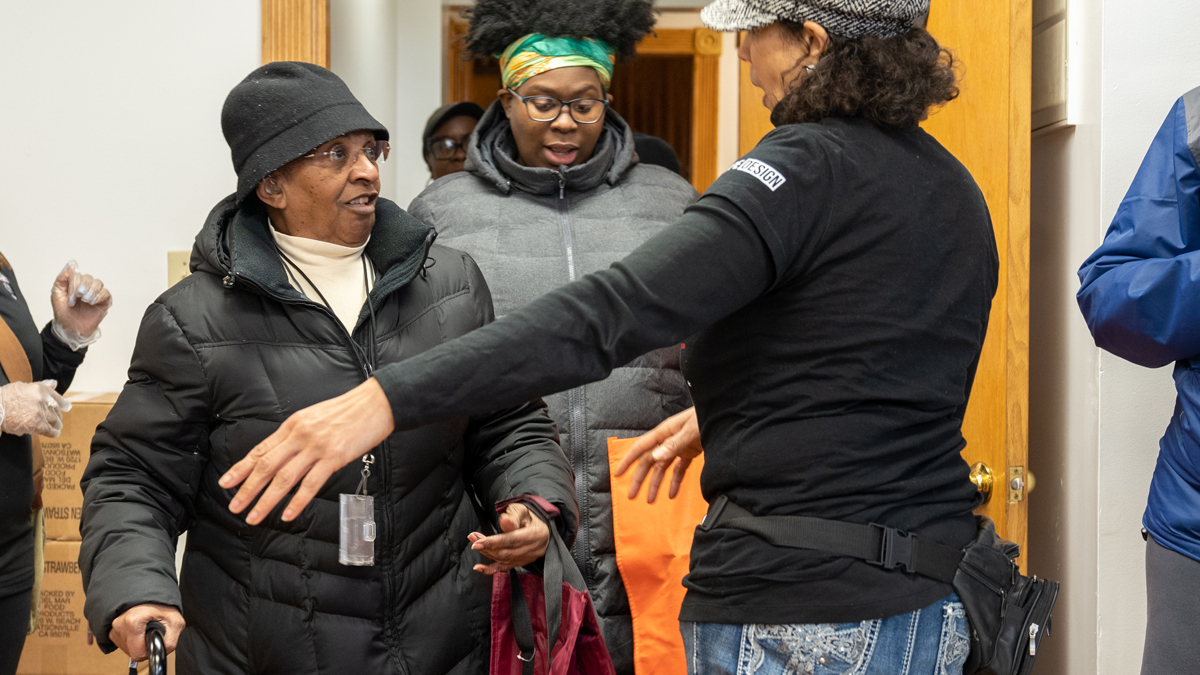 Above, Barbara Barrett, an EPA employee, comes to the food distribution at Holy Tabernacle Church with her granddaughter on Jan 23, 2019. Yukun Zhang photo
After showing their ID badge, federal workers could pick up one of each from the items, including canned food, rice, pasta, ramen, beans, ice cream, juice, fruits, vegetables, frozen meat, and toiletries.
Smaller food items and toiletries were laid out on tables and produce piled against the walls. As a federal worker reached the end of the tables, several pantry workers would remind him or her: "Do you want a chicken? Do you want a cabbage? Do you want sweet potatoes?"
Pam Chester, a Department of Treasury employee, got meat, pasta, soap, deodorant, corn, juice and soup—things she said she really needs.
Chester recalls the one-week government shutdown in 2013: "We went right back to work after that one week, and we did get paid right away… This is a little tough," she said. "And I feel bad especially for the people that have kids and the people that need medication."
The food distribution was scheduled from noon to 4 p.m., but Lauren Thompson, a furloughed the Treasury Department employee who helped organize the pantry, said the event was extended to 6 p.m. because some federal workers couldn't come until they finished their work shift. Many continue to clock into jobs that they are not being paid for.
"Thank God the churches are out here doing this!" said Annette Bennet, a furloughed IRS employee. She said she was supposed to get paid on Monday and now she's worried about paying for mortgage in February.
"This is what you do at the end of it," the government employee of 37 years said. "I just looked at my leave and earnings statement and it says '80 hours, zero dollars.' It's unbelievable… We've had some shutdowns but never one like this. What do you do? For people living from paycheck to paycheck—what do you do?"
Thompson said that the pantry is planning other distribution events for federal workers in the event that the shutdown continues.