By Elana Aurise, Reporter Staff
April 11, 2019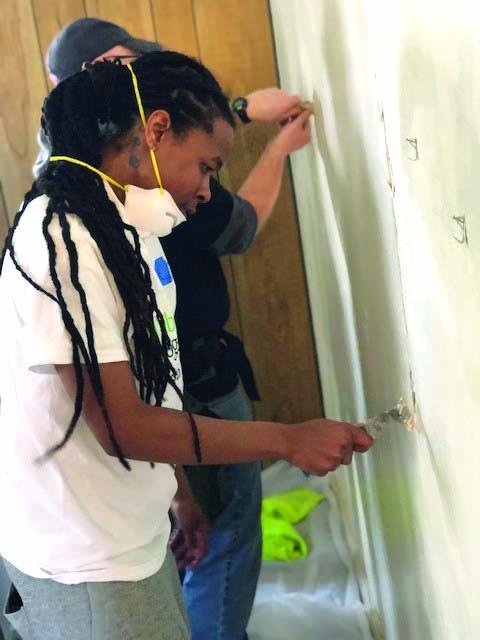 Two years ago, the Codman Square Neighborhood Development Corporation (NDC) partnered with Rebuilding Together Boston (RTB) to offer critical repairs at no cost to selected lower-income homeowners in and around Codman Square as part of a larger effort mounted by the NDC to counter the impacts of displacement, particularly of aging Dorchester residents.
So far, the partnership has resulted in preserving affordable housing and transforming the homes – and the lives – of 17 homeowners.
On April 27, volunteers will again team up as part of RTB's National Rebuilding Day effort, which will include ten homes and community centers in the city of Boston. One will be the home of 79-year-old Loulee Morrison, who has lived in her home for 42 years. A retired hair stylist who raised her five children in the home, she remains an active member of her community.
The scope of the work planned at her home includes installing safety equipment like railings and grab bars and home weatherization; refurbished kitchen cabinets and interior painting, and the repair of two exterior entry doors. The crews will also repair the fascia around the exterior of the house and replace gutters and downspouts.
"Rebuilding Together Boston is the only nonprofit in Boston to do hands-on critical repairs at no cost to the homeowner," said Karen Clay, the organization's executive director. "We're excited to have hundreds of volunteers donating their time and sweat this National Rebuilding Month."
Abadur Rahman, the economic development director for Codman Square NDC, says the ongoing campaign meets a need identified in a community survey they conducted in 2014. Many residents living in three-deckers or two-family homes — many with costly deferred maintenance issues— were selling their homes to real estate speculators, often for below market-rate.
The NDC began reaching out directly to seniors at-risk of such speculative pressure to offer the RTB program as an alternative to selling. The agency helps eligible homeowners fill out a one-page document that serves as an application for the program. Once a property is selected, a review site committee scopes out the work and assesses how many people are needed to get the job done.
Volunteers work alongside skilled workers, tradespeople, and community members. RTB says that some 300 people will volunteer to restore homes and community centers this month.
For more information on the ten homes and community centers chosen for this year's National Rebuilding Month, visit rebuildingtogetherboston.org. For more information about CSNDC, please visit csndc.com.
Do you enjoy reading the Reporter?
Please consider supporting our local journalism by buying a subscription to the print edition ($30 for one year).