By Kevin Perrington-Turner, Reporter Correspondent
November 14, 2019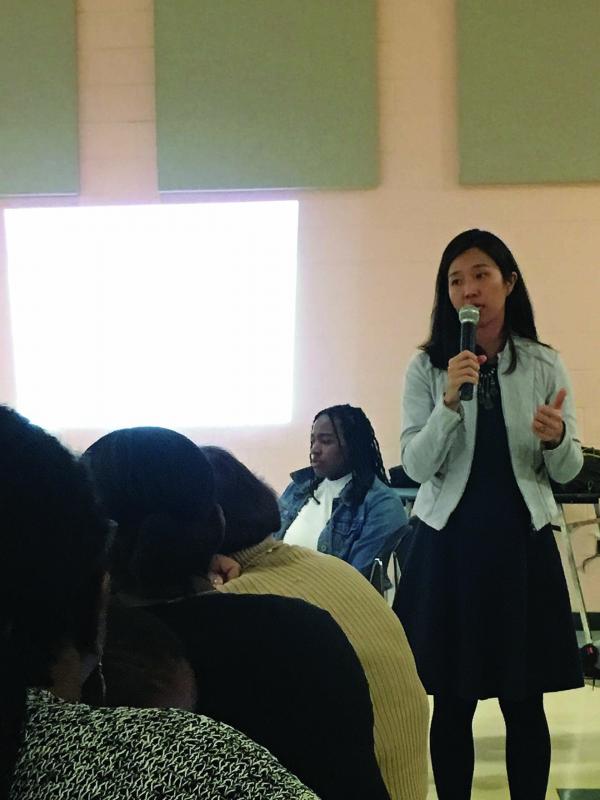 At its monthly meeting at the Mildred Community Center a week ago Monday, the Greater Mattapan Neighborhood Council (GMNC) took up zoning issues, among other things, with city councillor at-large Michelle Wu and Larry DiCara, a former city councillor who now works as an attorney specializing in city zoning matters.
More than 50 people enjoyed food and drinks as they gave their opinions on how things are going in the neighborhood.
Wu, on the eve of her re-election, focused on her main cause: a revamp of the Boston Planning Development Agency (BPDA).
"The way that we do development in Boston right now is through a system of special approvals and exceptions," she said. "Our base zoning code is so out of date that it is functionally obsolete. Every new development is a new negotiation rewriting zoning code for that spot without doing the planning to ensure the city can grow sustainably, equitably, and in a way to remain affordable for our families."
Wu added that the city's growth needs to be better balanced with the needs of existing residents. "As long as we have a system where the majority of construction and development projects are having to go before the zoning board of appeals for a special approval and exception, we will always have a system that is driven by influence and relationships," she said.
DiCara, who served several terms on the city council and grew up on the Mattapan-Dorchester line, spoke to the number of younger residents in the city and the importance of creating new housing for them.
"There's a whole bunch of 20-somethings. A lot of folks don't get married or don't get married till they are older," he noted. "So, all these 20 -something people are looking for a place to live and often it's not with mom and dad."
"We have to take a look at the changing lives at all of us have lived," he continued. "I have three daughters, all of them are 22. They lead a very different life than I do. They take Uber and Lyft all the time, which brings extra cars on the streets. They also buy everything electronically, so more packages come which means we have delivery trucks and fewer trees," he added.
Jessie Dambreville of Mattapan said more needs to be done to give residents a voice in development in the neighborhood.
"Mattapan is starting to go through massive growth with gentrification," she said. "I'm not anti-growth, but I'm anti-gentrification and how it's done. And that's where zoning comes in. With population growth you've got to have space for people, but you have to do it smartly."
Fatima Ali-Salaam, chair of the council, said zoning is "the issue" in the neighborhood right now. "You need growth and population always in order for any neighborhood to stay alive. There's thousands of dust ball cities across the country with no population," she said. "We need planned population growth, we need to be able to provide housing, we need to be able to provide jobs, schools, places of worship, all those things have to be met."
She also offered her vision of what's in the future for Mattapan and the issue of zoning.
"I see more engagement by residents and actually going through the process and saying 'we are the city' and we don't want to see anyone displaced. People not being able to afford to live. We don't want to turn it into a Los Angeles where you have 10,000 people who are living on the streets who make $150,000 a year that can't a afford a home."
For more information on future GMNC events, visit g-mnc.org or email info.gmncouncil@gmail.com.