By Katie Trojano, Reporter Staff
April 7, 2020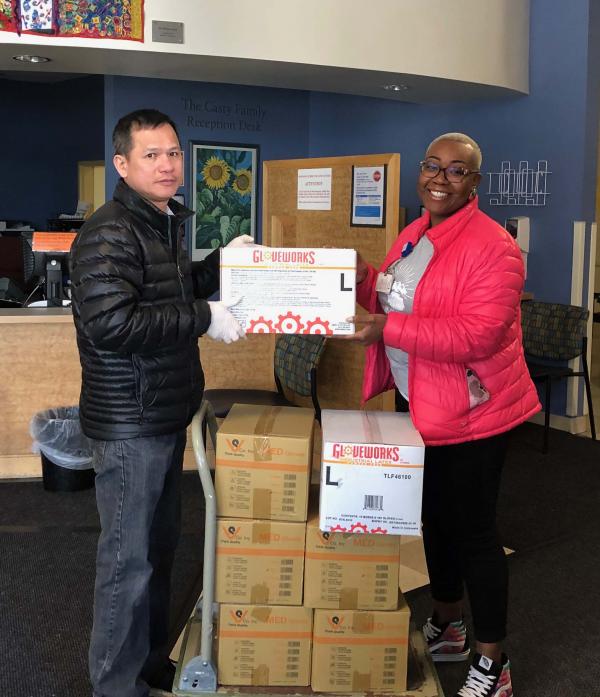 As the calls for Personal Protective Equipment (PPE) streamed in from hospitals and healthcare workers on the frontline of the COVID-19 response, business owners in Dorchester's Asian and Cape Verdean community came together to donate thousands of materials. 
In late March, hearing urgent calls from healthcare workers in need of PPE, owners of nail salons, dry cleaners, supermarkets, and restaurants came through in short order with supplies of masks and gloves to donate where needed.
State Sen. Nick Collins, District 3 City Councillor Frank Baker, and Linda Champion, an attorney who works for the state's Department of Industrial Accidents, coordinated with leaders to facilitate pickups and drop-offs to the Carney Hospital, Mass General Hospital, Codman Square Health Center, and other community health agencies.
"We reached out to Vietnamese community leaders and the next morning they had already pulled together donations of about 15,000 masks," said Champion. "They stepped up and gave all of their supplies, and not one person asked for anything in return. That's a huge sacrifice. The masks are one of the tools that these business owners use to do their jobs, and if they had to go back to work tomorrow, they wouldn't have them."
In keeping with social distancing practices, Collins and Baker organized the pickups from businesses and owners' front porches and drove them to medical centers.
"Sen. Collins and I worked together on calling different people who wanted to donate and we used my front porch as a drop-off station," said Baker. "From there we brought them to different health centers in our districts. For me that was DotHouse, Geiger Gibson and Neponset Health Centers."
RELATED: Feeney Brothers steps up to donate much-needed masks
Anna Hidalgo pulled together boxes of thousands of gloves from Cape Verdean businesses on Dudley Street and on Dot Ave, including Nos Cosa Restaurant and Dudley Supermarket. Melissa Huong called shop owners and gathered thousands of masks from small business owners, including salons and dry cleaners. Lam Ngoc Nguyen donated 5,000 surgical masks.
Kim Thai, VietAID board chair and director of policy at Boston Inspectional Services, also connected with Dorchester businesses and city agencies. 
"As we were getting calls about the need for masks and gloves, I contacted some local businesses – mainly nail salons, restaurants and construction workers who have gloves and masks as part of their regular inventory," Thai said. 
"I reached out to Jennifer Nguyen, who owns Banh Mi Ba Le on Dorchester Ave. and some other owners," she added. "Some of them actually purchased the mask and gloves themselves, and others started soliciting through their own networks.
"Within about two to four hours we were getting calls from people who had heard about this from word of mouth and wanted to donate. We made sure to get the donations to a lot of local community clinics, and worked with Councillor Baker who coordinated some drop-offs." 
"It was amazing," said Councillor Baker. "Just the way people stepped up without a question and donated cases and cases of gloves and masks."
Champion is also organizing an effort to provide masks for Boston Police officers and Department of Corrections employees and inmates. 
"The only thing I wish people wouldn't do is try to make a profit off the masks," said Champion. "This is not the time for that, it's the time for us to pool our resources, whether that's labor or supplies, to get PPE into the hands of the first responders who need them." 
Supporting healthcare workers on the first line of combating coronavirus is extremely important, she said, not only for their physical protection, but to keep spirits and mental health positive during an unprecedented time. 
"One nurse told me that she had used the same mask for three days, so there's a big level of anxiety there. If we can do anything to ease their anxiety, we should," said Champion.  "It boosts their morale to let them know we care about them, we're showing them we appreciate them being there for us and our families – and we really need them there." 
Senator Collins stated: "Thank you to Linda and all of the small businesses who have helped secure critical PPE in an extremely challenging time. The community hospitals like Tufts, BMC and Carney have really stepped up, as well as our health centers, where these heroes are working on the front lines along with first responders to save lives despite the risk to themselves.  It's incredible and it shows that when we come together, we can take on any challenge in our community and be better for it."