By Daniel Sheehan, Arts and Features Editor
January 23, 2020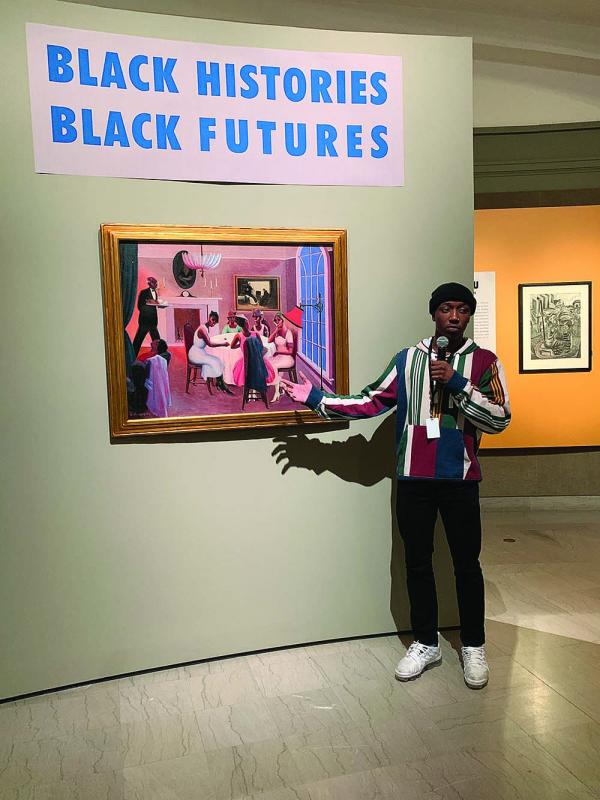 On Monday, Martin Luther King Day, Jr., the Museum of Fine Arts unveiled "Black Histories, Black Futures," an exhibition curated by four local teens from Dorchester and Mattapan that came about through a new partnership with local youth empowerment organizations.
The exhibit, which will form a centerpiece of the MFA's year-long 150th anniversary celebration, features some 50 pieces of artwork created by black artists in the 20th century. 
The unveiling is the culmination of a collaboration that began last summer when a group of fellows from local organizations Becoming A Man (BAM), The BASE, and the Bloomberg Arts Internship participated in a series of workshops at the MFA meant to build curatorial skills such as close looking, research methods, label writing, and gallery installation.
Three Dorchester residents,17-year-old Armani Rivas, 18-year-old Destiny Santiago-Mitchell, and 17-year-old Jadon Smith, were tapped for the program, as was 18-year-old Jennifer Rosa of Mattapan.
In a Q&A session at the museum last week, Rivas, Rosa, and Smith — all students at the John D. O'Bryant School of Mathematics and Science in Roxbury — discussed their visions for their sections of the show and offered takeaways from the experience.
Smith, who came into the program with "little to absolutely no knowledge about art," explained that he now looks at the institution in a new way.
"I did a full 360. It changed my entire perspective on art around," he said. "There's a story behind every piece of art, and every artist is trying to tell a story...a lot of times we see art but don't take the time to think about the thinking behind art."
He named the section of the exhibit he curated "Ubuntu: I Am Because You Are," a philosophy at the center of BAM. "To me," he said, "it means I am who I am today, and I get to enjoy those freedoms that I have today because of what people before me did, and what they accomplished, and how hard they fought."
Rivas, who also discovered the program through BAM, titled his section of the exhibit "Normality Facing Adversity." His favorite photograph from that collection, "369th Regiment" shot by James Van Der Zee, depicts an all African-American regiment outside of a funeral home in Harlem following World War I.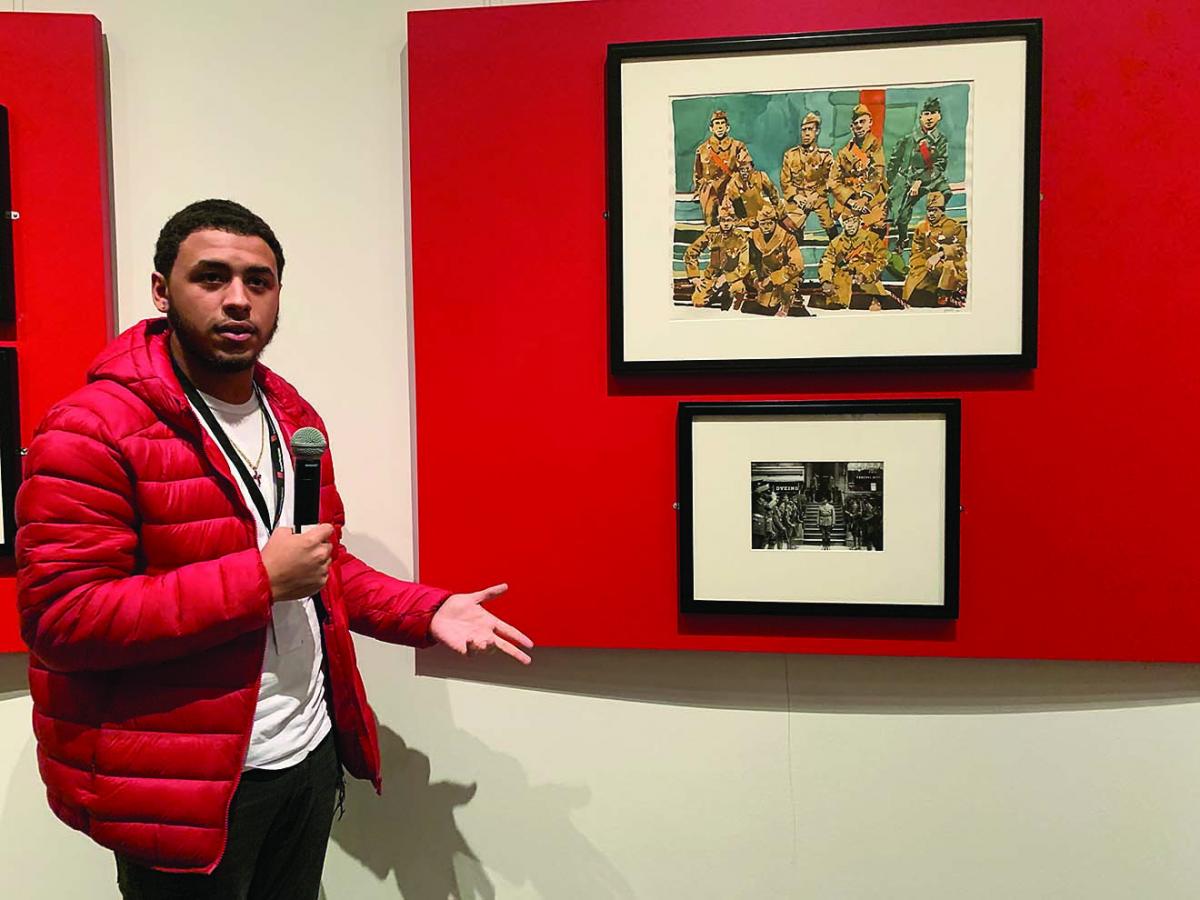 Armani Rivas titled his section of the exhibit "Normality Facing Adversity." His favorite photograph from that collection, "369th Regiment," shot by James Van Der Zee, depicts an all African-American regiment outside of a funeral home in Harlem following World War I.

Rivas said that one difficulty he faced in the workshops was simply learning how to sit in front of a painting for extended periods of time, often as long as 30 minutes.
"Having that time and having to learn the different features, the different strokes, getting in the mind of the artist – that was a challenge. But now going into any situation, problem or conflict, we're able to sit back and analyze and look beyond the surface of it."
Rosa, who named her section "Smile in the Dark," gave the Richard Yarde piece "Savoy: Leon & Willa Mae" as an example of black joy in the face of oppression.
"In all of the paintings, in all of the photographs in this exhibition, they're unapologetically happy, they're living their best lives. It shows the beauty in being black," she said.

Jennifer Rosa discusses her section of the exhibit, "Smile in the Dark," saying that "it shows the beauty in being black."

Each student acknowledged the importance of being represented in the black and brown subjects of the exhibition's artwork, a reality that is not always the case for young museum-goers.
Makeeba McCreary, chief of Learning and Community Engagement at the MFA, pointed out that the fellowship program is making important strides in creating an environment at the museum that is not only diverse, but inclusive as well.
"Diversity is being invited, but inclusion is actually being asked to dance," said McCreary. "So we asked the students to dance...we gave them the tools to do that, so that they could stand on equitable ground, so that they could fully participate and fully engage."
Beyond developing their new curatorial skills, the three O'Bryant students said the paid internship program provided lessons for next steps in life. Smith said some of the workshops – particularly the lectures – gave him a sense of what to expect in a future university setting.
"Sitting through a lecture is hard," he said, "but it's a really good skill to develop for college. Now I feel more ready than I would have been. I was able to take mental notes of the tools I need to stay awake and retain information."
Rosa added that the experience "re-opened her relationship with writing again" and even inspired her to think about creating on her own, a pursuit she hadn't considered for years.
"I grew up going to BPS schools, and the last time I remember having art class as an option was in elementary school," she said. "But after we did that [painting exercise], I took myself to Blick's and I bought a six-canvas pack and got all the primary colors, and every project that I get assigned in school is painted now."
"Black Histories, Black Futures" will remain on display at the Museum of Fine Arts through June 20, 2021. For more information about the exhibition, visit mfa.org.

Get the Dorchester Reporter— the paper of record for Boston's largest and most diverse neighborhood—delivered to your door for just $30 per year.
That's 52 weeks of the Dorchester Reporter delivered by USPS for just $30.
Support our brand of community journalism AND get the print edition delivered to your door each week— the best deal in town!
Click here to submit your order with PayPal:
Or call 617-436-1222.