By Daniel Sheehan, Arts and Features Editor
July 30, 2020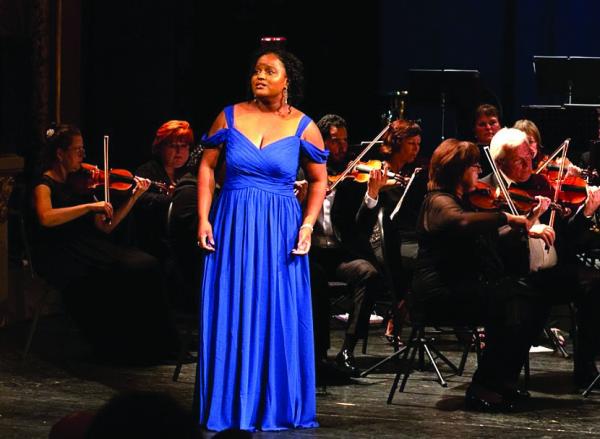 Earlier this month, Boston Lyric Opera soprano singer Brianna J. Robinson appeared on the organization's podcast, "At its (s)Core," to discuss her experience as a Black vocalist in a traditionally white-majority artform.
Originally from Ohio, Robinson recently became a Dorchester resident after moving to the neighborhood in late May. On the podcast, she recounted experiences of discrimination, but also expressed hope about a wave of change poised to sweep through the opera scene.
She expounded on those thoughts in an interview with the Reporter.
"The opera world is actually small in that a lot of people know each other," she explained. "So there was this fear that if I were to say something about these things that people were saying to me – even though they're wrong –that I could lose a job or not get a job...Nowadays, with my generation, there's just a change that I'm seeing. I really do believe the pandemic has changed so much for our artform. It's allowed people to be at home, reading every story without the hustle and bustle of life to allow people to ignore things."
To Robinson, new rallying cries for accountability and transparency have reaffirmed her well-earned sense of place in opera.
"I feel very strongly that I belong in this artform. I believe that I was placed here for a reason. I worked really, really hard. And I think it is absurd that while this artform is excruciatingly difficult for anyone who wants to be a part of it, it is appalling that singers of color also have to deal with discrimination.
"We sit in front of panels and judges all the time that are critiquing us...As singers, we're sensitive about those things because people are telling us what they see and what they hear."
Robinson recounted how a judge once told her she was a wonderful singer, but she would never be cast in the role because she is Black.
In spite of these obstacles, last year Robinson earned the starring role of Gretel in the Engelbert Humperdinck opera Hansel and Gretel; it was a character she never believed she would portray on stage. The role became even more meaningful to her when she was invited to perform the piece and conduct a master class at Boston Arts Academy in Fields Corner in front of hundreds of students of color.
"As they were applauding, I heard someone shout 'Yes, Black Gretel! You go, Black Gretel!' It was really beautiful for the kids to notice that and get to see a Black soprano singing that role...it was really a blessing."
During a long and difficult period of isolation brought on by the pandemic, Robinson said she at first found it difficult to sing but eventually found comfort and healing in her art.
"Honestly, it was hard to sing, it was hard to turn to music in the first couple months of the pandemic...I did a lot of watching operas, watching people sing. Once I moved here to Dorchester, I was able to start getting back into singing and using it as a coping mechanism."
Robinson added that she was grateful to have been offered a few virtual performance opportunities, including a project based on the civil rights activist Fannie Lou Hamer.
With the threat of the pandemic lingering around the country, the return date of in-person opera remains cloudy. But Robinson believes that when it does return, it will look different. 
"Since the murder of George Floyd, a lot of people and organizations have been calling out things they see are wrong...I know there's going to be a change."