By Daniel Sheehan, Reporter Staff
August 6, 2020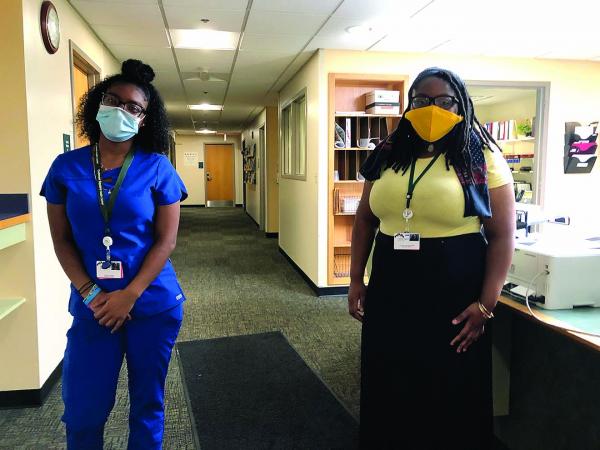 At Codman Square Health Center, a longstanding collaborative internship with students and alumni of Codman Academy has continued this summer despite the pandemic, offering interns a hybrid model that combined valuable onsite experience in the health center and virtual educational seminars.
Chetna Naimi, who directs the intern partnership, called facilitating the program "her passion," adding, "In April, as things were getting cancelled, we thought there's no way this is happening. The funding agencies realized that if we don't do any programs we won't be penalized. But we also figured out that if we wanted to do a part of it, I'm putting the money back in the community for the right reasons.
"I take a lot of pride in this internship, and together we decided it would be worth it to go the extra mile and make it happen."
Naimi and leadership settled on a "modified, truncated" version of the internship: a six-week format instead of the normal eight weeks, with interns doing a half-day of work on site and the other half virtually from home. 
While interns followed the strict safety guidelines and protocols you would expect at a health center, Naimi decided that not having them there for lunch would "minimize taking masks off, contact, and hanging out."
Instead of the usual large group of 25 interns, this summer saw 11 interns engaged in 11 different departments of the health center, such as pharmacy, dental, lab, radiology, and IT.
After students completed their morning shift at the center, they engaged in a virtual program that included guest seminars and lectures from some of the area's top medical professionals, as well as experts in a wide range of positions.
Two Codman Academy alumni who participated in the internship this summer — Cherish Lamar Smith, 18, and Katia Antunes, 20 — said they felt safe working at CSHC and reacted positively to the experience.
Lamar Smith recalled a particularly influential seminar given by Sebastian Hamilton, associate chief pharmacy officer at Boston Medical Center.
"A lot of the speakers talked about how they overcame certain obstacles, gave us motivation, and showed us that we can be a part of that group, too. I admired what [Hamilton] said because he seemed really interested in helping us out and being a mentor. It resonated with me because I'm overly ambitious, and he's the same way."
Antunes, who had also participated in the internship last year, said she wished she could return for a third year.
"It helps you build communication skills, be more outgoing, and just be willing to learn more stuff," she said.
Sandra Cotterell, CEO of CSHC, said that acclimation to a professional environment is one of the biggest benefits for students.
"One thing we've seen with Covid-19 is the importance of the community health provider as a resource and an accessible place for quality care. Healthcare always needs and demands employment opportunities. When other industries shut down, we still had to figure out a way of keeping our doors open because we are an essential provider. I think through the experience interns realize healthcare is essential. It doesn't stop."