By Daniel Sheehan, Arts and Features Editor
January 22, 2020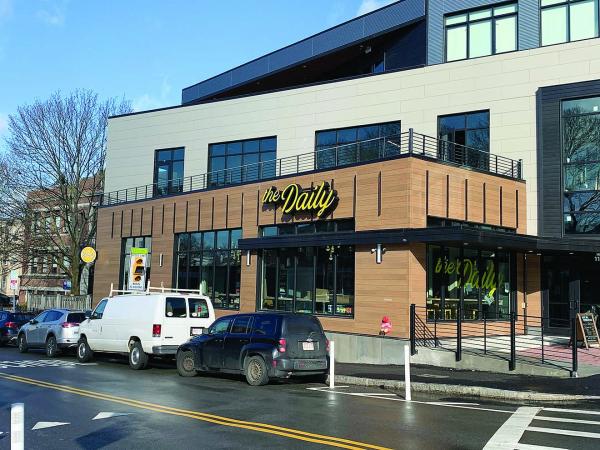 Editor's note: The Daily Market is now open. Check out their website for store hours.

Long-awaited store seeks to blend old, new
In a matter of days, Savin Hill will finally have the place residents have been clamoring for: a market on Savin Hill Avenue.
James Baker and John McDonough, the neighborhood-bred real estate developers of the mixed-use building at 102 Savin Hill Ave., told the Reporter in a recent interview that the centerpiece of the project, The Daily Market, will be making a soft opening by the end of the month. Baker said he expects that once it opens, the market will serve as a needed vendor of groceries and quick bites — as well as help restore a neighborly feel to the area.
"There's no local markets anymore, so we're thinking this can be a real driver of community," he added.
The Daily, an idea that has been in the works since 2017, aims to reflect its name by providing its customers everything they need on a day-by-day basis. "You can do your full shopping here," said Baker. "And there'll be a percentage that does that, but then we're gonna see people every day, every morning — the T's right there. They'll be coming in to get a fresh salad, a soup, a side dish, an entrée, whatever."
Customers walking in the doors will encounter a wide range of products, beginning with a pop of color at the front entrance, which will be home to the market's floral and produce sections. By "setting the tone" in such a way, industry consultants Aimee Morgida and Paul McGillivray hope to distinguish the market from the average corner store.
"The visualization here is that for the customer who's walking in this first aisle, it's fresh, it's a lot of color," said Morgida, who curated the store's products and designed its layout along with general manager Michael O'Driscoll.
Together, the two envisioned a "hyper-local" theme to the market that will offer customers their choice of products from businesses in and around the city. Batch ice cream out of Cambridge, Capone pizzas and Deano's pasta out of Somerville, Vita Pura snacks out of Grove Hall — all will be found on the shelves. And of the roughly 50 local vendors that have partnered with The Daily, 12 are from Commonwealth Kitchen, a non-profit food service incubator on the west side of Uphams Corner, that Baker said represented a natural opportunity for a collaboration.
"We've kind of struck a little mutual deal with them," he said. "Any new person that goes in there and wants to start a business, they're gonna come here first with their products and test them out and see how they sell. So, basically, we'll give them the data that they need to move forward with their products, whether it be the price, packaging, location of the product, that type of thing. So, we're gonna be like another incubator for Commonwealth Kitchen."
Having that variety of local products in the store will make the shopping experience more interesting, said Morgida.
"We're trying to create some 'aha' moments around the store, so that when people walk the store they're like, 'Oh, I know that from here,' or 'I've never seen this before, it's really interesting, I want to try it.'"

Inside work proceeds apace at The Daily Market. Dan Sheehan photo
In addition to fresh produce, which Baker said was the single most requested item he heard from community surveys and focus groups, the market will also offer canned foods, frozen foods, staples like cereal, eggs, and milk, a full meat department, a seafood department with fresh seafood delivered daily from Jordan's, a deli counter serving up breakfast and lunch sandwiches, and a cafe that will offer locally sourced Fazenda coffee, homemade donuts, cookies, and pastries, and two revered global delicacies: croissants from France and bagels from New York.
The market's selection of products will help set it apart from other stores in the neighborhood and throughout the city, said Baker.
"It's a unique store," he said. "[Morgida and McGillivray] have done a great job curating the product; you're gonna find things that you don't find elsewhere, and that's what's gonna keep people coming back."
The managerial team expects to see a good amount of foot traffic from the immediate neighborhood, and The Daily's location just across from the Savin Hill MBTA station makes it an easy stop for commuters. While finding a parking spot can often be difficult for motorists on Savin Hill Avenue, general manager Mike O'Driscoll said that some parking will be available.
"We do have an arrangement with the school next door, Cristo Rey, where we can use their parking lot on nights and weekends— whenever the school's not in session," he said. "So, weeknights starting at four o'clock we can use it. Weekends, and all summer long."
After opening in the first floor and basement (which is home to a chef-manned professional kitchen and industrial size freezer), The Daily will join fellow tenant Savin Hill Fitness Center, which opened on the third-floor last year. The second floor remains without a tenant, but Baker said he expects it to be occupied by "a coworking space or community event space that The Daily could cater food for."
Store management expects to hire a total of around 30 employees, the vast majority of them from the neighborhood. That local, personal touch will help add to the tight-knit community experience that Baker is hoping to evoke with the market.
"It hearkens back to when we were kids living here," he said. "You know, every corner had a market. It was really part of a fabric of the community, and we're looking to do that, replicate that, and make sure people feel this is a gathering place, a place to commune, quite frankly. And we think we can do that."
With everything from potatoes to dog food to toilet paper in stock, The Daily may very well offer more variety and options than its neighborhood market predecessors; its shelves are home to twelve different brands of peanut butter, a figure that Baker himself found staggering.
"We have twelve peanut butters? That means we're a real market!"