By Alexander Gray, Special to the Reporter
October 22, 2020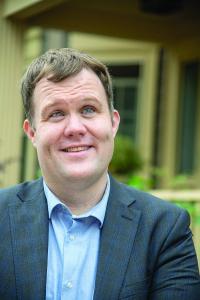 October marks the 75th celebration of Disability Employment Awareness Month (DEAM), a time set aside to honor the contributions that people with disabilities make to our workforce while also recognizing the employment challenges that the disability community still faces.
Before I had a disability, I would have struggled to identify the ways in which having a disability would make someone a stronger employee. But I now realize that, like any other demographic minority, the disability community is both sadly challenged by their identity, and also made stronger by it.
In a time when society is fixated on innovation, I know of no more innovative group of people than those of us with disabilities. We have lost the ability to hear with our ears, but then learned to sign with our fingers, or interpret words on others' lips. We have lost the ability to see print, but learned to read Braille with our fingers. We have lost the ability to walk with our legs, but we now roll in our wheelchairs. We have lost the ability to speak, but can use our eyes to enable technology to speak our words.
And in a time when COVID-19 is making previously unimaginable impacts on our world, the ability to adapt will be incredibly valuable moving forward. And people with disabilities adapt to both physical, technological, and interpersonal environments every day.
As someone who is blind, I know that my ability to listen has become far greater because of losing my vision. And that same ability to listen has, time after time, made me a better student, employee, and friend. I have also become a more patient person because I have to find creative and alternative ways to complete everyday tasks. And this patience has contributed to me having a better work ethic and ability to collaborate with others in the workplace.
But even though the disability community has so much to contribute to our workforce, sadly, more than eight out of every ten people with disabilities were out of work in 2019. And an even higher percentage of the disability community was underemployed in terms of the number of hours worked or in terms of their qualifications for their specific job.
These stark statistics point to the real barriers to employment that face the disability community and underscore the need for tangible ways to reduce them. First, people with disabilities can still legally be paid sub-minimum wages through provisions allowable under federal law, the so-called 14C exceptions. Vice President Biden has pledged to phase out this exception, so a vote for the Biden-Harris ticket is a vote for better wages for people with disabilities.
There are also many states in America, including Massachusetts, that have not passed laws requiring employers to make their worksite accessible to people with disabilities. Without such legal requirements for accessibility, many qualified individuals within the disability community forego job opportunities because of inaccessible office environments. Laws that require that employers make worksites accessible to employees ares yet another way to reduce employment barriers for the disability community.
Finally, in a time when much-needed conversations around equity are starting to bear fruit, we must ensure that the disability community is included in these important conversations and that policy solutions that come from them. Our workforce must be as reflective of our world as possible, and it must do so at all levels. Including the voices and experiences of women, racial and ethnic minorities, and our LGBTQ+ populations ensures that conversations and solutions reflect the world we live in today and I applaud efforts to make workforces and boards of directors more reflective of our world.
And I believe strongly that it is equally important that we include people with disabilities in these efforts. The disability community experiences so many of the disparities in health, education, employment, and degree of involvement in the criminal justice system that affect other marginalized groups.
Including our voices can only make conversations and the resulting solutions stronger. And I pledge to bring my experience as someone with the lived experience of having a disability to these conversations and to my campaign for Boston At-Large City Councillor in 2021.
COVID-19 has forced all of us to stop and reflect on the world we have now and the one we want in the future. It is my hope that the future world will be one where people with disabilities play a larger and larger role in shaping things. If we do this, future DEAMs will be a source of greater and greater celebration.