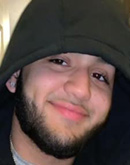 The Boston Police Department reports that Yonan Guerrero, 16, of Dorchester, was stabbed during a large fight on Blue Hill Avenue, near Seaver Street on Saturday afternoon.
After being stabbed outside 575 Blue Hill Ave. around 4:50 p.m., he was taken to a local hospital, where he was pronounced dead, police say.
Two other teens were also stabbed, but their injuries were less serious and they are expected to survive, police say.
This is Boston's third murder in 2020.