By Reporter Staff
September 17, 2020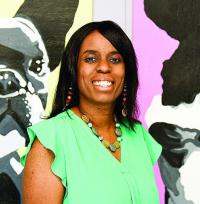 Alexis Trzcinski of Dorchester has been promoted to Director of the Animal Care and Control division of the Boston Parks and Recreation Department. She has worked in the animal welfare field for over 24 years after beginning her career at the Animal Rescue League of Boston where she worked in direct animal care and pet adoptions.
Trzcinski joined Boston Animal Care and Control in 2004 and has served as the division's assistant director since 2015.  In that role, she organized the expansion of the city's low-cost animal wellness program, worked collaboratively with other humane law enforcement organizations, performed administrative hearings, and ensured that the division continued to provide high level care for animals in the city's animal care facility in Roslindale. 
"I am excited for the opportunity to have a positive impact on the lives of animals, and build stronger relationships within the community," she said. "My passion is helping animals in need. Lucky for me, that is also the mission of this talented team."
A graduate of UMass Boston, Trzcinski has lived in Boston most of her life and currently lives in Dorchester with her husband, twin sons, two cats, Bowser and Mack, and her dog, Otter.