By Daniel Sheehan, Arts and Features Editor
October 8, 2020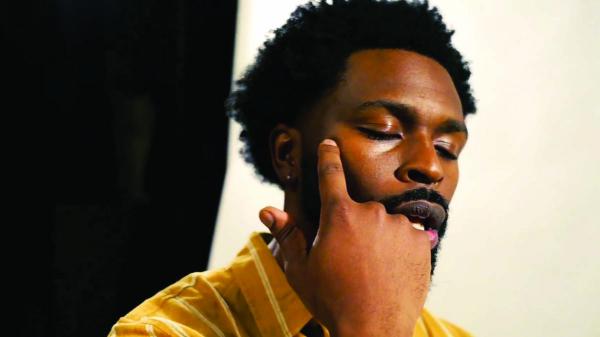 Oftentimes in music, as in other artforms, less is more. Fields Corner-bred rapper and producer Latrell James knows the upside to leaving fans craving more: His last project, "Still," published in February of last year, offered listeners five tightly wound songs topping out at just over 15 minutes.
In recent weeks, James has dropped three neatly packaged tracks with visual accompaniment, each of them shorter than 90 seconds. This isn't to say James' output is low.
In fact, the countless hours of music left on the cutting room floor or tucked away in digital archives — some untold thousands of songs, he says— paint a picture of a prolific artist's output. But managing the rollout of that product in a way that maximizes its impact and value requires careful curation, James explained this week in an interview with the Reporter.
"That's a format that I've been toying with," he said of the bite-sized films. "I wanted to put out some music like that because people are used to hearing full verses, two verses, two hooks, maybe a bridge on records for me. I wanted people to get a different feel because there's more music to come, and I don't want people to think I'm this one trick pony. It's gonna change every time I put out something. I'm ever growing." 
That type of flexibility is a must for artists today, especially in the age of Covid. After the virus halted revenue streams from live performances, which James said was responsible for "the bulk of cash" he saw, other money- making methods burst to the forefront, particularly the vast opportunities that fall under the umbrella of synchronization licensing.
"Sync licensing," as James pointed out to his Twitter followers last month, refers to the fees that companies pay musicians for permission to use their songs in movies, TV shows, video games, podcasts, and commercials.
Having a steady stream of income from those sync deals means "literally money in your sleep," James wrote, and limits dependence on any one avenue for turning a profit.
Since landing a spot in a Cheerios ad jingle in 2017, James has personally felt the potential in those media. "When you get placements, it's life-altering money...we're talking anywhere from 6 to 20 grand on a job," he said. 
But knowing what to do with that first big check is just as important as earning it— a caveat that James issues on "Lil Mo," one of the three audiovisual tracks that dropped in September.
On the record, which he wrote after securing his first major sync deal, James explores the complexities of making and retaining wealth, and the nebulous path between making "a lil' dough" and making "a lil' mo." 
Said James: "I wrote that song to educate my homies. There's a Blackness to it, you know, when I say 'tuck it in your Nike boxes,' I'm speaking to them, I'm talking about that reality. As kids we'd seen drug dealers tucking bills in their waistbands, we put that s*** under our beds, or in our shoeboxes, not really trusting banks...but at the same time I want to educate people, get them to think about investments." (James repeats the line "You better think about investments" twice in the song for emphasis.)
James is always investing in himself. He says so on the hook to "B.I.M.A.," a track produced by his brother, Tedd Boyd, and illustrated in a shadowy video directed by Rohan Mudgal and Jessica Richards.
"Unapologetic/Black is my aesthetic/I'm my own investment," James raps on the hook, putting in plain language the underlying principles of his artistry. For James, Blackness entails everything about him –ideologically, sonically, and aesthetically.
"When I say that, I mean that for real, for real, for real," he explained. "My parents are both from North and South Carolina so I know how their ancestors got here...I'm the epitome of Black."
In a way, each bit of music he releases is another small investment in future earnings. James is surely aware that a short end product translates to more YouTube plays and Spotify streams, and more audience exposure. The sub-two-minute format of these recent releases is another example of his savviness, as well as his nimble creativity.
There's reason to believe the best is yet to come from James, who plans on releasing a new EP at the end of the month featuring members of his uber-talented family. But much of his worldview can be distilled from the roughly five minutes of audio and video he released last month. One line in the verse on "B.I.M.A." homes in on James's ideological and artistic convictions. "You drew a line but it was in pencil/I drew a line but it was in Sharpie," he says. 
Here, James issues a challenge: Anything you can do, I can do it Blacker, and bolder. An artist needs to be unapologetic, he says, in order to have staying power, to endure in ink and not fade like graphite.
"Everything's about taking a risk. You can't half-step into your future, you've got to jump two feet in. That's my mentality with everything. I'm not gonna write Latrell James on people's walls with a pencil so they can erase it! Nah, I'm putting Sharpie on the wall so you can see who I am forever. You're going to have to do something heavy to get rid of it, knock the building down or something...at the end of the day, I just want permanency."