By Daniel Sheehan, Reporter Staff
January 9, 2020
Last Saturday, a week before the opening of their new multimedia exhibit "Into the Wiild," Cliff Notez and Nick Martin stood in Dorchester Art Project's blank white gallery space and tried to visualize the ways they would transform it into a jungle. 
"That's what we're going for," said Notez. "We want people to come into the space and feel like they're in The Land of the Wild Things."
The pair designed the exhibition, which opens with a reception this Saturday (Jan. 11) from 7 p.m. to 10 p.m. at DAP, as an artistic companion to Notez' second album "Why the Wild Things Are," a project he released in September.
The gallery will house a collection of paintings, drawings, films, sculptures, and digital media inspired by the album, including pieces produced by Notez, Martin, and a litany of Boston artists from whom Notez solicited artwork for the project. 

A piece from the exhibit inspired by the track "Black Incredible" incorporates elements of superhero fiction.

"Every song on the album has its own piece of work, if not multiple," he explained. "I didn't give any direction at all. I just said, 'I want you to do something unique with it, and maybe I'll figure out what the song means when I look at your piece.' I know that once I hang this show, it's going to take a whole different life."
In this way, the show represents an evolution of sorts for the album, pushing its thematic elements beyond sonic boundaries and into the physical and visual fields. For Notez, that process just demonstrates the ways that art naturally transcends itself.
"I think that the album is layered in a lot of different ways, and not everything can be explained via words. And even though I created it, I don't fully understand it...A lot of the album was created just with my head down, so there's still some unpacking of the album that I need to do myself.
"That's one of my favorite parts of creating, being able to look back and be like, 'Oh, that's what I was thinking. That's what was happening.' That's the therapy in it."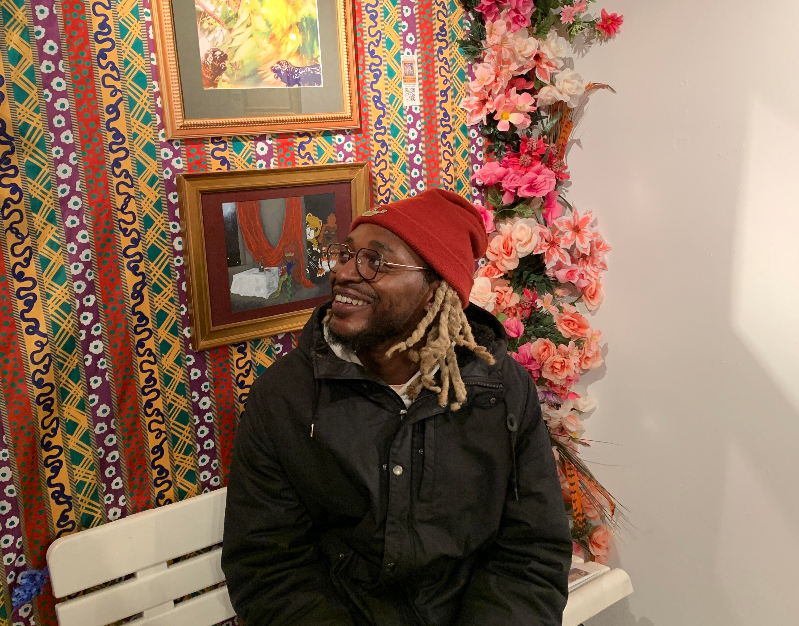 Cliff Notez in a colorful corner of the exhibit.

The narrative of "Why the Wild Things Are" follows protagonist Leon —"kind of like my nickname for myself," said Notez — on a journey of healing and self-reinvention that mirrors the path taken by Max, the central character of Maurice Sendak's 1963 children's picture book "Where the Wild Things Are." The book drew criticism and censorship after its release due to its depictions of childhood rebellion and anger, a fact that resonated with Notez as he worked on the album.
"It was banned for a while when it first came out because it was one of those first books that was portraying childhood emotion in this way. They're talking about this kid who's dealing with anger and depression and anxiety, and we've never seen this in children's books prior to this point...we're so afraid to address these things that need to be addressed, and because they look ugly, we can't show them to our kids. But that's the problem: We need to be able to address these ugly things."
The album is musically eclectic, with lush string arrangements giving way to jazzy horn sections and muted acoustic guitar. Martin, a visual artist who collaborates closely with Notez on many of his projects, said he thinks that "wildness" will be reflected in the artwork he made.
"We tried to mirror that with the art for each piece. For the work I did at least, I did each piece in a different medium. So one was in colored pencil, one was painted, one was digital, one was a sculpture. With everything else, people sort of just did their own thing."
Martin said one of the pieces he made, a companion to the track "Losing Crowns," is a play on Michelangelo's "The Creation of Adam." Another piece, by the artist Photocomfort, who interpreted the track "Get Free," depicts a somber Cliff Notez sitting cross-legged on the floor, bathed in a blue aura that, along with his watery eyes, conjures an air of mourning.

This work by Nick Martin, showing protagonist Leon reaching for his crown, draws inspiration from Michelangelo's "The Creation of Adam."

Notez expects that each work of art will in turn birth further reactions and interpretations, and, once paired with the music that inspired it, create something new entirely.
"When you walk into the gallery, we want you to be able to take it in and then, like, pull out your phone and stream the song as you're seeing the piece, because every artist had different outlooks on each piece," he explained. "I'm hoping that with all these pieces people can understand the album more, and understand that it's not about me at all. Even though it comes from me and it's 100 percent my feelings, I know that it's not entirely about me."
The exhibition will mark the first time Notez has had his work shown in a gallery setting, a milestone made even more special by the time he spent working at the Institute for Contemporary Art before leaving to focus on his own artistic pursuits. But the location of the show in Fields Corner also represents a homecoming of sorts for the rapper/filmmaker, who spent parts of his childhood in the neighborhood.
"I love that it's here in Dorchester because obviously I have roots here. My grandmother lives up the street...I'm really glad that this is our first show, I think it makes sense. We already have plans to expand the show, and hopefully we can bring it to different places, and maybe eventually it will make its way into the ICA."