By Daniel Sheehan, Arts & Features Editor
April 9, 2020
Dorchester's music artists are among the countless people left grasping for straws in the wake of the COVID-19 pandemic, with many facing months of cancelled gigs and lost income. But a pair of private and public initiatives aimed at providing artist relief are looking to at least partially offset those losses.
The city of Boston has temporarily transformed its Opportunity Fund into the "Boston Artist Relief Fund," which is awarding grants of $500 and $1,000 to artists "who live in Boston and whose creative practices and incomes are being adversely impacted by COVID-19."
Artists can apply to recoup financial losses due to canceled events, for reimbursement for travel expenses, to offset loss of income for teaching artists, or to replace supplemental income from part-time service industry jobs that have been lost due to the crisis.
The Record Co., a Newmarket Square based community music workspace that is currently in the middle of a multimillion dollar transformation, has started the Boston Music Maker COVID-19 Fund. Community Manager Maria Bartolotta told the Reporter that even though The Record Co. is currently closed, leadership wanted to address the "urgent need" in the music community they will be serving in the near future.
"We've been so in depth in the fundraising game trying to make our facility a reality for a few years that we redirected our fundraising efforts," explained Bartolotta.
"The facility is still going to happen, but we put a quick pause on fundraising to get funders to donate directly to our music makers."
As of last Tuesday, The Record Co. had raised more than $60,000 and approved and funded over 300 applications.
Bartolotta emphasized that while the relief funds they grant won't completely offset lost expenses, limiting the grant money will allow them to reach more artists.
"Two hundred dollars is the maximum we can give out, and almost every application is for more – thousands, even in one case upwards of $10,000. … We made the tough decision to help a lot of people a little bit."
However, that $200 maximum grant is available to any Boston music artist with proof of a cancelled performance.
"The application process is really quick, really easy," said Bartolotta. "All people have to do is attach a screenshot or a link or an email of a gig that got canceled, and have an address inside the Greater Boston area, and they'll get approved and get a maximum of $200 through Paypal.
"People put so much work into their art, into preparing for events and a lot of time doing the entrepreneurial aspect, lining things up for months and months in advance; to see all those plans, and all that hard work disappear has just been really tough."
One local artist who has felt the acute impact of COVID-19 is MC and Dorchester native Red Shaydez. She told the Reporter that her day job, which she works at from home, has been largely unaffected. But as for her artistic livelihood, she has already seen "a minimum of six shows" cancelled in March, April, and May, a loss representing thousands of dollars in income. While she successfully applied for The Record Co's relief fund, that grant will only offset a fraction of the canceled gigs.

Red Shaydez
"Since last December I had been booked until May, and now I'm not booked at all," said Shaydez. "I'm just trying to figure out where to go from here financially."
She said that a project she had been working on tied to her forthcoming album was dependent on money from those canceled shows. For now, that project is in limbo.
Another Dorchester artist who is hurting is the rapper, producer, and filmmaker Cliff Notez. He was excited when he found out in February that he had been invited to perform at Boston Calling. But the festival was cancelled last week, with Notez's dream of sharing a stage with some of his favorite artists yet to be realized.
Notez celebrated the release of his latest album at Dorchester Art Project (DAP), a now closed communityrun nonprofit venue and workspace based in Fields Corner that in recent weeks has been forced to hatch a survival plan.
Gallery director Emma Leavitt said for the past week DAP leadership, along with its parent organization, Brain Arts, had been weighing next steps. Eventually, they settled on a crowdsourcing effort aimed at helping the organization's most vulnerable and closely impacted staff and artists.
"We decided the best way to help is to make sure we survive this," she explained, "The Covid-19 Relief Fundraiser was created for that purpose; just to try to fill the gaps, and to try to make us whole again once this is all over. All the money is going to part-time keyholder staff, rentals we had to cancel...The ultimate goal of the fundraiser is to pay the rent of vulnerable DAP tenants so they can continue renting the studio space."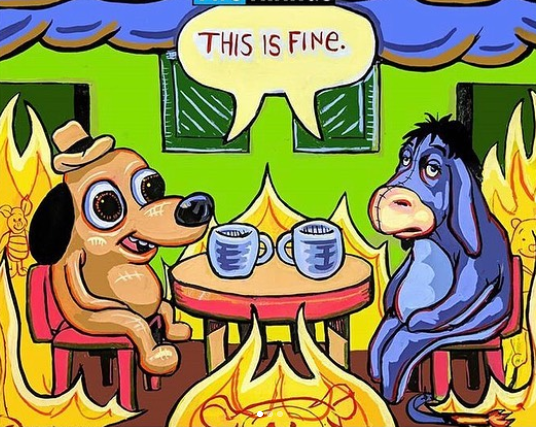 A recent piece by DAP tenant Matthew Brennan a.k.a. Two Thangs mixes pop culture influences to interpret a time of crisis.
So far, the fundraiser has reached over 50 percent of its roughly $16,000 goal. "It's been really encouraging so far," said Leavitt. People really care about DAP, and they want it to keep it going."
In terms of the artists themselves, Leavitt noted their creative talents are needed more now than ever.
"It's a total transformational shift in all of our lives, so I think artists are going to need to help us process everything."
Creative output prompted by the crisis is already emerging on social media platforms: Jo Nanajian, a DAP tenant, had been making face masks adorned with jewels and other ornaments for months before the crisis started. Now, she's adapting her designs to make masks for health care workers.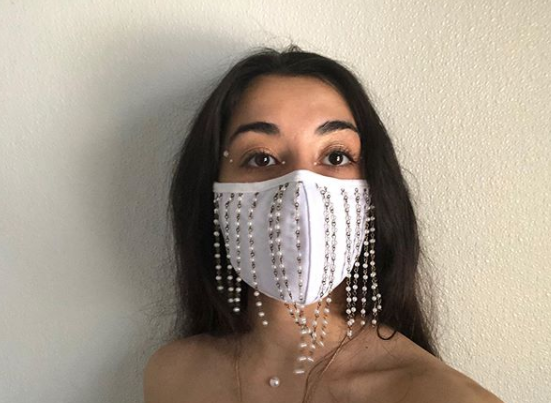 DAP tenant Jo Nanajian displays one of her handmade masks.

Elsewhere, performing artists have taken to virtual platforms. The Dorchester rapper/producer Latrell James took to Instagram with a host of other musicians for a "live" version of his song "Grateful," which they performed remotely from their apartments. In the song, James touts the importance of gratitude, reminding us that "it's a whole blessing to wake up in general."

Dorchester artist Latrell James (bottom right) joined a quartet of musicians for a virtual performance on Instagram.