By Daniel Sheehan, Arts and Features Editor
July 24, 2020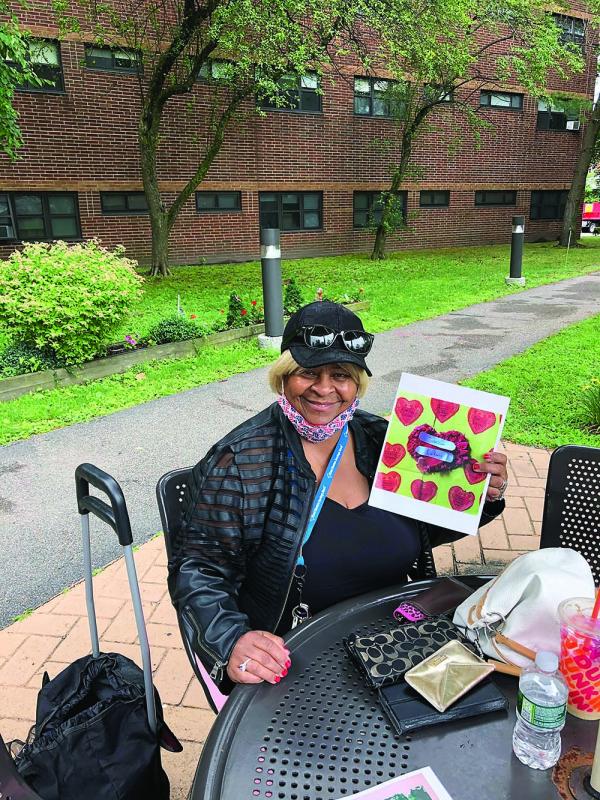 Earlier this month a project called "Across Generations," made possible through a partnership with the Age Strong Commission, Boston Public Schools, and Councillor Andrea Campbell's office, saw hundreds of pieces of artwork by Boston Public School students delivered to three senior living buildings in Boston, including the Lower Mills and Codman apartments in Dorchester.
The idea for the collaboration came about in March when Lower Mills resident David Mareira expressed concern about the effect that social isolation, deepened by COVID-19, was having on older adults. The result: An intergenerational art project that provided seniors with artwork drawn by BPS students from the Tobin, Curley, Edison, and Trotter schools, among others.
Prints of the artwork included messages such as "You aren't alone, I am here with you," surrounded by rainbows and hearts, "Save me some," drawn on a bottle of hand sanitizer, and "We love you, just hold on a little bit longer and COVID-19 will be over."  
Sandra Harris, president of AARP Massachusetts, and member of the Age-Friendly Boston advisory committee for the Age Strong Commission, facilitated coordination with Tony Beatrice of the Boston Public Schools and Councillor Campbell's office. Even before the pandemic, Harris's focus has been on reducing social isolation by strengthening intergenerational relationships. 
In anticipation of having the artwork printed, she began to call printers in the city. "The first company I called was Boston Business Printing, which was one of the only companies open. When I told the owner, Bill, why I was calling and asked for printing, he paused and then said. 'You know what, Sandra, I will donate it to you. We are in this together.  When you are ready, send the CD to me and I will get it done.'"
In total, around 400 seniors received prints of student artwork.
"I'm proud of this creative project and great partnership," said Age Strong Commissioner Emily Shea. "It bridges generations through art and echoes Mayor Walsh's deep commitment to reduce social isolation among older Bostonians."