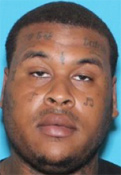 A federal judge today rejected a request from an alleged leader of the Mattapan branch of the Latin Kings gang for pre-trial release because of Covid-19 concerns, saying there is no way she could release him without creating a potential danger to society.
Angel Calderon, an alleged "Inca" or leader of the Morton Street Bricks branch of the violent national gang, said his extreme obesity - he had a mastectomy after developing gynecomastia, his lawyer says - and a case of asthma puts him at particular risk for complications should he be infected with Covid-19 while housed at the federal Wyatt Detention Facility in Central Falls, RI. Calderon was seeking to be allowed to live with his girlfriend in Dorchester while awaiting trial.
Calderon is one of 62 local alleged Latin Kings members indicted in December on federal racketeering and related charges. He has been held since his arrest.
In her ruling this morning, Magistrate Judge Page Kelley said federal prosecutors proved that Calderon is too much of a potential menace to be allowed out to await trial - even if one accepts his lawyer's arguments that much of the government's case is exaggerated and that his alleged threats to kill other people were merely the sort of "hyperbole and false bravado" so common among young men these days.
Kelley began by stating Calderon's background and the nature of the case against him:
"He is alleged to have been an active participant in the conspiracy to murder [co-defendant] Angel Roldan and to have conspired to commit several other murders. He personally intimidated witnesses, employing a firearm. He directed and ordered violence against members of the gang. He distributed guns and drugs in connection with gang activities. He is facing a substantial sentence. He has a criminal record, including convictions for possession of a firearm, subsequent offense, for which he served 3-4 years in state prison, possession of a firearm, for which he served 18 months, and assault and battery, for which he served 6 months. In the past he has been convicted of crimes that were committed while on probation for other crimes. In this case, he was participating in gang activities while under court supervision and wearing a gps bracelet."
Then she addressed attorney David Grimaldi's arguments for release:
"Defense counsel made a strong presentation at the hearing that the charges against Mr. Calderon may be exaggerated and that many of his inculpatory statements were puffery. Nevertheless, at this stage of the case, there is certainly probable cause to find that the charges are warranted. Given Mr. Calderon's troubled history and the nature of the violent criminal gang of which he was undoubtedly a high-ranking member, and the uncontroverted evidence that he was committing serious crimes, even if not to the extend the government contends, the court cannot find that there are conditions that would ameliorate the danger to the community if he were released."