By Bill Forry, Editor and Publisher
April 5, 2020
Mayor Walsh issued a stern message to Bostonians on Sunday as he warned that the surge in coronavirus cases is just beginning in Boston and Massachusetts. In a press conference outside City Hall, the mayor said he has ordered that a curfew for all non-essential workers will begin tomorrow (Monday, April 6) from 9 p.m. until 6 a.m.
He advised that all senior citizens and people with health issues should stay inside for "the next couple of weeks" and not go out, even to exercise. He also told all Bostonians to wear protective face coverings effective immediately.
The mayor said that Boston "is only 11 days away from peak demand for hospital resources, an estimate that emphasizes the critical need to flatten the curve immediately."
Fifteen new COVID-19 deaths were reported in Massachusetts on Sunday, ranging in age from three men in their 50s to a Berkshire County woman in her 100s. With nearly 72,000 people now tested, the number of confirmed cases rose by 764, to a total of 12,500.
At least 1,145 COVID-19 patients have been hospitalized, and 231 have died, according to the Department of Public Health data. A total of 102 long-term care facilities have reported at least one case of COVID-19, and 551 cases have been confirmed in the residents and health care workers of such facilities.
"I'm asking everyone to wear a mask covering your face when you leave your house," said Mayor Walsh, who said he will begin wearing a mask made for him by City Councillor Annissa Essaibi-George. "It will help slow the spread the virus."
"I cannot stress enough that the actions we take now through the next several weeks will help curb the spread of this virus, and save lives," Walsh said. "There is nothing that I won't do as Mayor of the City of Boston to protect our residents, and at this very critical time, we must do everything we can as Bostonians to protect one another. This is bigger than any one person - this is about the greater good of our people."
In last 48 hours, the mayor said, the city has recorded 511 new cases, with two new deaths since yesterday, bringing the total number of fatalities in the city to 15. There have been 1,877 reported cases in the city since the health emergency began, although limited testing capacity suggests that there are many more cases that have not been confirmed or detected.
"That's what a surge looks like and we are still at the start of a surge," he said.
The mayor has also ordered city playgrounds and playing fields to be closed. No group activities should be taking place anywhere, including fitness classes, he said. Police can order people to vacate parks— "and can and will issue violations."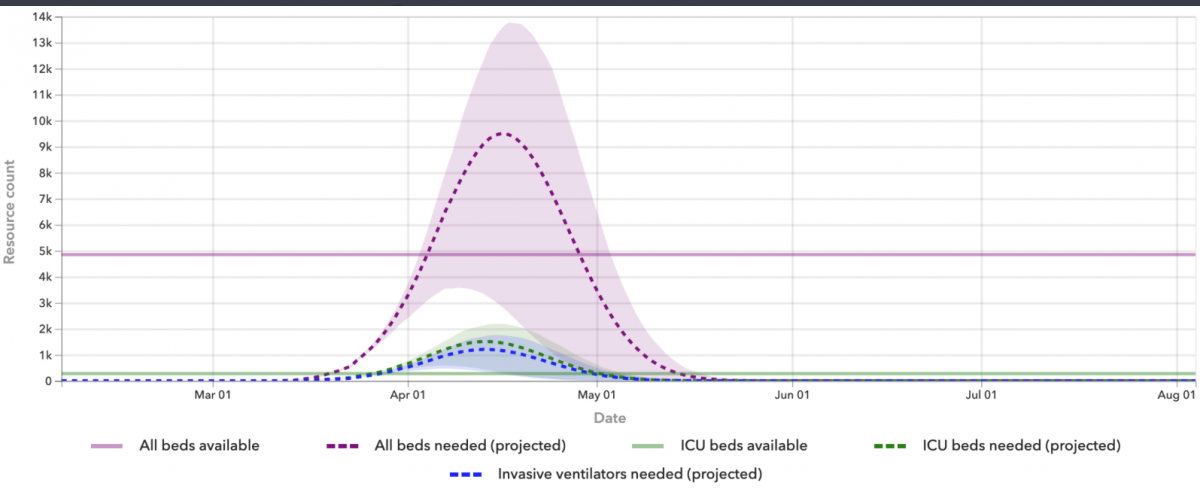 A graph released by the City of Boston on Sunday, April 5 shows the latest projections by public health officials about the COVID-19 risk in the city of Boston.
"We are urging people to use common sense," Walsh said, telling Bostonians that they should call 311 to report group activities in parks and playgrounds.
"I walked by a tennis court and saw people playing in there.... If you're not in the same family, you are potentially putting people at risk."
Walsh added that it's okay to walk around your neighborhood, but no one should be in contact with people outside your own home on those walks.
"Let's give people space here. If you see crowded conditions where you're headed: Turn around and change your plans."
"I hope Washington stops sending mixed messages," Walsh said. As a Catholic, he noted, Easter Sunday is an important day, but "under no circumstances" should any house of worship be open until further notice.
If people in the city don't take his advisories seriously, Walsh said, the crisis will likely be extended.
If we don't do these things now, there "won't be a summer," he said.
Face coverings, the mayor said, can include a cloth, scarf, or bandana that "cover a person's mouth and nose."
Homemade face coverings should be made of intact, close-weave cloth and allow comfortable breathing, he said.
Visit CDC guidelines on face coverings for more information and guidance.
See the city's website for more information on the local response and advisories.
-Developing-
A State House News Service report contributed to this article.