By Daniel Sheehan, Arts and Features Editor
February 5, 2020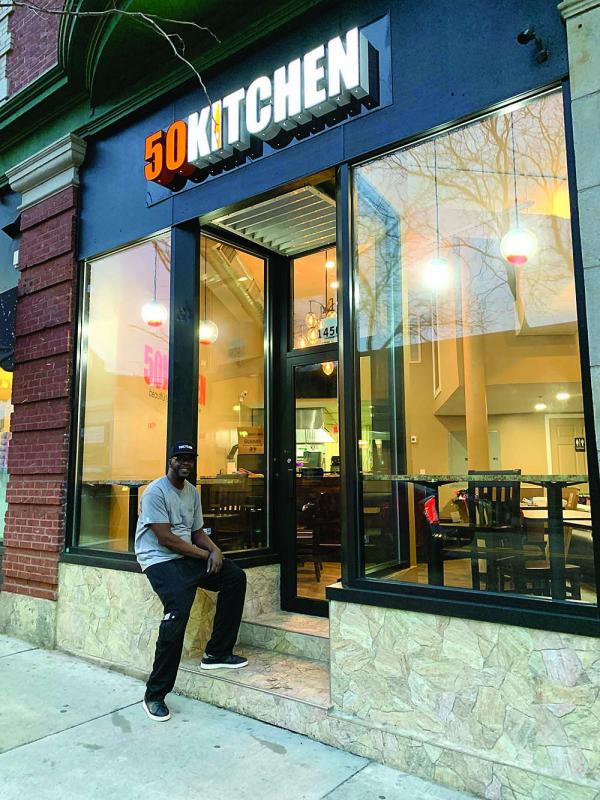 Anthony Caldwell has been stabbed five times, shot once, and pronounced dead twice. He has been incarcerated multiple times, the last of which was a four-year stretch in prison.
In an interview with the Reporter last week, the 51-year-old Caldwell spoke frankly about his current reality: "I shouldn't be here," he said.
But in spite of those experiences – and perhaps because of them, he noted – Caldwell was days away from realizing his dream as owner and executive chef of his own restaurant: 50 Kitchen, a Southern American/Asian fusion eatery on Dorchester Avenue in the heart of Fields Corner.
"This may seem bizarre," he said, "but I'm so glad I went to prison. If it was not for that, where would I be?"
Born and raised in Dorchester, Caldwell often found himself on the streets and selling drugs for a living from the age of 13. But while in prison in 2004, he learned how to cook and discovered in himself a passion for the culinary arts.
"I saw this chopped parsley sprinkled on a plate and I freaked out," he recalled. "I couldn't believe how just one thing could change the whole plate."
In a pre-release program, Caldwell was offered a shot by a chef at Legal Seafoods in Chestnut Hill. He took that opportunity, worked hard, and went from serving as a prep and a line cook to working in kitchens at MIT and Harvard, and as sous chef at the John Hancock Building.
By 2009, Caldwell was out of prison and building a career in the food industry, but struggling with an ever-worsening addiction to alcohol. In 2011, Caldwell, in what he called a "divine" intervention, says he heard God's voice offering him a deal: If he stopped drinking, he would get his own kitchen by age 50.
In 2017, he entered a contest sponsored by the Fields Corner Business Lab with a prize of six months free rent in a storefront at 1450 Dorchester Ave., followed by reduced rent over the next few years and free legal and marketing coaching from other local business owners. Out of nearly 60 women and minority applicants who pitched their businesses, Caldwell won. His pact with God had become a reality.
Many months later, after multiple delays caused by contractor issues, 50 Kitchen finally opened its doors with a series of soft openings last week. "The community has been waiting for two years," he said. "It's showtime."

Anthony Caldwell credits divine intervention for his good fortune. Daniel Sheehan photo

According to Caldwell, the food at 50 Kitchen will be a fusion of Southern American and East Asian cuisine, a change in vision from what he had originally planned.
"At first, I was going to do French/American, but then I started walking the beat around here, and saw that this is a really multicultural place," he said, noting the sizable black and Vietnamese communities in the neighborhood.
Plenty of restaurants in the city boast their own versions of fusion, but none is quite like the creative cuisine offered at 50 Kitchen. Caldwell's menu features what he calls "real fusion": jambalaya egg rolls with a gumbo dipping sauce, kimchi and collard greens, and smoked brisket banh mi are just a few of the flavor combinations he has concocted so far.
"The idea is to have it be based on the demographics but pleasing to everybody's palate," explained Caldwell, who is aiming to keep menu items relatively affordable. "I have to think about, you know, what can Fields Corner afford? It has to work for me and the community."
50 Kitchen will be open from 10 a.m. to 11 p.m. Monday through Saturday, serving lunch and dinner. Tuesday nights will feature a "Chef's Table" special— a prix fixe offering of a three-course meal for one price. Caldwell said he's looking forward to sharing his passion with customers: "My joy is watching people eat and seeing them smile," he said.
A decal on the wall inside the restaurant reads "Beautiful food for beautiful people," a slogan that Caldwell had gotten into the habit of saying years ago when serving food to friends. The message denotes the welcoming, peaceful environment that Caldwell aims to establish at his eatery, which he describes on his website as "a place that represents second chances."
"This is a safe haven," he said. "When you walk into 50 Kitchen, you need to feel safe and feel at home."
Describing his passion for social justice, Caldwell outlined a number of community-oriented plans he has for the restaurant's future, including a partnership with local schools whereby he would teach cooking classes and conduct a "Chopp'd" style competition with students, a scholarship fund with the goal of sending local kids to culinary school, and a zero-waste initiative in which leftovers will go to nearby food pantries. The rest, Caldwell says, he will hand-deliver to homeless individuals in the community.
"I made a vow to the community that I'd give back because I took so much from this place," said Caldwell. "I've made mistakes, I've done things I regret, but now that's behind me."
Poised at the beginning of this new chapter in his life, Caldwell admitted it's hard for him not to see a divine plan behind it all. After conquering personal demons, and even escaping death, he acknowledges in his restaurant a chance for atonement, and an opportunity to refocus his life's purpose on those around him.
"I believe that people are blessed to be a blessing for others," he said. "I know that I'm a blessed man, so for me to not be a blessing to others would be silly."