By Daniel Sheehan, Reporter Staff
July 22, 2020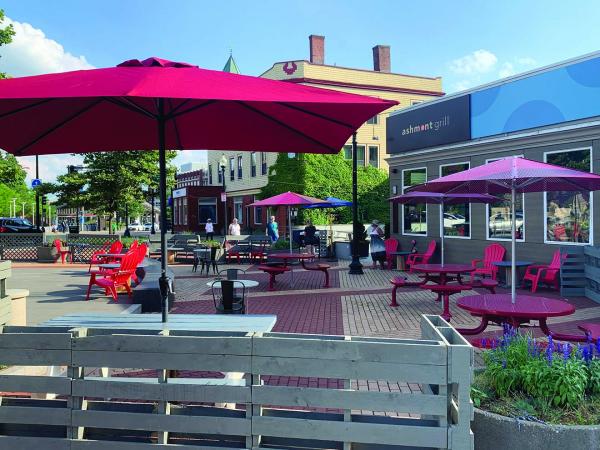 Ashmont Grill, one of the last of the Dorchester culinary staples to reopen since the start of Phase 3, is serving customers once again with a new outdoor setup after officially welcoming the public back last Thursday.
Shuttered since the onset of the pandemic in March, the eatery has adopted a new al fresco look by reclaiming part of the plaza space in front of its Peabody Square storefront as a new beer garden and converting a driveway space into patio seating that fits 18 tables.
The adjoining areas, along with the restaurant's back courtyard, make for ample outdoor dining opportunities at a time when open air tables are in high demand.
Assistant general manager Mike Lawlor said the grill was "very busy" during its first weekend back open. "People have long ties to this place. We've been kind of a go-to spot in this community for 15 years," he said. "We're happy to see all the local people in the neighborhood again. It's good to see everyone's familiar faces."
Lawlor said that as is the case with other establishments, the restaurant spent considerable time bringing the space up to speed with COVID-19 safety guidelines: spacing out tables, implementing contact tracing measures, taking staff members' temperature at the start of each shift, and posting various signage related to hand-washing and mask-wearing.

A converted driveway space has room for 18 outdoor tables, with tents to be installed soon to protect from the elements.

In terms of cosmetic changes, Ashmont Grill's new beer garden— a fenced-off space with umbrellas, picnic tables, and Adirondack chairs facing the square— is an addition made for imbibing and grazing through a new collaboration with Dorchester Brewing Co., whose local beers will be available on draft and in cans. Beer garden patrons can also order wine and snacks like chips and pretzels, but not food off the full menu.
The space had been the site of a loitering issue in recent weeks, according to general manager Tara O'Riordan, which brought about an additional obstacle to reopening. But the situation was resolved relatively quickly through a licensing process with the city that made the area available to the restaurant, said Lawlor. "We put in an application for the space and got it overnight," he explained. 
The temporary licenses for the beer garden and the side patio, where full food and drink options are available, will keep the outdoor spaces open through October, added Lawlor.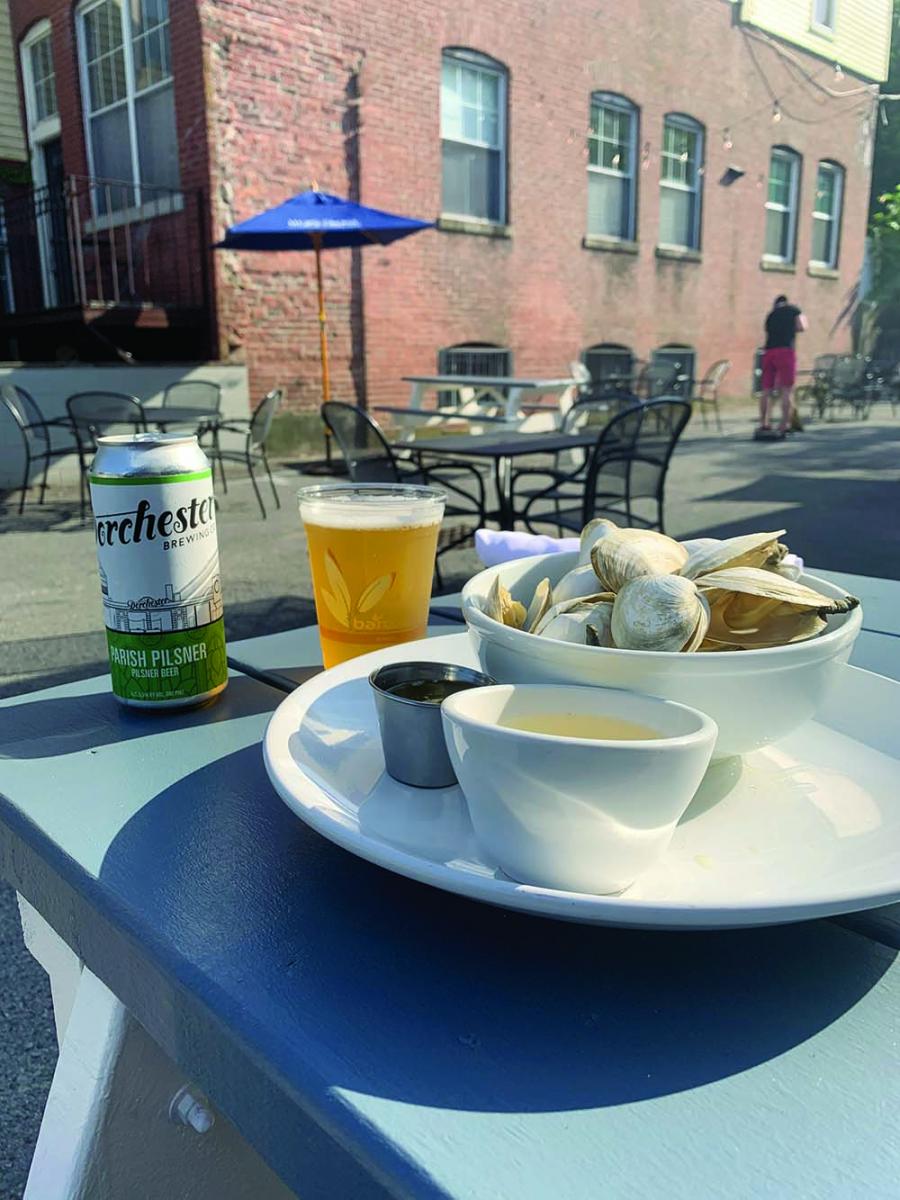 Locally caught steamers and DBCo. beer feature on Ashmont Grill's reworked menu.

Ashmont Grill's current menu is "seafood heavy" and includes a raw bar with oysters every night (instead of once a week as before), locally caught steamers, lobster rolls, lobster boil dinners, fish entrees, and crab bruschetta, along with standard offerings of salads, pastas, and burgers.
Chef Joe Caruso, previously at Tavolo, is now helming the kitchen at Ashmont Grill.
For the time being, the restaurant will operate with limited hours of 5-10 p.m. Thursday through Monday with reservations and walk-ins both being accepted.
Customers are required to wear face masks upon arrival, but can remove them once seated. Guests can use QR codes to view menus on their personal devices rather than physical menus. 
"It's a little different," admitted Lawlor. "I'll miss chatting with people at the bar, stuff like that. But overall it's great to be back."