By Daniel Sheehan, Arts and Features Editor
January 2, 2020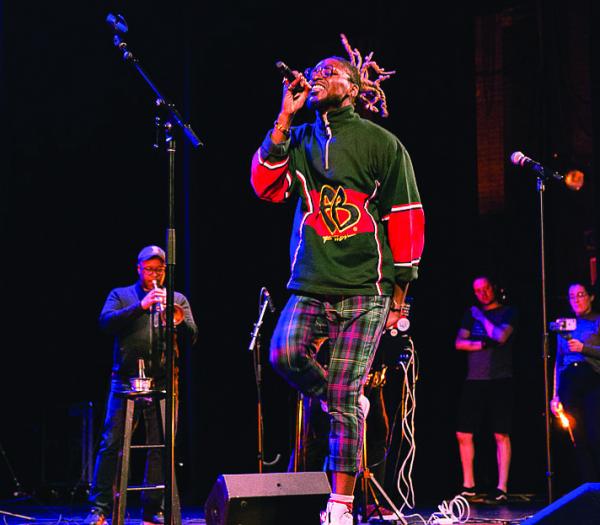 Dorchester artists were busy last year. From an arts standpoint, the neighborhood was prolific as musicians, artists, and performers churned out material and organized events that showed the rest of the city just how active the local scene has become. Here are some of the moments that defined the arts in Dorchester in 2019:
Boston Answering: One of the most memorable events of the year was Boston Answering, a grassroots music festival organized by HipStory — a media and production company started by the rapper and filmmaker Cliff Notez — as a "cultural response" to a Boston Calling festival that largely shunned local hip hop artists when it announced its lineup of performers.

Red Shaydez interacts with the Strand crowd.

Hosted on May 25 at the legendary Strand Theatre in Uphams Corner, the festival succeeded in amplifying the talent of Dorchester-based artists like Red Shaydez, while providing an affordable alternative to the pricey Boston Calling. It will surely serve as a blueprint for community-organized, Dorchester-centered music events in the future.
Albums: Days before Cousin Stizz's album "Trying to Find My Next Thrill" dropped in August, his face could be seen staring down from a billboard in Fields Corner. The rapper's physical presence in his home neighborhood was inspiring for Dorchester rappers familiar with his rise to stardom and his success in representing Boston on a national scale.

Fields Corner native Cousin Stizz dropped "Trying to Find My Next Thrill" in August.

But Stizz was far from the only Dorchester rapper to release a project last year. Red Shaydez kicked things off early in the year with "The Chilling in the Shade EP," in which she touts love and self care while also allowing listeners glimpses into her artistic struggle; after a creative hiatus, Dorchester native Latrell James released a digestible, re-playable 5-track EP, "Still," in July. The project shows James coming into his own, and its strong bars and infectious beats indicate there are even bigger things to come from the wordsmith/producer.
Cliff Notez followed up his critically acclaimed "Where the Sidewalk Ends" with a new album, "Why the Wild Things Are," an eclectic collection that shows Notez beginning to address and move past the pain and trauma he probed in his previous release. At the moment, the many-hat-wearing artist from Dorchester is at the forefront of the city's music scene, as evident by the numerous features on the project from local artists like STL GOLD, Cleo, Anson Rap$, and others.

Brandie Blaze's "Late Bloomer" reps Dot heavy.

Finally, with a buzzer-beater, Brandie Blaze released her debut album, "Late Bloomer," in December. The 15-track project showcases Blaze's unapologetic, swaggering flow, through which she consistently reps Dorchester and announces her place in a new wave of female MCs tearing up the scene. 
DAP: Dorchester Art Project cemented its status as a nexus of Dorchester art in 2019, hosting a nonstop stream of shows and exhibitions at its gallery/black box space in Fields Corner on its way to earning a Boston Music Award for Best Intimate Live Venue. In addition to the institution's successful monthly Open Mic night, which regularly draws high-profile and up-and-coming talent from the neighborhood's rap circles, DAP also provided an important platform for a number of local visual artists, painters, and photographers.

Dorchester Art Project earned respect and recognition as a destination in 2019.

A few notable shows that came to the gallery last year included the "Vanguard Retrospective Exhibition," curated by founder of the underground arts zine and Fields Corner native Aiden Nguyen, highlighted artwork from the LGBTQ Vietnamese community in Dorchester and around the world; "Staged: New Visions of Boston Music Photography" trained a lens on the city's dynamic music scene and allowed those behind the camera a chance to shine; and "Tender/Feral," a show curated by Boston-based artists Kenn Crestwell and Mithsuca Berry, explored "the duality of blackness" through the medium of color.
Dot Jazz: The Dot Jazz Series continued to grow as a community fixture in 2019, providing one of the only regular platforms for live jazz in the neighborhood. Now entering its fourth year, Mark Redmond's jazz series proved its legitimacy in 2019 by drawing giants of the Boston jazz scene like Jason Palmer and Jerry Bergonzi. But maybe the most special iteration of the series came in May, when saxophonist Kurtis Rivers and guitarist Alain Pacowski, two musicians who played in a years-long residency at the Ramsay/Toy VFW Post on Woodrow Avenue, reunited for a concert at All Saints' Peabody Hall, showing that jazz is still alive and well in Dorchester. 

The Dot Jazz Series helped put Dorchester on the map as a regular venue.

Bams Fest: The Boston Arts and Music Soul Fest returned bigger and better in its second iteration this past summer. The arts festival in Franklin Park drew applications from more than 2,000 artists this past year, with 19 performers from Boston, New England, and around the country making the cut. With a mission of creating a "diverse and inclusive commonplace" for Boston artists of color, the nonprofit behind the festival has already succeeded in bringing the community together for an all-ages event and celebrating its thriving African-American artistic circles. In 2020, BAMS Fest is poised to continue to grow and add more stages and more performers, and projects to entertain thousands more attendees when it returns to Franklin Park in June.

BAMS Fest in Franklin Park.