By Daniel Sheehan, Arts and Features Editor
September 24, 2020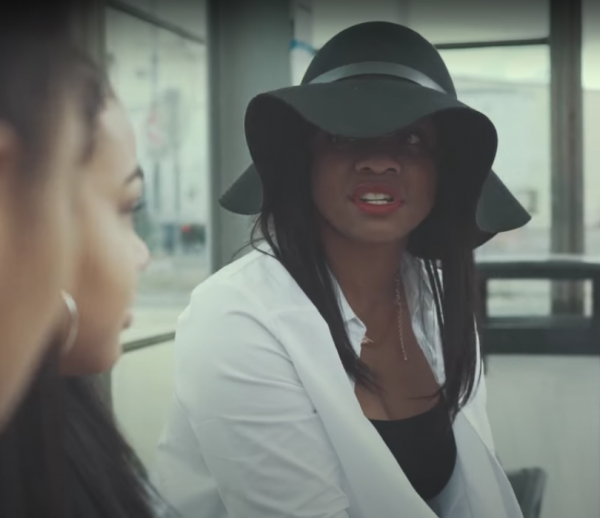 A short film accompaniment to "Little Sabrina," a song from local rapper Red Shaydez' 2016 album Magnetic Aura, will be screened next week as part of the 22nd Roxbury International Film Festival, which will take place this year in a virtual format from Sept. 30 through Oct. 5.
Shaydez, who penned the song during a late-night shift at a concierge job, enlisted the help of Boston-based filmmakers Lionel Djaowe (LTD Films) and Starr Nathan to bring a visual representation of the tune to life. While the "mini movie" was filmed three years ago, Shaydez submitted it to the festival last year and says the message still rings true in 2020.
The song, which Shaydez dedicated to "all the misguided young girls in the world," depicts Sabrina, a 14-year-old young woman without a motherly role model who falls victim to peer pressure and unrealistic societal expectations and is eventually traumatized by a shocking event in which she is abducted by a male passerby.
"We made this in 2017, but it's not an issue that stopped in 2017. It's still happening," explained Shaydez. 
The film stars his stepsister as "Sabrina," while teens from The Hip Hop Transformation, a Cambridge-based youth music nonprofit that Shaydez co-heads, round out the rest of the small cast. Several scenes take place along Geneva Ave. and outside the Dorchester home where Shaydez lived at the time.
The MC makes a cameo in the movie as a concerned stranger sitting at a Fields Corner bus stop, who offers advice to the young girls sitting beside her.
For Shaydez, the song is the only one in which she's not rapping from her own point of view or about her lived experiences. 
"This was less about me rapping and more about the story," she explained "My character is trying to be that guiding light. Sabrina's character is very impressionable, and you see peer pressure get the best of her. She didn't have that support, you know, her mom is nowhere to be found...I know there's a lot of little girls that can relate."
Djaowe, speaking on behalf of himself and Nathan, said they saw the film as an opportunity to deliver a bold and urgent message.
"Our process is to let the music speak first," said Djaowe. "When Red Shaydez came to us with the Little Sabrina record, we automatically knew how important the message was and it almost became a responsibility to do it justice at the visual level. Sex trafficking is very real issue in our country that doesn't get spoken about loudly enough. We're artists and filmmakers from Boston, a small city, so creating art like Little Sabrina that has purpose and resonates with world issues is one milestone, but having it recognized on platforms such as the Roxbury International Film Festival is an achievement."
"Little Sabrina" caught local eyes when it was first released, racking up thousands of views on YouTube. For Shaydez, who described a pattern of "delayed gratification" over the course of her career, knowing the film will reach even more people through the festival is encouraging.
"The fact that it's still making waves today just shows you never know how far that impact goes."
For the full festival screening schedule, visit roxfilmfest.com.